Premier urges 'peace and rationality' ahead of Sunday protest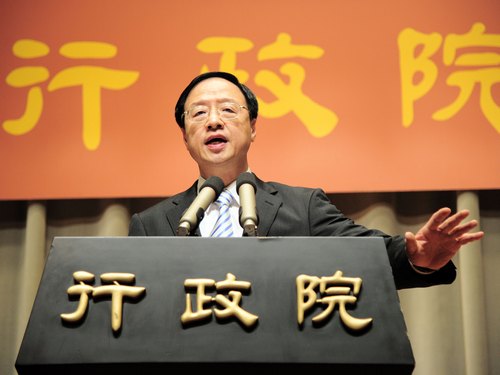 Taipei, March 28 (CNA) Premier Jiang Yi-huah Friday called for the "democratic principles" of peacefulness and rationality among student-led protesters as they prepare for a Sunday rally against the trade-in-services pact with China.
Speaking at a press conference, he added that the government respects the people's right to express their opinions but hopes organizers will be responsible and end the rally outside the Presidential Office at the appropriate time.
Sunday's protest will be an extension of the student occupation of the Legislative Yuan, which started March 18. It will be the first time the protests expand out from the Legislature since March 24, when students who broke into the nearby Executive Yuan were evicted.
Jiang said police were instructed to exercise restraint while ensuring they maintain order.
"We don't want to see any large-scale social movement to spiral out of control and cause violent clashes or bloodshed," he said.
Fang Yang-ning, chief of Zhongzheng First police precinct, confirmed that organizers have applied for a permit for a rally of 100,000 people, and the application has been approved.
However, participants are required to disperse by midnight, Fang said. The demonstration is due to begin at 1 p.m.
Hundreds of students have occupied Taiwan's legislature since March 18 in protest against the cross-strait trade-in-services agreement, which they argue was signed and rammed through a legislative review without sufficient transparency.
A smaller group broke into the Cabinet building a few blocks away on the night of March 23, but were removed in the early hours of the next day during a massive police operation that left well over 100 protesters and police officers injured.
Protesters have accused police of using excessive force in the operation that involved the use of batons, shields and water cannons.
(By Tang Pei-chun and Y.F. Low)ENDITEM/WH
Related stories:●March 28: Premier open to legalizing scrutiny of cross-strait agreements●March 27: Occupation movement plans rally in front of Presidential Office●March 24: Executive Yuan protesters dispersed with water cannons
(Click here for the latest on the ongoing protest and developments since the Legislature occupation starting March 18.)