Ex-DPP chairwoman plays down connection with student protesters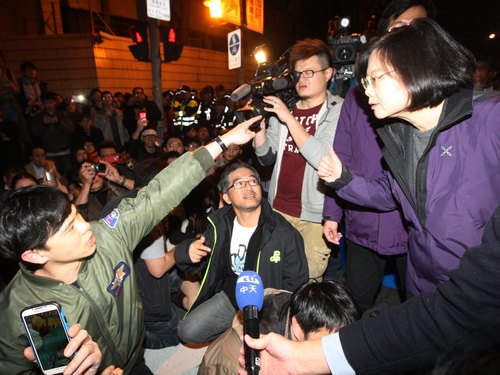 Taipei, March 25 (CNA) Former opposition Democratic Progressive Party (DPP) Chairwoman Tsai Ing-wen played down Tuesday her connection with some leaders of the ongoing student movement against a trade in services agreement with China, amid media speculation that her party is pulling strings behind the movement.
Postings on the Internet noted that Chen Wei-ting and Lin Fei-fan, who led the March 18 occupation of the Legislative Yuan, were members of Tsai's youth supporters clubs during her 2012 presidential campaign.
Wei Yang, who led the March 23 break-in of the Executive Yuan, was reportedly an intern at Tsai's Thinking Taiwan Foundation and at the office of DPP Legislator Yao Wen-chih.
Hung Yao-fu, a spokesman for Tsai's office, confirmed that the students "have taken part in activities related to Tsai at different times," but stressed that their participation in the latest protest movement is based on their ideals and their own volition.
He said they have the ability to think independently and "cannot be manipulated by political forces."
Yao, meanwhile, confirmed that Wei had interned at his office but said he was unaware of Wei's participation in the protests until it was reported in the media.
Tsai is a former chairwoman of the main opposition Democratic Progressive Party (DPP) and once served as vice premier in the former DPP administration.
She and two former premiers -- DPP Chairman Su Tseng-chang and former chairman Frank Hsieh -- showed up at the Executive Yuan early Monday to lend support to the protesters as the police were preparing to disperse the crowd.
Their presence was called into question by Premier Jiang Yi-hauh, who said that he does not believe the three would have tolerated the act of demonstrators breaking into the Executive Yuan if they were running an administration.
The DPP has openly expressed its support for the ongoing protest movement over the service trade agreement with China.
(By Justin Su and Y.F. Low)ENDITEM/J
Related:●March 24: Prosecutors seek to detain student organizer of Cabinet break-in●March 24: Premier blasts DPP heavyweights' support for protesters
(Click here for the latest on the ongoing protest and developments since the Legislature occupation starting March 18.)