Protesters lay out demands, vow to continue occupation of Legislature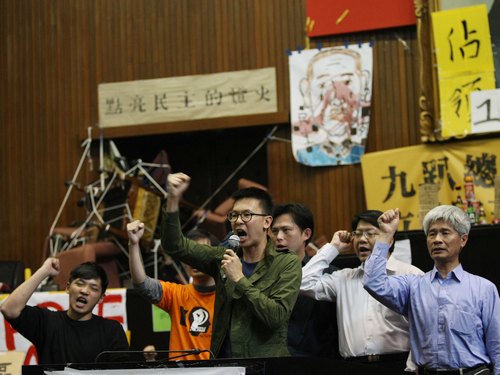 Taipei, March 23 (CNA) Student-led demonstrators who have been occupying the Legislature for five days in protest against a services trade agreement with China listed their demands in detail Sunday and said they planned to continue their protest action.
In response to President Ma Ying-jeou's call earlier in the day for the protesters to end their occupation of the Legislature, Lin Fei-fan, one of initiators of the occupation movement, laid out their demands at a news conference in the main chamber of the Legislature.
Lin said the protesters are calling for the ruling and opposition parties to convene a national affairs conference, which should include representatives of all sectors of society, to address the current crisis.
The Legislature should also withdraw its ratification of the trade pact and enact a law to allow close legislative monitoring of agreements with China, Lin said hours after Ma spoke publicly on the protest for the first time.
Furthermore, the government should not sign any new agreements with China until such a law is enacted, Lin said. He also called for legislative support of a bill drafted by civil groups regarding the process of signing pacts with China.
Meanwhile, the demonstrators vowed to continue their protests, ignoring Ma's call for them to end their occupation of the Legislature.
Lin, however, did not specify how long the student-led demonstrators intended to maintain their occupation of the Legislature but said they are not ruling out using peaceful means to stage a full-scale protest that would allow the wider public to join the "revolutionary movement."
Some of the other tactics under consideration include cancellation or boycott of university classes in protest against the agreement with China, he said.
At an international news conference earlier in the day, Ma called on the protesters to vacate the Legislature and allow the resumption of its normal functions.
He also said he hopes the legislative review of the services trade agreement with China can be completed soon, reiterating that it is crucial to Taiwan's economic development and trade liberalization efforts.
The agreement, which was signed last June, has been stalled in the Legislature mainly due to objections from opposition lawmakers and student protesters, who are concerned that it will hurt Taiwan's interests.
(By Tseng Ying-yu, Ku Chuan and Elaine Hou) ENDITEM/pc
(Lin Fei-fan, one of initiators of the occupation movement, demands democracy and accuses President Ma Ying-jeou of ignoring public opinions, in the opening statement at a news conference in the main chamber of the Legislature Sunday; in Chinese)
Related stories:●March 23: No Beijing pressure on services pact: President Ma●March 23: President urges protesters to end occupation of Legislature●March 23: Protesters say president 'insincere' in responses to their calls●March 23: President Ma defends services pact with China (update-1)●March 22: Premier rejects protesters' demand for withdraw of pact with China (update)
(For the latest on the Legislature occupation, click here.)