President calls for approval of cross-strait pact before June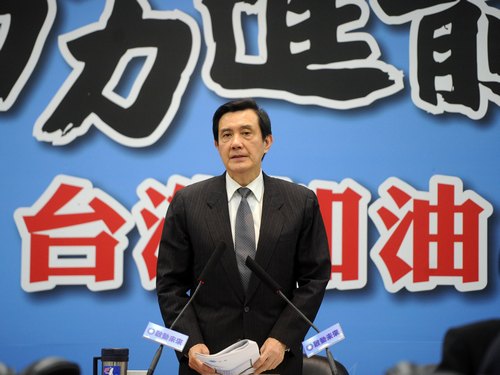 Taipei, March 19 (CNA) President Ma Ying-jeou urged the legislative whips of the ruling Kuomintang (KMT) Wednesday to ensure the passage of a service trade pact with China by the end of May.
The approval of the agreement is necessary if Taiwan is to avoid being labeled as irresolute and lacking in sincerity and trustworthiness by its trading partners, Ma said as he conferred assignment certificates on the KMT whips at party headquarters.
Without mentioning the protests at the Legislative Yuan, Ma instructed the party whips to work hard and complete the mission of getting the trade-in-services agreement signed with China last June approved during the current Legislative session, which is due to last until the end of May.
Ma, who doubles as chairman of the KMT, made the comments as the party lashed out at both the main opposition Democratic Progressive Party (DPP) and protesters who stormed the Legislative Yuan and occupied its main chamber late Tuesday.
(By Lee Shu-hua and Jay Chen)ENDITEM/J
Update: ●Opposition party mobilizes members, mulling 'long-term' protest (3:46 p.m. Wednesday / For latest developments, please click here.)
Related stories:●March 19: Cabinet to respect how Legislature deals with protest●March 19: Speaker calls for self-restraint in Legislative standoff●March 19: Student protesters repel police, hold Legislative chamber●March 18: Protesters break police line, storm Legislature●March 18: Talk of the Day -- Service trade pact pushed forward amid chaos