Newborn's cord blood saves brother from cancer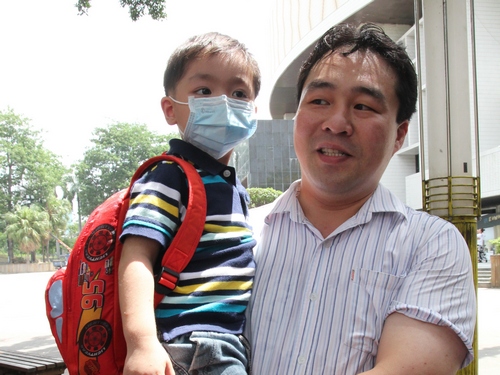 Taipei, June 26 (CNA) A father of three boys thanked a doctor on Wednesday for successfully treating his two-year-old son, who was suffering from acute myeloid leukemia, through stem cell therapy using the umbilical cord of his newborn son.
The man, identified only by his surname, Chan, held up his 2-year-old son and asked him to thank his attending physician Wu Kang-hsi at China Medical University Hospital earlier in the day.
Chan, a China-based Taiwanese businessman, said he put his business in China on hold after his second son was diagnosed with a rare form of leukemia that does not respond well to chemotherapy.
After a six-month-long, painstaking wait for stem cell donors coming to no avail, it was discovered that the stem cells of Chan's eldest son, aged 8, matched with those of his ailing sibling.
Later, in September last year, Chan's wife gave birth to the youngest member of the family, whose blood-type matched that of his ailing brother.
Wu said it was rare for brothers to have matching stem cells, with the odds being one out of sixteen.
The family eventually decided to use the newborn's umbilical cord blood for treatment of their ailing son. The bone marrow transplant surgery took place last November and the 2-year-old has been recovering well.
Wu said the illness, which affects white blood cells, is more common in adults and very rarely seen in young children. Five out of 100,000 Taiwanese are diagnosed with the disease, he added.
(By Chen Shu-fen and Ann Chen) ENDITEM/SID