PHOTO ESSAYS
/
Santacruzan Festival in Taipei
Taipei was blessed with a holy day on May 27, the last Sunday in May, in celebration of the Santacruzan, a religious and historical pageant embraced by Filipino communities worldwide.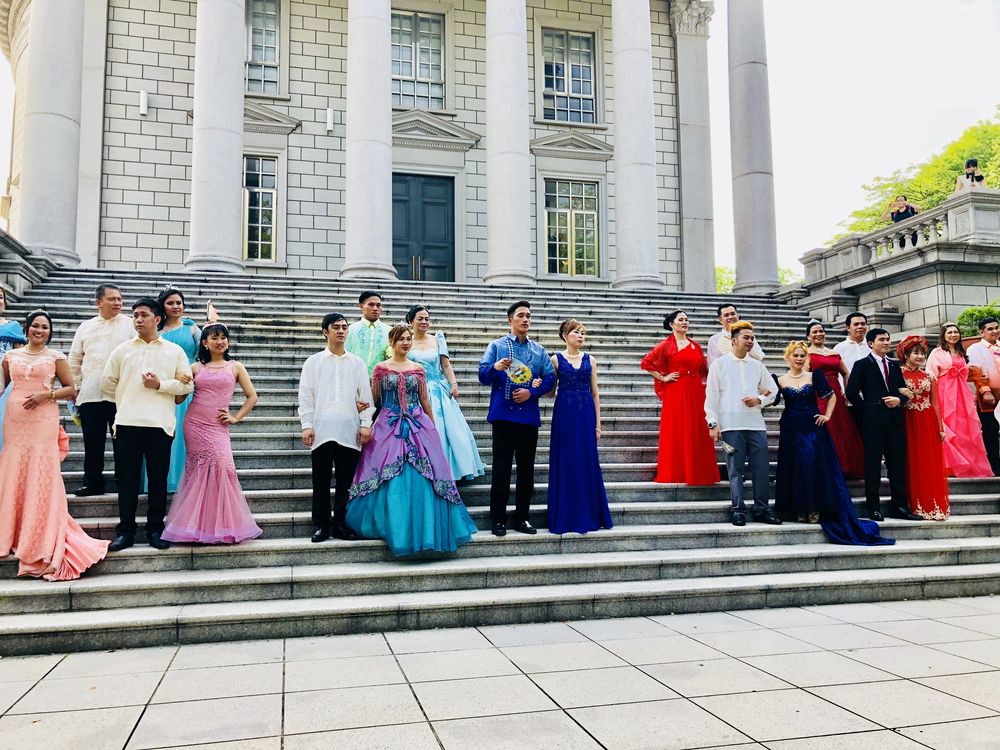 This year, as many as fifteen candidates, who are known as sagalas (maidens in costume joining the Santacruzan), participated in the event. The candidates, accompanied by their escorts dressed in their Sunday bests, are all selected by a panel of judges to represent various Christian figures or values. The person with the highest score gets to represent Queen Helena.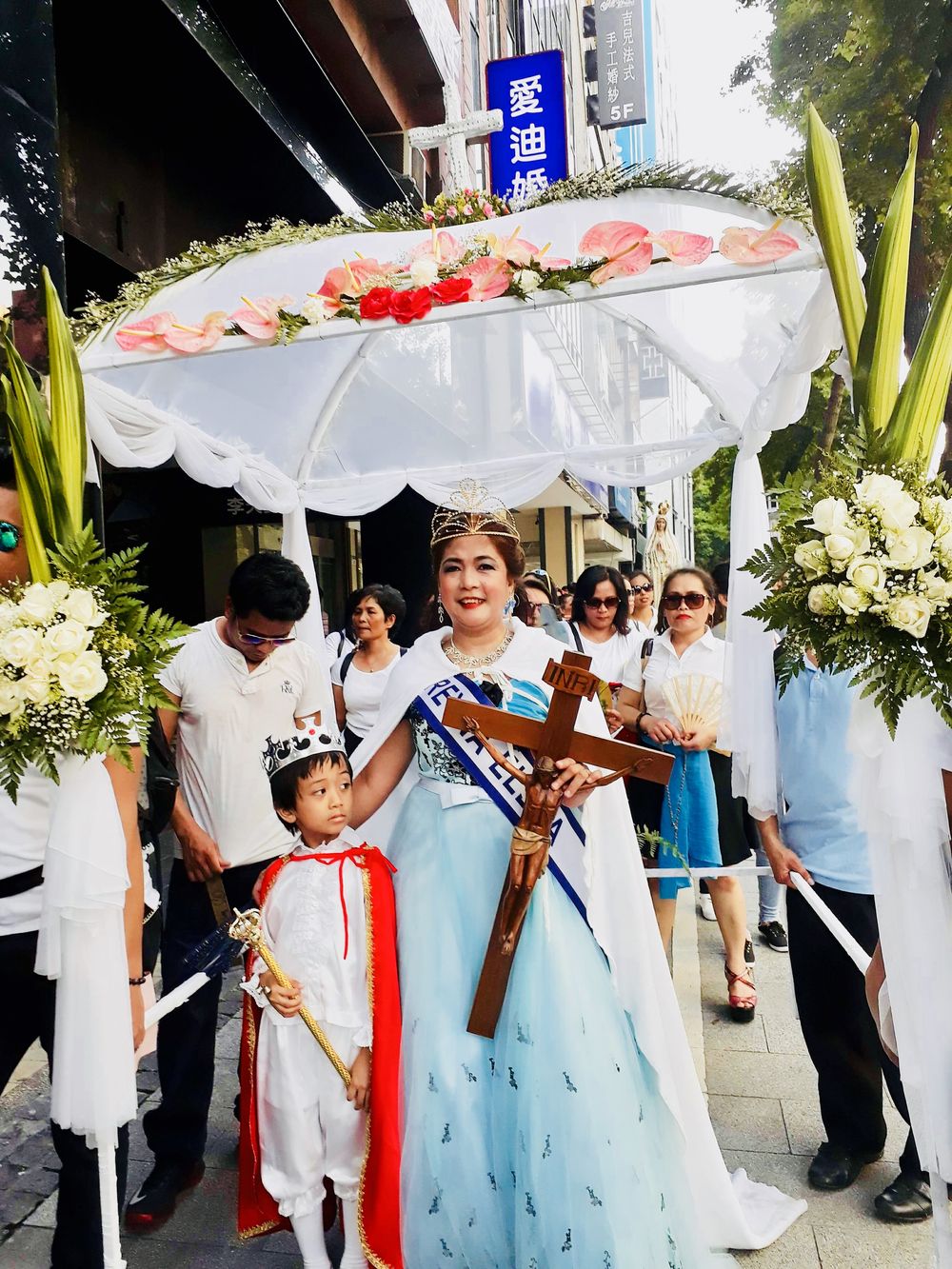 Imee Buenaventura (front, right), a Taipei caregiver who won the honor of representing Queen Helena (Reyna Elena), and a boy depicting the young Emperor Constantine pose for a photo. The day commemorated the finding of the True Cross on which Jesus Christ was crucified, by Queen Helena, the mother of Constantine the Great, the first Roman emperor to convert to Christianity.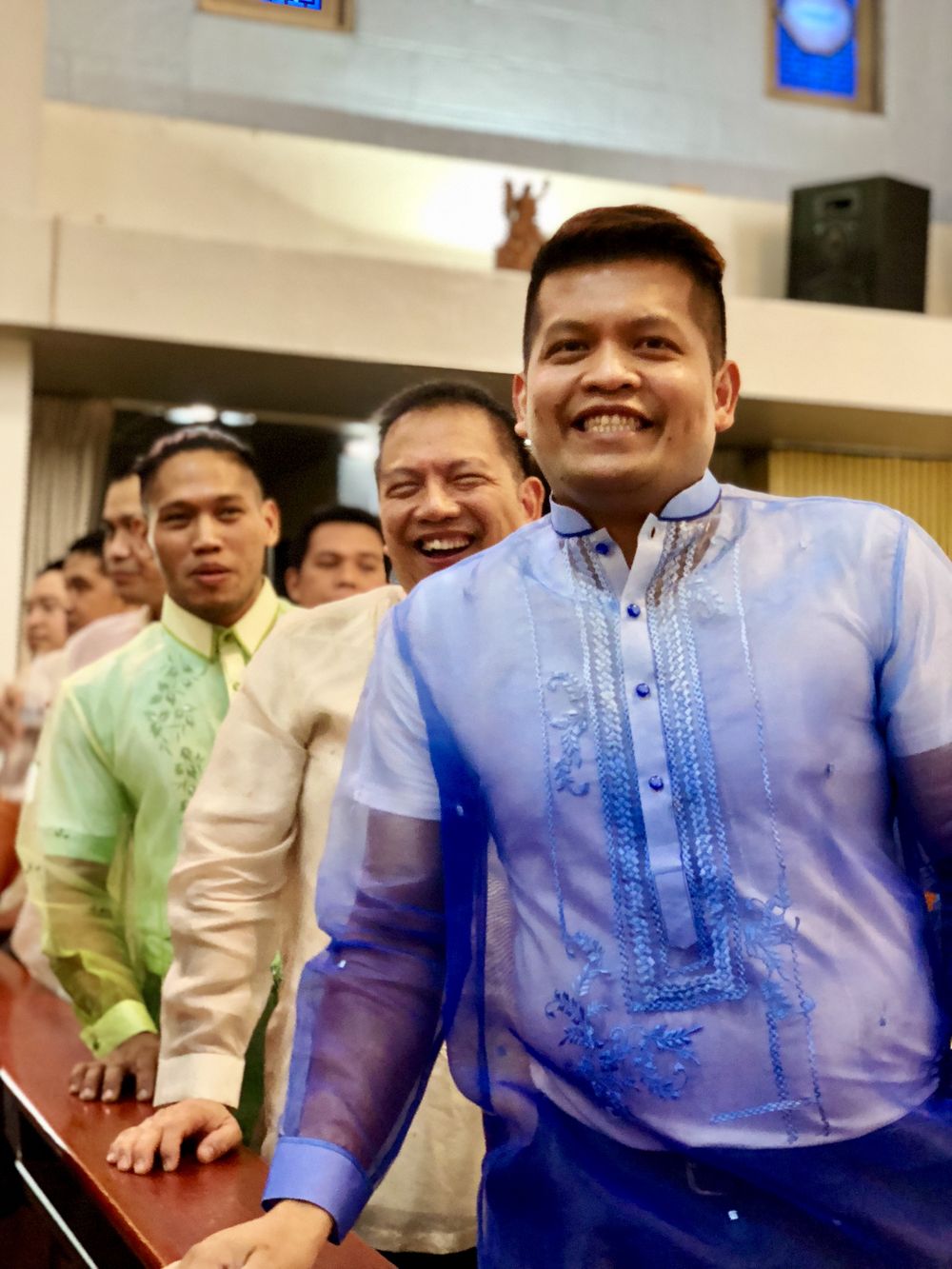 Escorts Jonathan Rosales (right), Wilfred Ong (second right) and Joseph Teves (third right) wait happily at the steps to the altar of St. Christopher's Church to escort the sangalas onto the altar. The event has become a tradition at the church and has been held annually since 1995.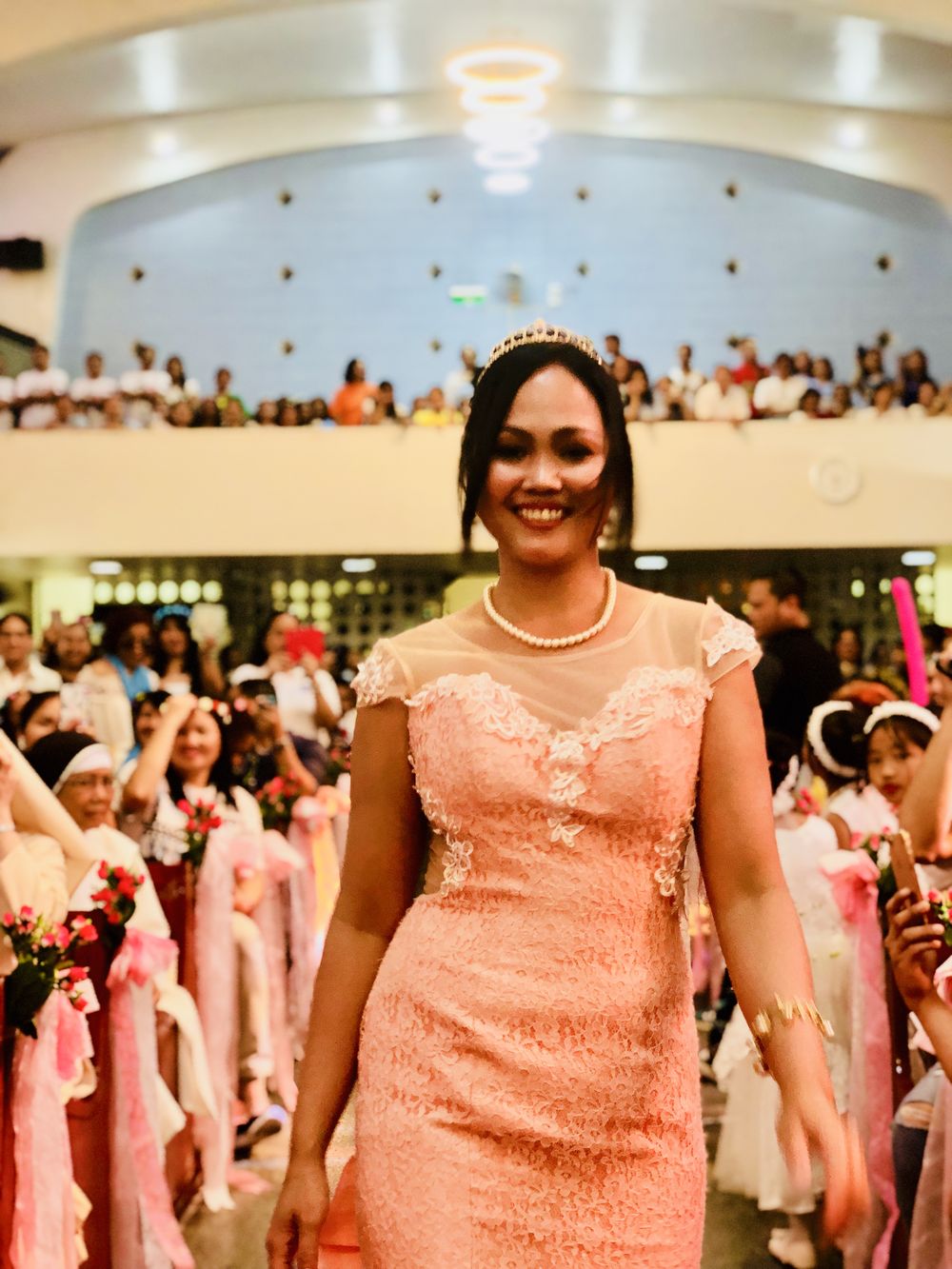 Vanessa Lorete, a factory worker from Taipei's Beitou District, walks down the church aisle toward the altar. One by one the sagalas reached the altar steps at the other side of the aisle to be escorted onto the altar.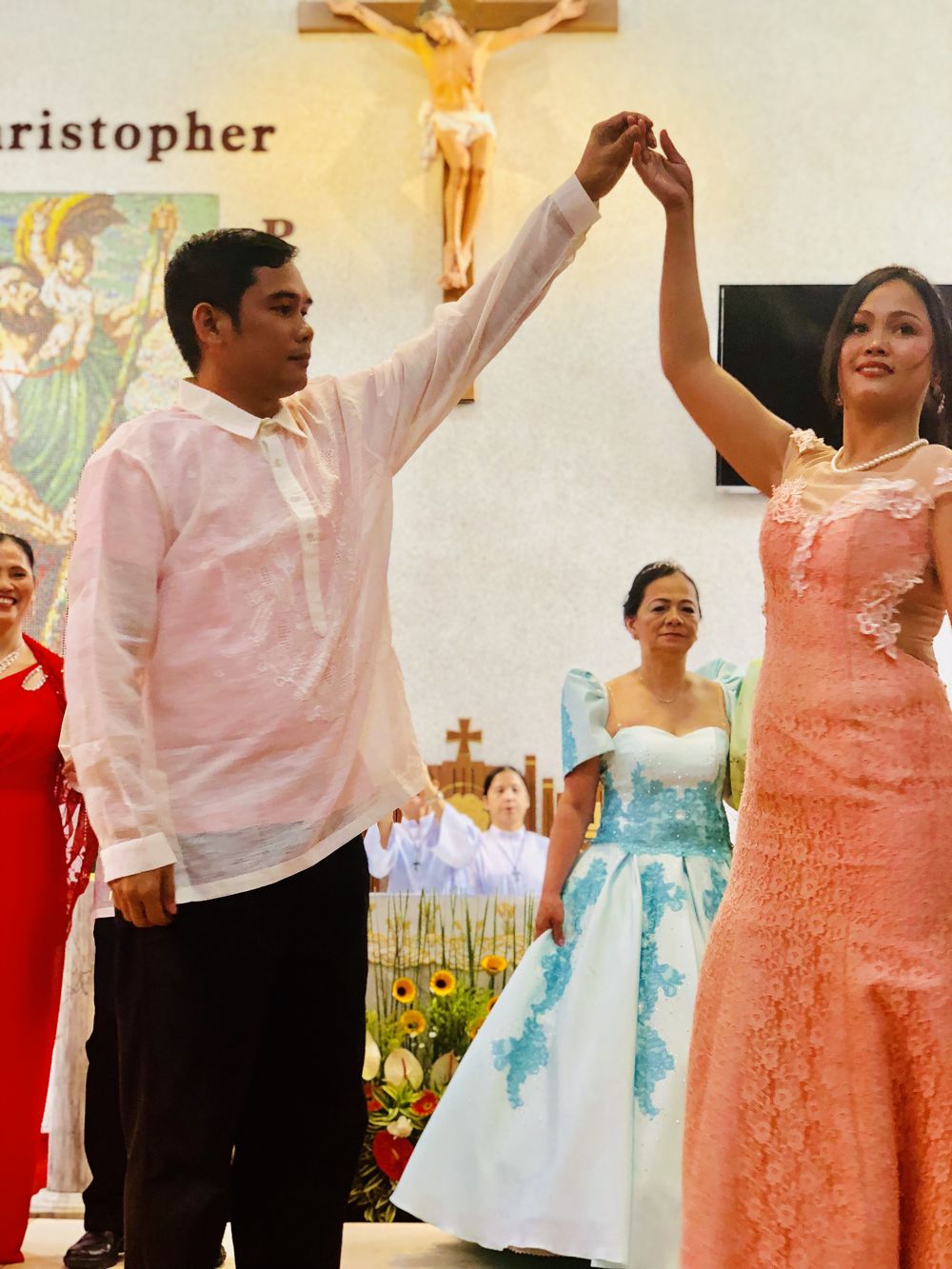 Lorete (front, right), accompanied by her escort Oliver Organista (front, left), positions herself to make a turn on the altar. Each sagala bowed and completed a turn upon climbing on the altar before heading into a group waltz.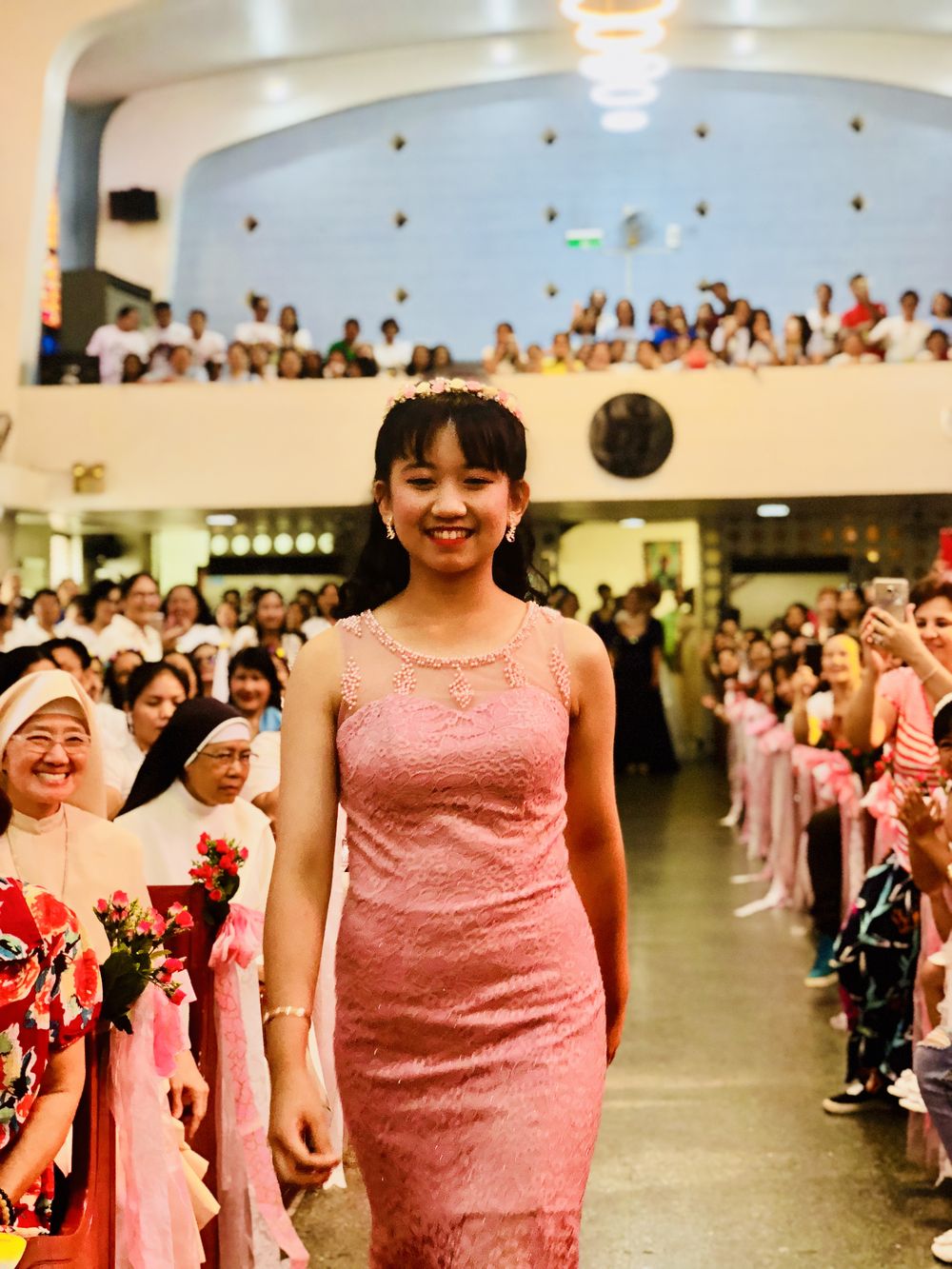 Rayana Abigail Du, a student at Ming-chi Junior High School, walks up the aisle to meet her escort at the other end.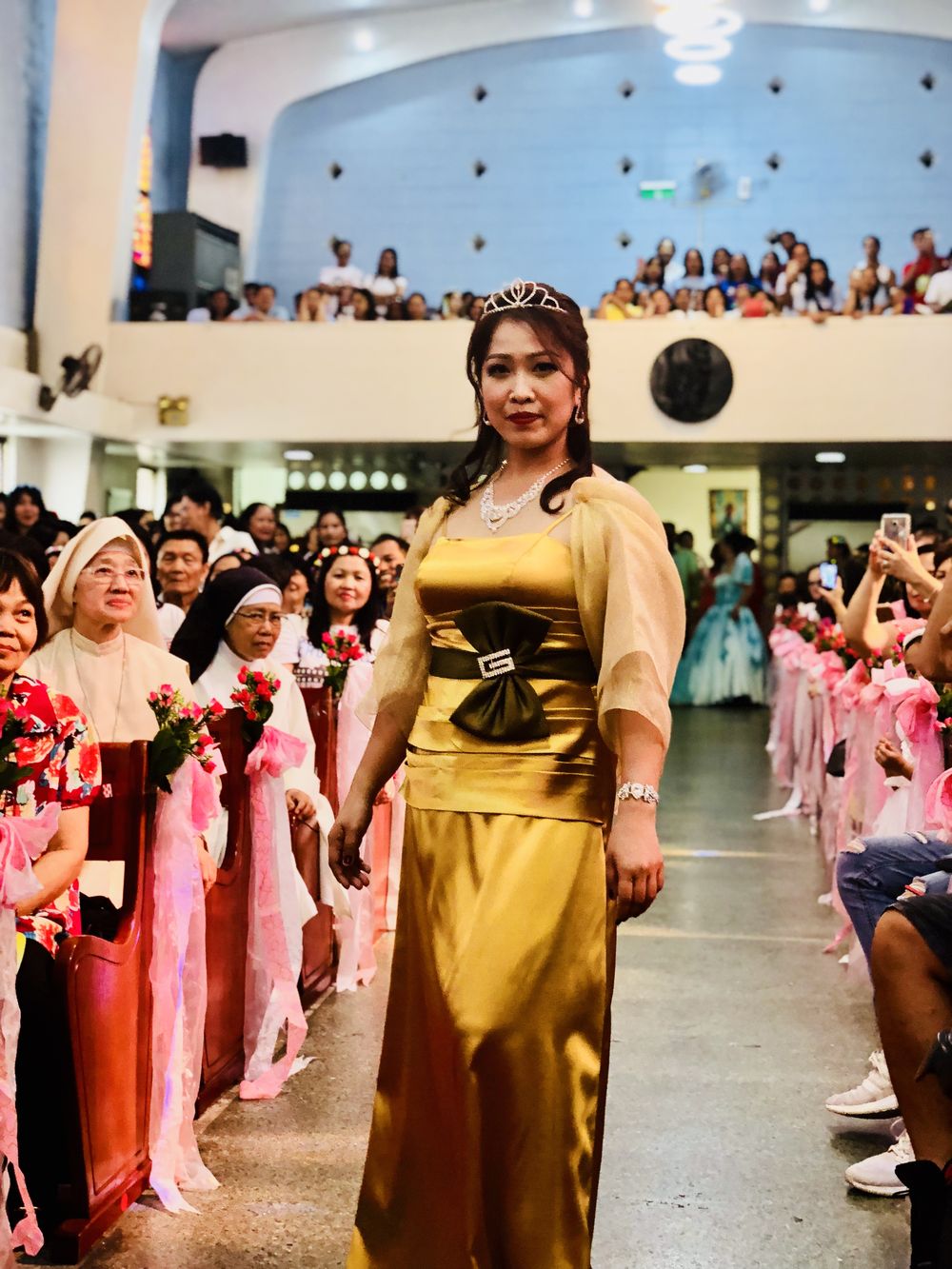 Maricar Salunga, an administrative assistant at the Solomon Islands' embassy in Taiwan, poses for a photo while walking down the aisle.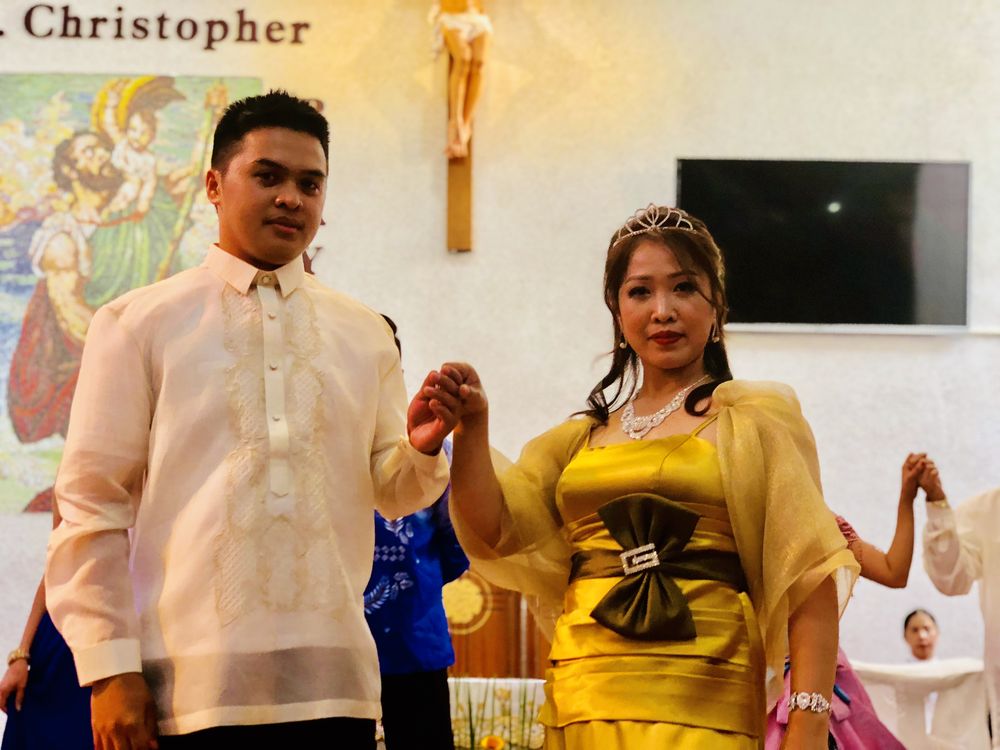 Salunga (right) and her escort Mark Edward Ganal pose for cameras on the altar.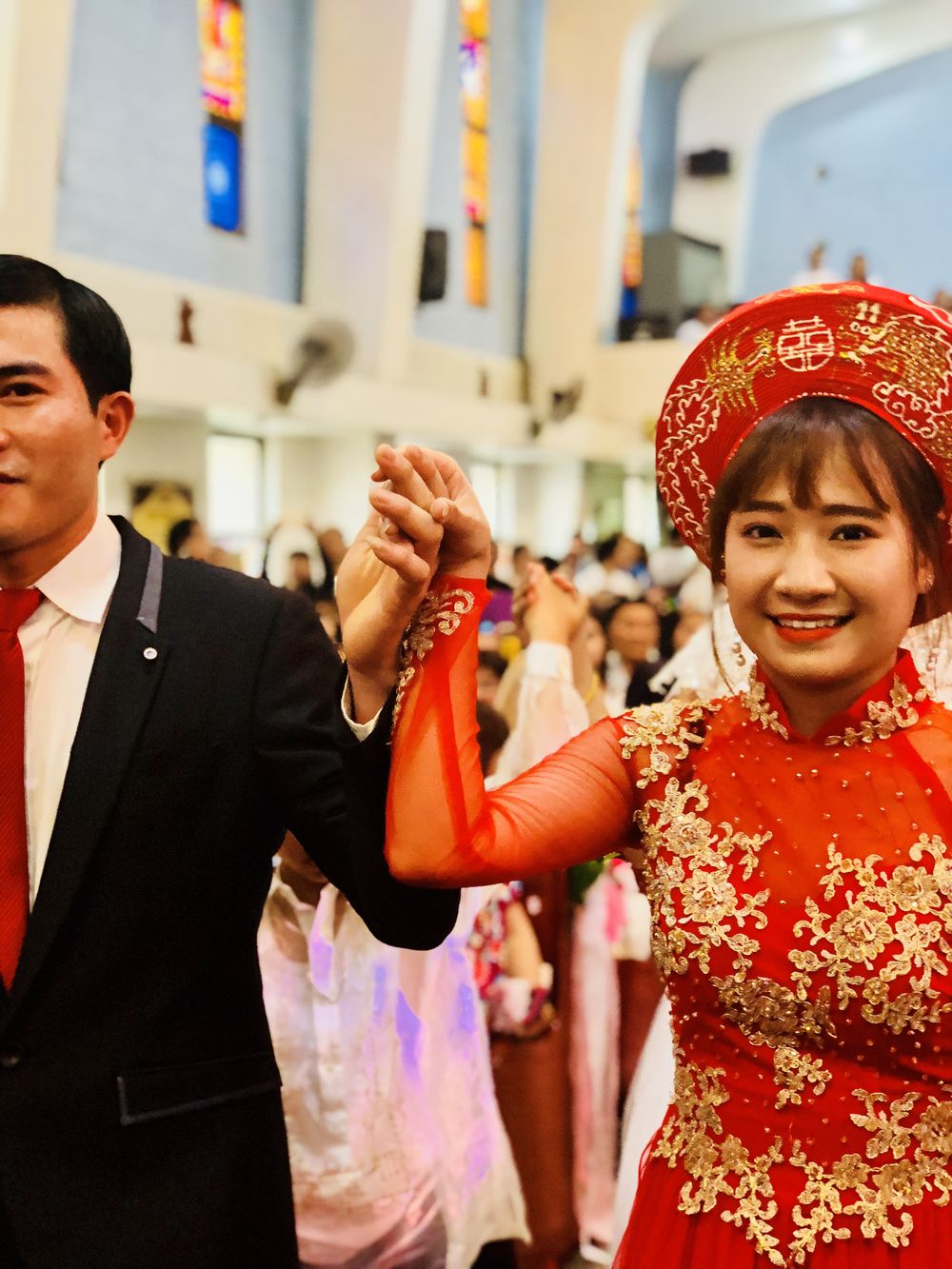 Terexa Pham Thi Hang (right), a factory worker in New Taipei's Zhonghe District wearing a traditional Vietnamese dress, smiles to members of the church. She is accompanied by Peter Ngoc Quyen.
Maricel Manalo (second left), a caregiver in Taipei, and her escort Even Urgelles (left) make their way to an outdoor terrace at Tatung University. The event continued on the grounds of the university campus to give the sangalas a chance to speak to the audience from the terrace.
Rhenalyn Velasco (front, right), a factory worker in Hsinchu, arrives at the terrace accompanied by Nicko Chavez.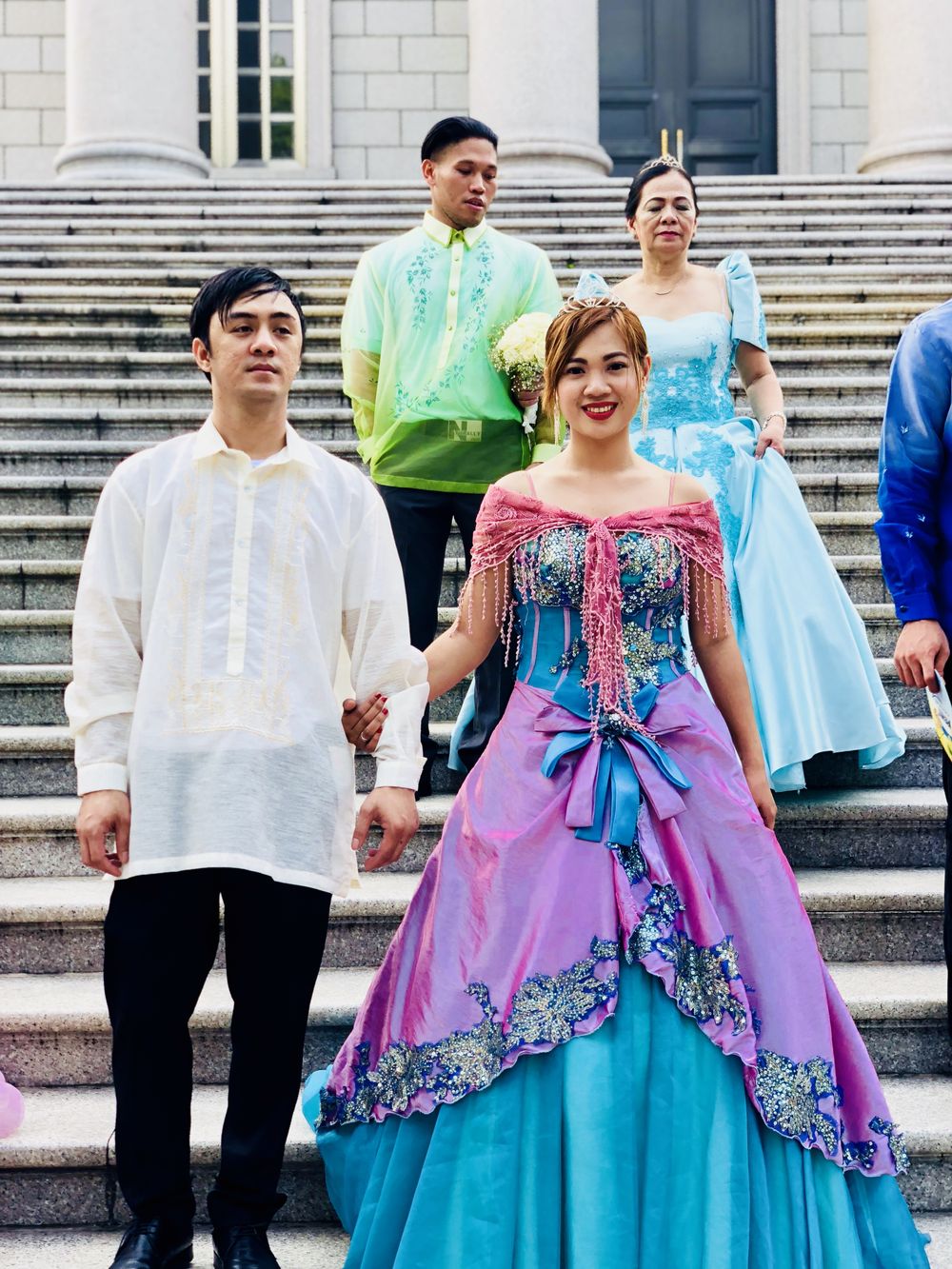 Velasco (front, right) and Chavez (front, left) pose for cameras as they wait to walk onto the terrace at the university.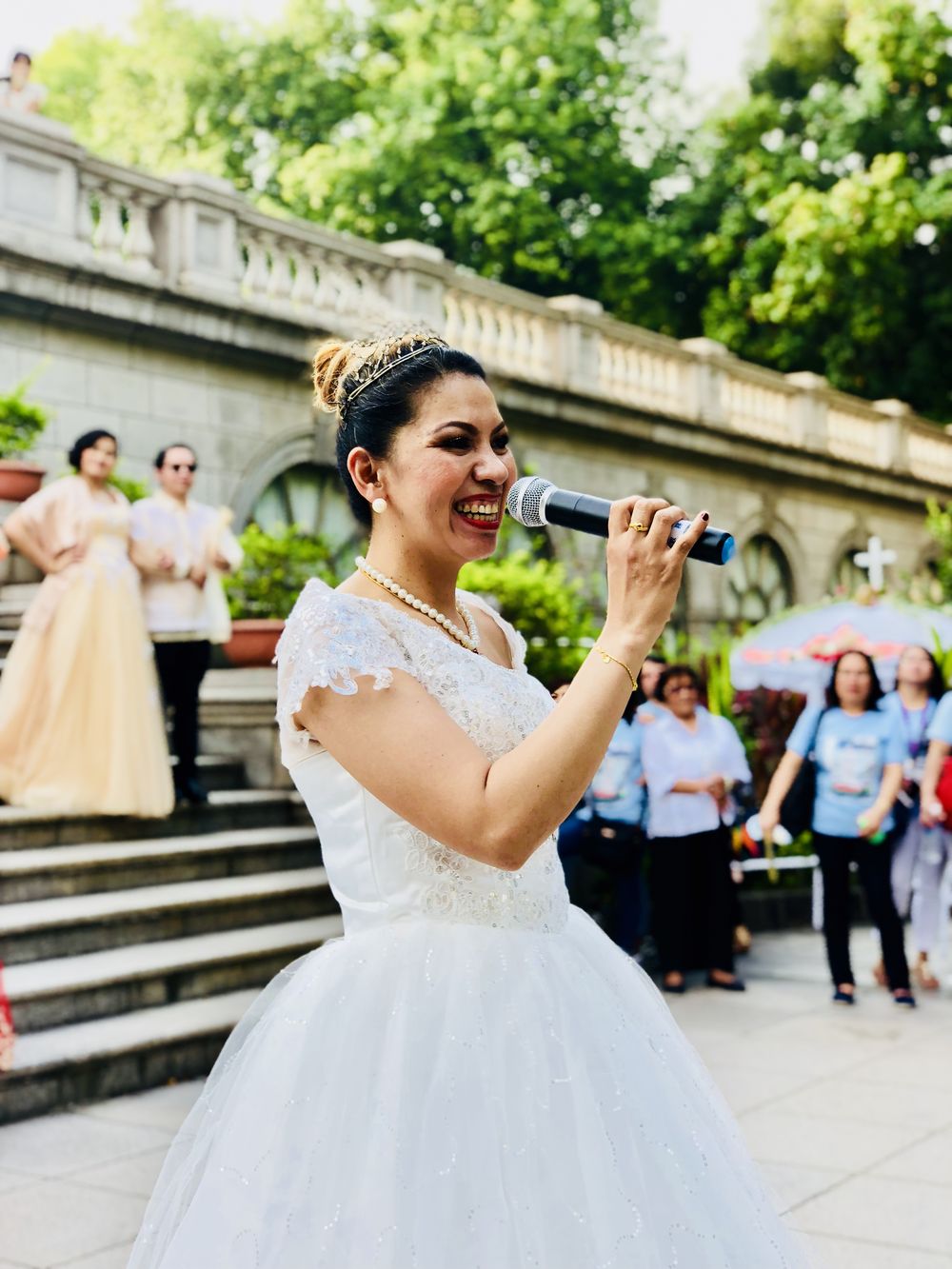 Evelyn Yang, a part-time logistics worker in Taoyuan, delivers a message of joy and happiness at the event.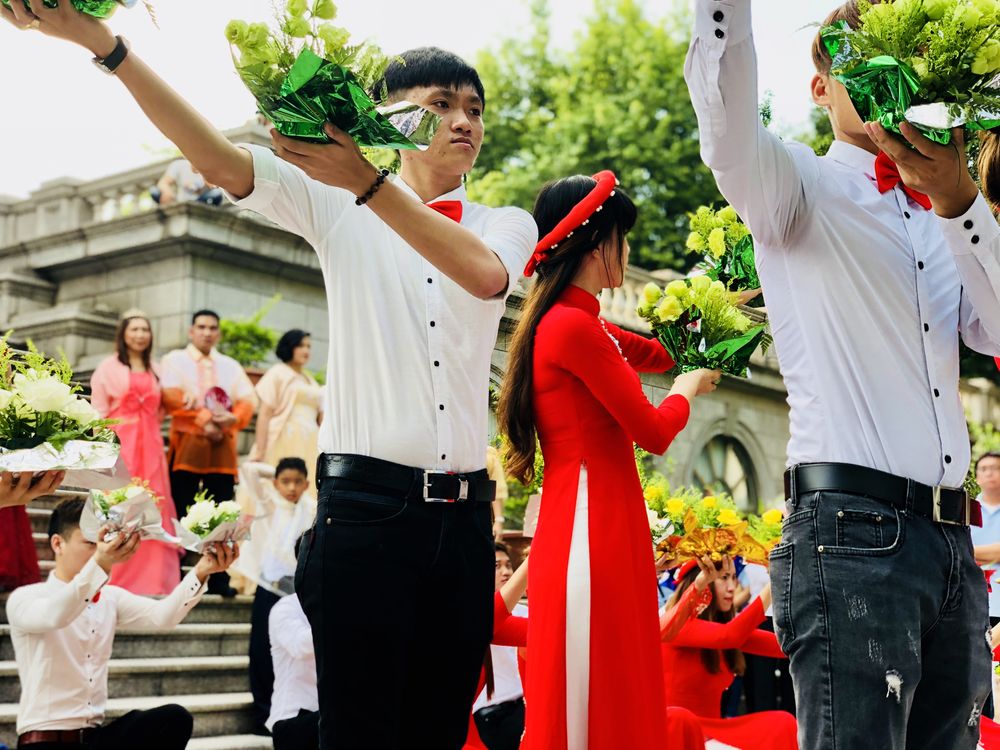 Vietnamese dancers perform a dance with flowers while the judges compile the results during intermission.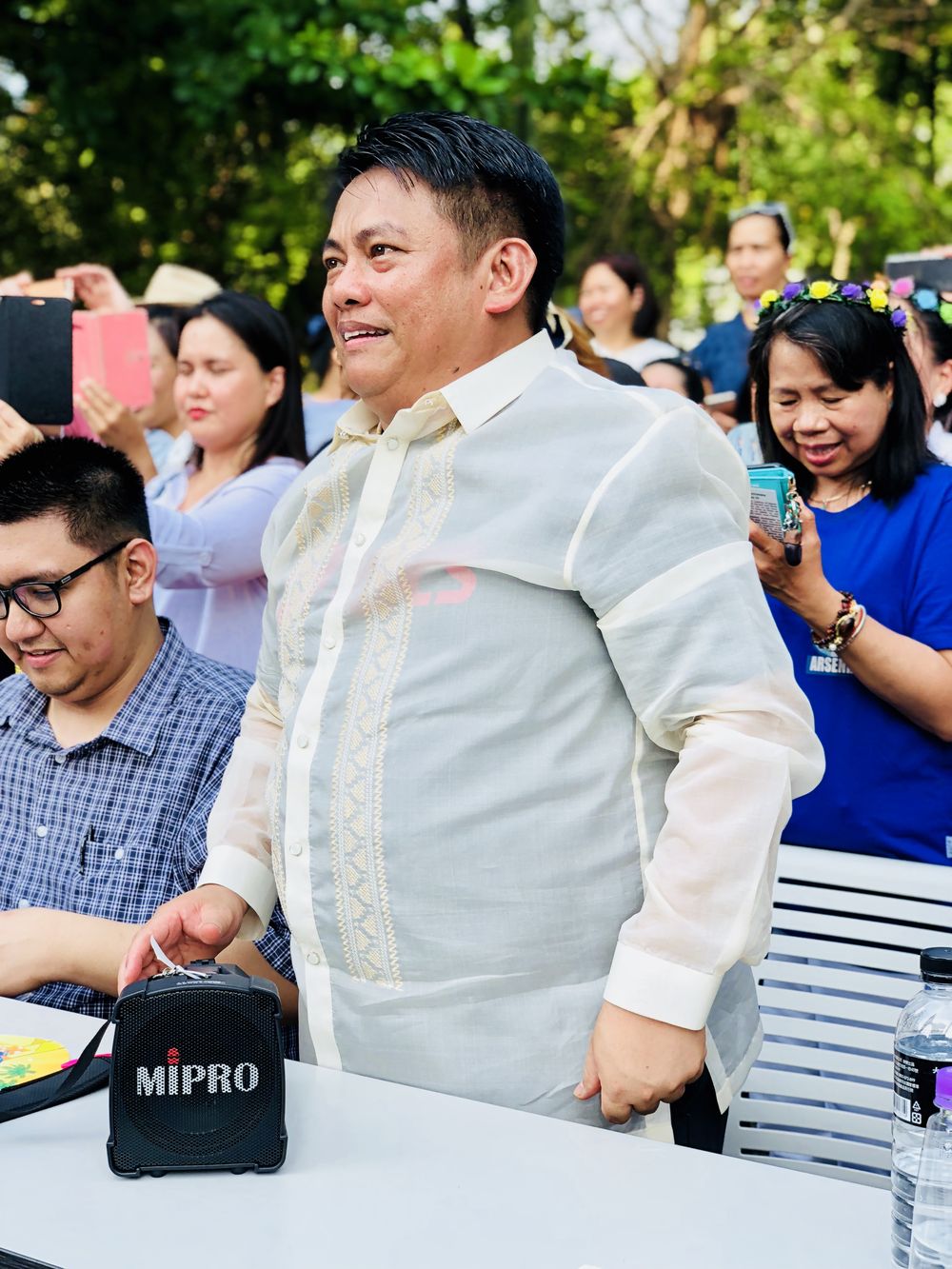 Saint Christopher's Church Parish Priest Franco Lacanaria (front, center).
View All