2023 Taipei Jazz Festival kicks off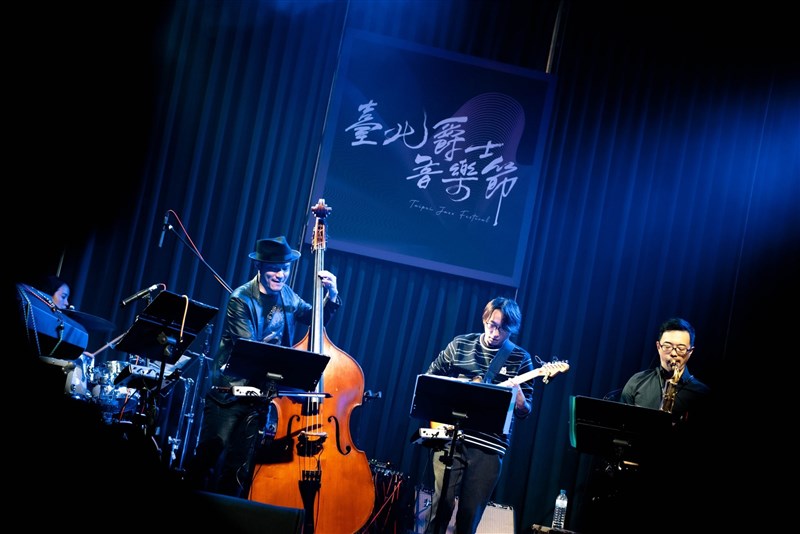 Taipei, Sept. 26 (CNA) The 2023 Taipei Jazz Festival opened Tuesday at the Taipei Music Center (TMC) and Daan Park with acts from Taiwan and abroad, and will soon bring music shows to nine privately run venues around Taipei for the first time in the event's history.
This year's performances will feature a wide array of jazz styles, including bebop, fusion, ska, and cool, according to the Taipei City Department of Cultural Affairs, which oversees the event.
Among the headliners are the Taipei Jazz Orchestra featuring Caitlin Magee, Taiwanese ska band Skaraoke, the Jin Chill Big Band featuring songstress Irene Yeh (葉璦菱), the Chok Kerong Organ Trio from Singapore, and the Tomasz Chyla Quintet from Poland, the department said.
Skaraoke is scheduled to appear on Sept. 29 at the TMC's outdoor plaza and will be accompanied by Japanese saxophonist Motoharu to bring to the audience a Jamaican-style musical experience.
The TPO Big band and Taiwanese-Indonesian singer Han (黃宇寒) will also hit the stage on Sept. 29, a collaboration aimed at showcasing "free spirits and a tinge of Hakka culture," according to the department.
On Sept. 30, Bobby West's Pianology will perform at 5 p.m. The New Orleans pianist will be backed by his long-time partners Lin Wei-sheng (林煒盛) on the double bass and Jeffrey Lin (林俊宏) on drums.
The Great Game, a trio consisting of bassist Brandon Lin (林庭揚), Spanish drummer Jose Garcia, and German pianist Falk Bonitz, will perform in the 6 p.m. slot on the TMC stage.
Following the Great Game will be the Taipei Jazz Orchestra featuring jazz singer Caitlin Magee for an evening of swing, the department said.
On Oct. 1, the Huan Quintet, the Taipei All Star Big Band, the Taipei Jazz Vocals, and the Chok Kerong Organ Trio are set to give performances at the TMC plaza starting at 5 p.m.
From Oct. 13 to Oct. 15, shows will be staged at the Daan Park Amphitheater, another of the festival's main stages.
The Taipei Young Jazz Orchestra is set to play the amphitheater on Oct. 13 at 8 p.m., and the Tomasz Chyla Quintet is slated to perform at the venue at 7 p.m. on Oct. 14.
To close out the shows, Jin Chill and Irene Yeh are set to take to the stage at 8 p.m. on Oct. 15.
Live shows will also be staged from Sept. 26 to Oct. 12 at nine privately run venues around the city: Blue Note Taipei, Rev-Now, Rhythmscape, Pure Wine Cave and Atelier, Dixielane, A Penny Utopia, Vinyl Decision, SAPPHO, and Blackhat Jazz and Cafe Bar.
The shows at TMC and Daan Park will be free, as will be the show at Pure Wine though reservations are needed. A minimum charge will be required at the other private venues.
The dates of the ticketed shows can be found here.
For more information, visit the festival's Facebook page.