Taiwan library's ancient book collections on display in Prague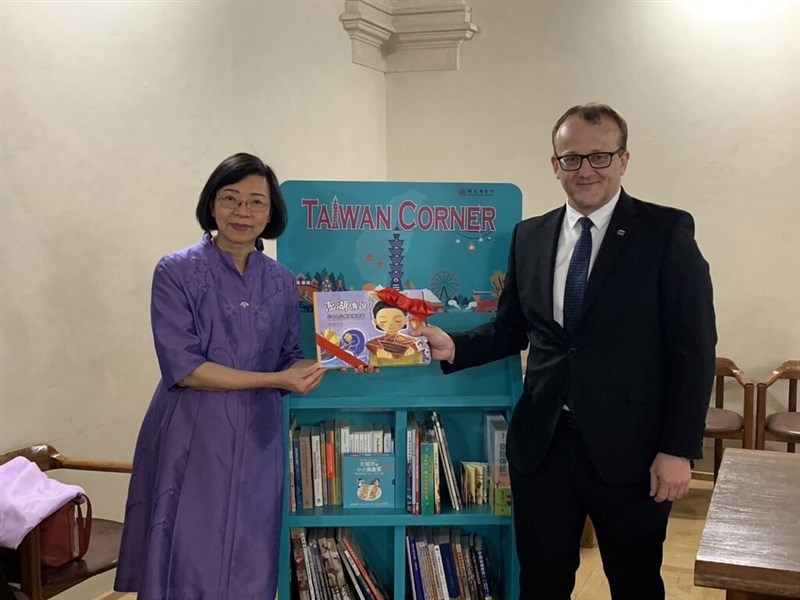 Berlin, June 1 (CNA) An exhibition in Prague featuring ancient books from Taiwan's National Central Library kicked off Thursday, with the aim of deepening cultural exchanges between Taiwan and the Czech Republic, according to the library.
The exhibition, titled "The Imprint of Civilization: Ancient books from the collections of the National Central Library," is being held at the National Library of the Czech Republic until Aug. 31.
It features replicas of oracle bone scripts and bronze inscriptions from ancient China that highlight the evolution of writing and printing, according to the libraries.
Also showcased is the Yongle Encyclopedia, a Chinese encyclopedia commissioned by the Yongle Emperor of the Ming Dynasty in 1403 and completed by Ming intellectuals in 1408.
A section of the exhibition shows how the Czech Republic's old name "Bohemia" was recorded and highlighted in different archives.
For example, it illustrates how Bohemia was called "a country full of gold" on the "Great Universal Geographic Map" created by a 17th century Belgian missionary in Qing China, according to the Taiwan library.
Bohemian astrological records and calendars, as well as watercolor paintings and sketches created by late Taiwanese painter Liang Dan-feng (梁丹丰) while traveling in Prague are also among the exhibited items, National Central Library Director-General Tseng Shu-hsien (曾淑賢) told CNA.
It is rare for the two libraries to jointly organize an exhibition, but the ongoing show in Prague reflects the warming relationship between Taiwan and the Czech Republic, Tseng said.
The Taiwan collections represent "the rich and diverse scope of cultural and artistic heritage of Southeast Asia," the Czech library said on its website.
"Through this exhibition, we hope to promote mutual understanding and appreciation between the people of the Czech Republic and Taiwan," it said.
This is the fifth time a similar exhibition has been held by the Taiwan library in Europe. The previous ones took place in Latvia in 2015, in Hungary in 2016, in Estonia in 2021, and in the Czech Republic in 2022.
Among those who attended the opening ceremony in Prague on Thursday were Tseng, Ke Liang-ruey (柯良叡), head of the Taipei Economic and Cultural Office in Prague, Czech Deputy Culture Minister Ondřej Chrást, Czech Academy of Sciences President Eva Zažímalová, and Czech National Library General Director Tomáš Foltýn.