Oscar winner's road to success helped by Taiwanese mother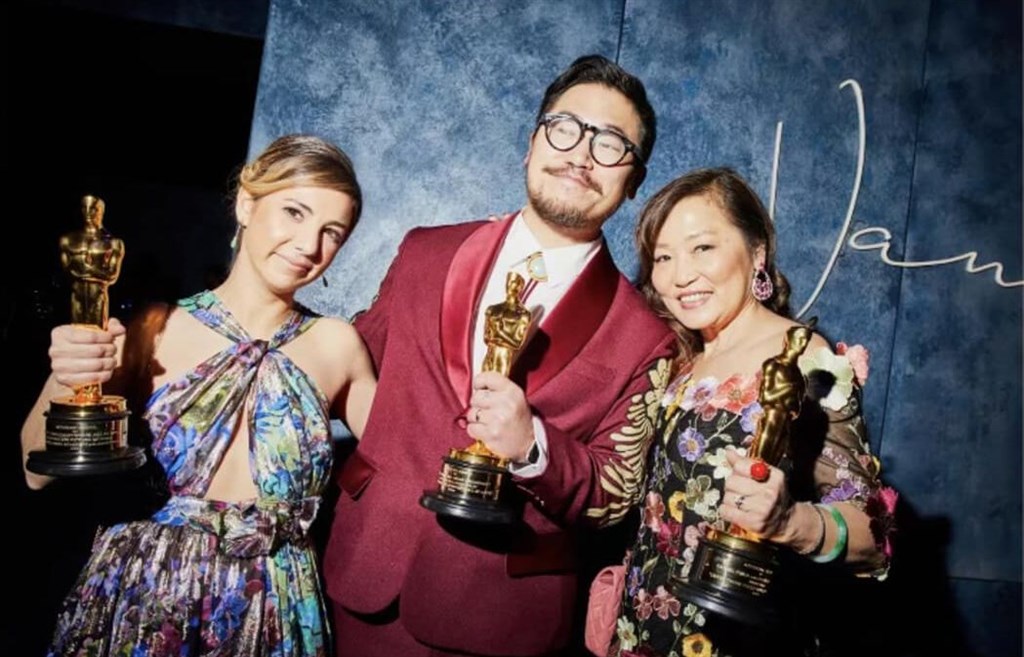 New York, March 18 (CNA) New Oscar-winning director Daniel Kwan (關家永) dedicated his award-winning film, "Everything Everywhere All at Once," to his Taiwanese mother, who he said nurtured and allowed him to explore his creativity from a young age.
The comedy-drama won seven Oscars, including best picture and best director, at the 95th Academy Awards held by the Academy of Motion Picture Arts and Sciences at the Dolby Theatre in Los Angeles on March 12.
Kwan told reporters after the ceremony that the film, which depicts the plight of different generations of Asian-Americans in the United States, is a tribute to his mother June Kwan (關沈俊龍), a 65-year-old Taiwanese native who met and married her Hong Kong husband in the U.S. before becoming a mother to four Asian-American children.
Riding the wave
Following the success of her son's film at the Oscars, June Kwan, who owns a chain of eateries in New York, spoke with CNA, sometimes with blunt honesty, about her son's achievements and her role in his growth in the profession.
"I was very happy but I wasn't brought to tears," she said. "I felt that it (the win) came too fast, too soon. He didn't have to wait for the moment as long as the other actors did."
While she did not dismiss her son's talents, June Kwan said Daniel still has a long way to go before he can be compared with the likes of Steven Spielberg and other nominees for best director.
Her son's success, she said, was also built upon the sacrifices of other Asian-Americans in the industry, who paved the way for the success of her son's unique genre film.
"It was almost as if my son's film was sitting on a volcano about to erupt," she said. "The trend was already there, and it just so happened to ride the wave and bring to light the long-time contributions of Asians in Hollywood."
"Daniels" sensation
Massachusetts native Daniel Kwan, alongside Daniel Scheinert, make up Hollywood's hottest writing and directing duo the "Daniels."
Their film "Everything Everywhere All at Once" won big at the prestigious Academy Awards in 2023, picking up seven of the 11 awards for which it was nominated.
Apart from the Oscars for best picture and director, the multiverse fantasy also took home awards for best actress, best supporting actor and actress, best original screenplay, and best film editing.
Kwan and Scheinert's wins for best original screenplay and best director were major milestones, especially coming so early in their careers with both of them in their mid-30s.
The writing and directing partners got their start in the industry as directors of music videos, and their first splash on the big screen was in 2016 with the avant-garde undertaking "Swiss Army Man" starring yet another Daniel, Daniel Radcliffe, the face of the Harry Potter franchise.
Unconventional Asian parenting
June Kwan was an important influence in shaping and encouraging her son's creative personality, which some may argue is a rare quality among immigrant Asian-American parents raising first generation children.
Growing up, Daniel Kwan said he remembered being tutored by his mother for two or three years because she thought one of his strengths, his ability to write, had taken a sudden dip at school.
He later learned that his mother pulled him out of school to protect his "creativity" and rescue him from writing "pointlessly."
"At the time, I didn't know why she did that. But now, obviously, it paid off. So that's the kind of mom she was," he said.
When Daniel Kwan was a freshman at the University of Connecticut, June Kwan encouraged her son to transfer to Emerson College to pursue a degree in film, where he discovered his passion for filmmaking.
While "Everything Everywhere All at Once" was a tribute by the director to his mother, the film's core theme of conflict between immigrant parents and their first generation immigrant children was a far cry from the parenting style in the Kwan household.
June Kwan said she tried to let her children take the wheel when it came to their decisions as they grew up so they could live their lives the way they wanted.
"The most important duty of a mother is to help her children find their goal in life, or at least something that is suitable for them," June Kwan said.
"For him to make a career out of this (filmmaking) and do it so exceptionally, I am truly happy."
Life lessons
June Kwan's own upbringing and educational path may have influenced her parenting style.
When she was a student, June recalled, she chose majors that she was not particularly interested in, such as library and information science in Taipei and computer science in the U.S, in order to be able to study at a so-called "elite school" and be on a path to a promising future.
That is why she encouraged her children to discover and pursue their passion so they won't have regrets in life, she said.
While June Kwan's parenting skills helped shape her children's successful futures, Daniel Kwan recalled that he was once told by his mother that she never really wanted to have children.
June Kwan gave up her career to be a full-time mother devoted to nurturing her four children. "I knew I could not work while raising four kids," she said, "because it was most important to me."
It was not until nearly 20 years later that the mother restarted her career by opening a restaurant in New York.
Speaking of his mother's decision, Daniel Kwan said: "I think that actually makes it even more beautiful knowing how much she gave up for me and my siblings."