Opera 'Don Carlo' to make Taiwan debut in October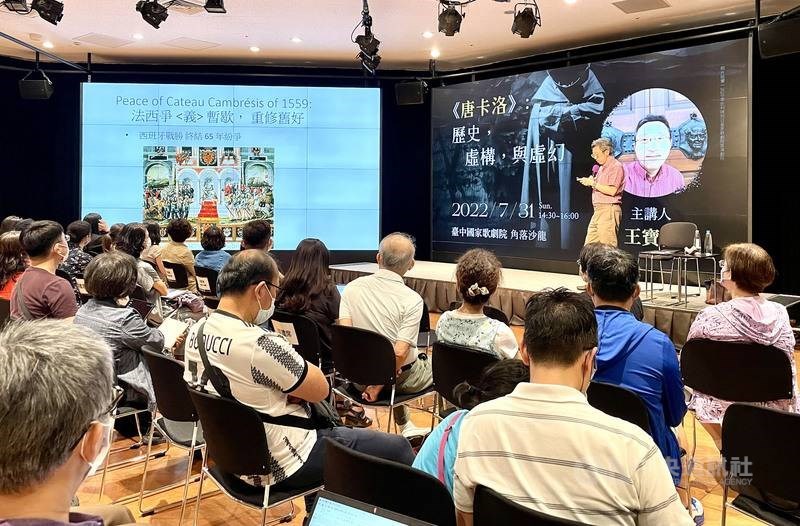 Taipei, Aug. 2 (CNA) "Don Carlo," a five-act grand opera by renowned Italian composer Giuseppe Verdi, will have its Taiwan premiere at the National Kaohsiung Center for the Arts (Weiwuying) in October, according to organizers.
Performances of the Taiwan production, a multinational collaboration between Weiwuying and Opéra Royal de Wallonie-Liège (Royal Opera House of Liege, Belgium), will take place from Oct. 27 to 30 at the arts center's Opera House.
Tickets for the show are currently available from the National Theater & Concert Hall's ticketing site at https:/www.opentix.life/ticketpackage/1551421635357028353.
The National Taichung Theater and Weiwuying have also jointly launched a two-opera ticket package, with patrons able to choose from either Tannhäuser (Oct. 21-23) or Die Zauberflöte (Dec. 15-18) in Taichung, and a performance of either "Don Carlo" or "Turn of the Screw" at Weiwuying from Nov. 18-20.
The Kaohsiung performances of "Don Carlo," co-produced by director Stefano Mazzonis di Pralafera and revival director Gianni Santucci, will also feature Taiwanese singers Keng Li (耿立), Wu Bai-yu-hsi (巫白玉璽), Weng Jo-pei (翁若珮), Hsieh Ming-mou (謝銘謀), Lai Chueh-yu (賴珏妤), Rios Li (李增銘) and Liang You-jhong (梁又中).
The singers will be backed by the Evergreen Symphony Orchestra conducted by Chien Wen-pin (簡文彬), alongside the Kaohsiung Chamber Choir and the Kaohsiung City Wind Orchestra.
"Don Carlo" is a story of love and devotion conflicting with political and religious upheaval in mid-16th century Spain, encompassing intense palace intrigue, amorous entanglements and intergenerational conflict.
Instead of using the allegro songs written in the past to express the emotions of the protagonist, Verdi uses musical interludes to help advance the plot, Wang Pao-hsiang (王寶祥), an assistant professor of foreign languages and literatures at National Taiwan University, said while giving a lecture entitled "Don Carlo: History, Fiction, and Unreal" at the National Taichung Theater on Sunday.
"The whole play will make people think about how to deal with themselves after attaining self-independence. What is the meaning of freedom and what can be done after gaining freedom?" Wang said.
Although there are still nearly three months until the performance, the shipping container loaded with the costumes of the opera has already arrived in Taiwan, according to the opera's organizers.