Spanish Jesuit priest dies after decades of dedicated service in Taiwan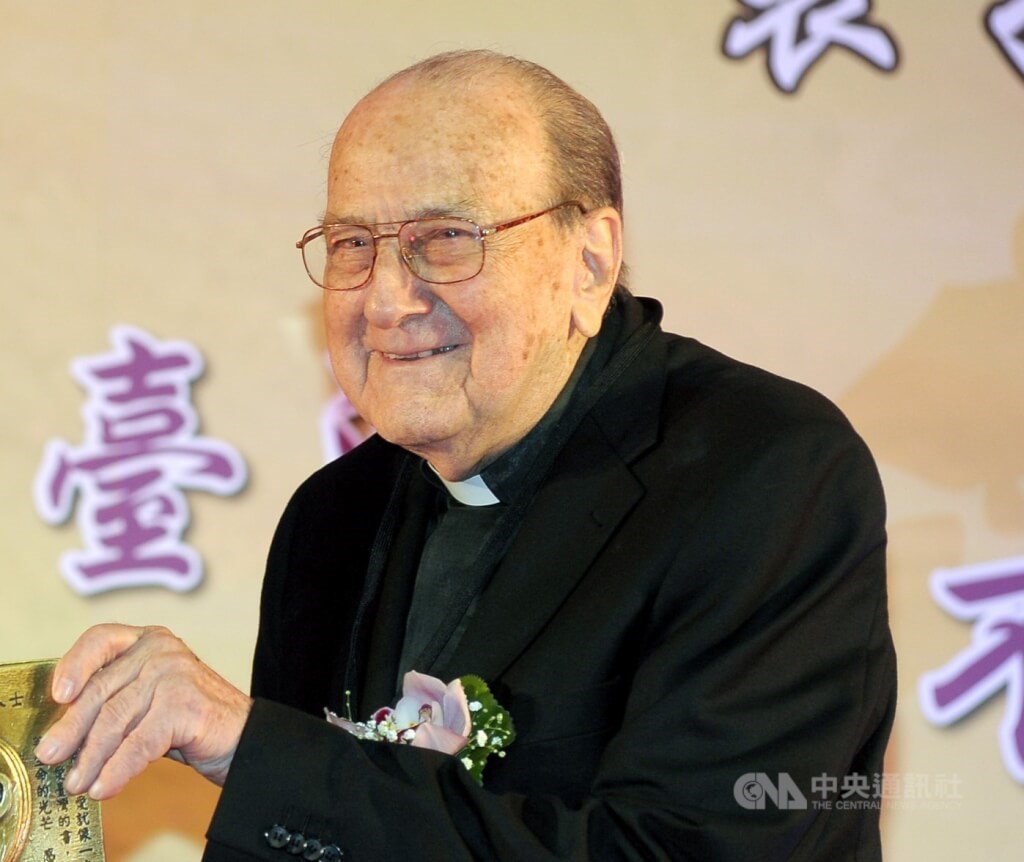 Taipei, June 15 (CNA) Spanish Jesuit priest Andrés Díaz de Rábago (賴甘霖), who had served for more than 50 years in Taiwan, passed away Wednesday at the age of 104, according to the Society of Jesus.
"Fr. de Rábago went peacefully to the Lord at 10:20 a.m. Wednesday at the Infirmary in New Taipei," the society said a Facebook post. "According to his wish, his body will be sent and donated to the School of Medicine, Fu Jen Catholic University, later on the same day."
Born in Spain in 1917, de Rábago was raised in a Catholic family and attended medical school, where he earned a bachelor's degree. He entered the Society of Jesus in 1940 and later went on to study for a doctorate in medicine.
He was sent by the Jesuits to serve as a priest in mainland China, East Timor, and the Philippines, where he earned a doctorate in theology.
With a double doctorate in medicine and ethical theology, de Rábago arrived in Taiwan in 1969 and spent the first years teaching medical courses, alongside his ecclesiastical duties.
He taught medical ethics at National Taiwan University's College of Medicine, focusing on topics such as respect for life and attention to the physical and mental state of medical staff.
Throughout his years of service as a priest in Taiwan, he visited hospitals to pray with patients, and he continued to do so even after he turned 100 years old. He was often seen taking the MRT, taxis and other means of transportation to visit hospital patients.
In 2017, de Rábago was granted Republic of China (Taiwan) citizenship, becoming the first foreign national in Taipei to be naturalized based on decades of service in the country.
That same year, he also received the Medical Contribution Award from the Ministry of Health and Welfare for his contribution to Taiwan over nearly 5 decades.
The last years of de Rábago's life were spent at the Infirmary at Fu Jen Faculty of Theology of St. Robert Bellarmine, due to his failing health.
Fr. de Rábago had said that if he was allowed to choose again, he would still come to Taiwan, "sacrificing myself for others." He said he was very happy and would love and remain dedicated to Taiwan to the end of his life.
On Wednesday, former Vice President Chen Chien-jen (陳建仁) expressed condolences at de Rábago's passing.
"Father de Rábago is just like our father and grandfather, always kind, warm and cordial. May Father de Rábago return to the Father's home. In the arms of God's love, share eternal bliss!" Chen said in a Facebook post.