British artist depicts '100 scooter' scenes from Taiwan streets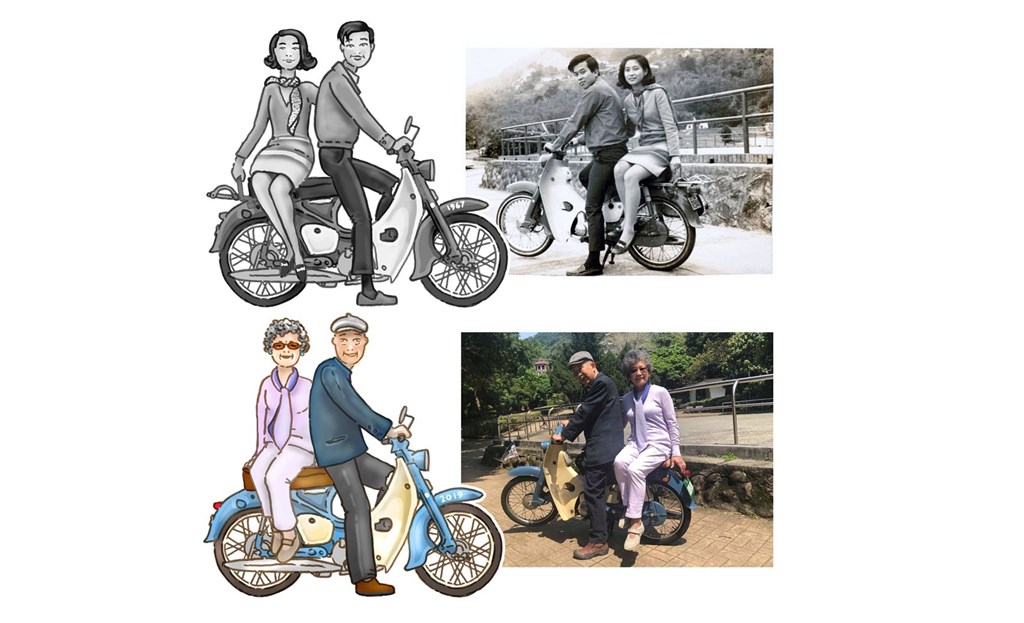 Taipei, March 30 (CNA) Although scooters zigzagging along Taiwan's streets are a commonplace sight for local residents, a British artist is collecting pictures or stories of 100 scooter-related incidents that he is drawing to represent different aspects of life in Taiwan.
Tom Parker, who created online buzz last year by drawing an extremely detailed map of Taipei, said he is now documenting scooters -- an integral part of daily life for many people in Taiwan -- as a way of expressing his affection for the country.
The 47-year-old from Wales, who came to Taiwan eight years ago and became a resident after marrying his Taiwanese girlfriend in 2018, said he started the project last November after receiving good feedback on some of the scooters he depicted in his Taipei map.
"(I) decided there was clearly scope to do many, many more, and I thought it would be a fun side project to do in between other work," he told CNA.
After researching local news and with contributions from fans, and even his own personal experiences, Parker started to draw the scooter scenes, which range from a worker transporting large number of gas canisters to a police officer chasing an ostrich that escaped from its enclosure.
"About 80 percent of them are from photos of real people on scooters, then about 15 percent will be just people doing things that people do..., and maybe 5 percent are just a bit crazy," Parker said as he explained the work to his followers on Facebook, where he posts constant updates on the project.
After identifying the most interesting scooter incidents, Parker hand draws them before scanning and coloring them digitally -- the same way he created the map of Taipei using iconic street features.
However, the "scooter" scene that impressed him most so far carries a taste of history, according to the artist.
Parker said he saw a story online about an old couple posing on the same scooter in 1967 and 2019 in Tianmu Park, Taipei, and felt it was a lovely scene to depict.
Parker then created a pair of scooters -- one black-and-white to represent the past and a colorful one for the more recent picture -- and was delighted to receive a thank-you note from the couple, he said.
It is such interactions and feedback from his followers that have made the project even more fun, Parker said.
"I reached 66 (scooters) the other day, and had up to 82 on my list," Parker recalled. "I was going to finish those off, then asked for more ideas, but as soon as I posted the 66th, I received enough new photos to do at least 150."
The biggest challenge now is to fit the motorcycles into a certain "footprint" -- for instance, posed at the same angle, from left to right-- so they are consistent enough to be made into cards or a game, Parker noted.
This creates a certain level of difficulty when there are situations best seen from the front or the back of the scooter, he said, citing an example where a man is driving two scooters at the same time.
When asked about his feelings for the scooters and traffic in Taiwan, Parker said that while he is trying to document daily life in the country, he is neither mocking nor condoning illegal driving since "most people here are obviously very aware of the scooter madness we see daily."
"In the U.K. when you see the green man -- you cross the street and you know you'll be safe. In Taiwan it feels like a real gamble!" he said.
"But generally I don't like to complain about anything. As long as I can get my dog across the road eventually I'm happy," he said.