Taipei book fair to feature prize-winning European titles, artwork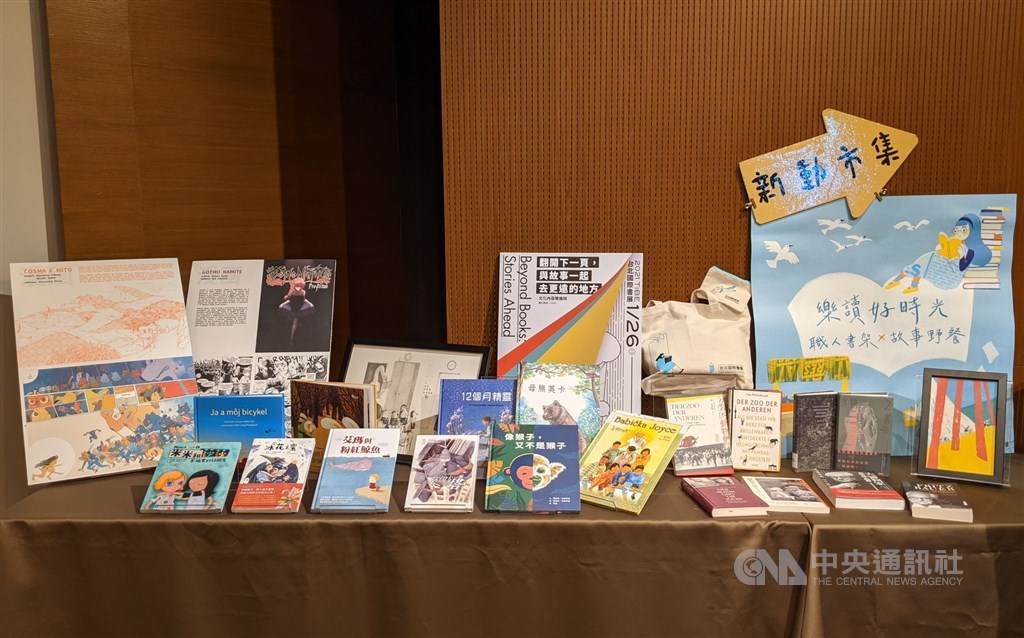 Taipei, Jan. 12 (CNA) The Taipei International Book Exhibition (TIBE) will feature the winning entries from the European Union Prize for Literature and the 2020 Bologna Children's Book Fair Illustrators Exhibition, when it opens later this month, the organizers said Tuesday.
The winning artworks from the Italian children's book fair will be displayed live for the first time, since it was canceled last year due to the COVID-19 pandemic, said Page Tsou (鄒駿昇), the designer of the illustrators' booth at the Taipei exhibition.
A total of 171 illustrations by 76 artists of 24 nationalities, including six Taiwanese, will be on display at a special booth, Tsou said at a press conference.
"Many of the artworks to be displayed are very soothing, so if people get tired of reading books, they can come to our booth for a change of pace," he said, with a laugh.
Elena Pasoli, manager of the Bologna Children's Book Fair, said in a pre-recorded video message that she was "very pleased and honored to participate in this opening of a real exhibition, after so many months of virtual meetings only."
"Saying that the Illustrators Exhibition feels at home here in Taipei is really appropriate," she said, referring to the fact that many Taiwanese artists have been included in the final selections of the Bologna exhibition in past years.
Some 2,500 illustrators from 66 countries had submitted entries to the 2020 Bologna Children's Book Fair Illustrators Exhibition, which showcased the latest trends in illustration for children and young adults, according to the organizers.
At the 2021 Taipei book fair, eight winning entries from the 2020 European Union Prize for Literature will also be on display, said Filip Grzegorzewski, head of the European Economic and Trade Office (EETO) in Taiwan.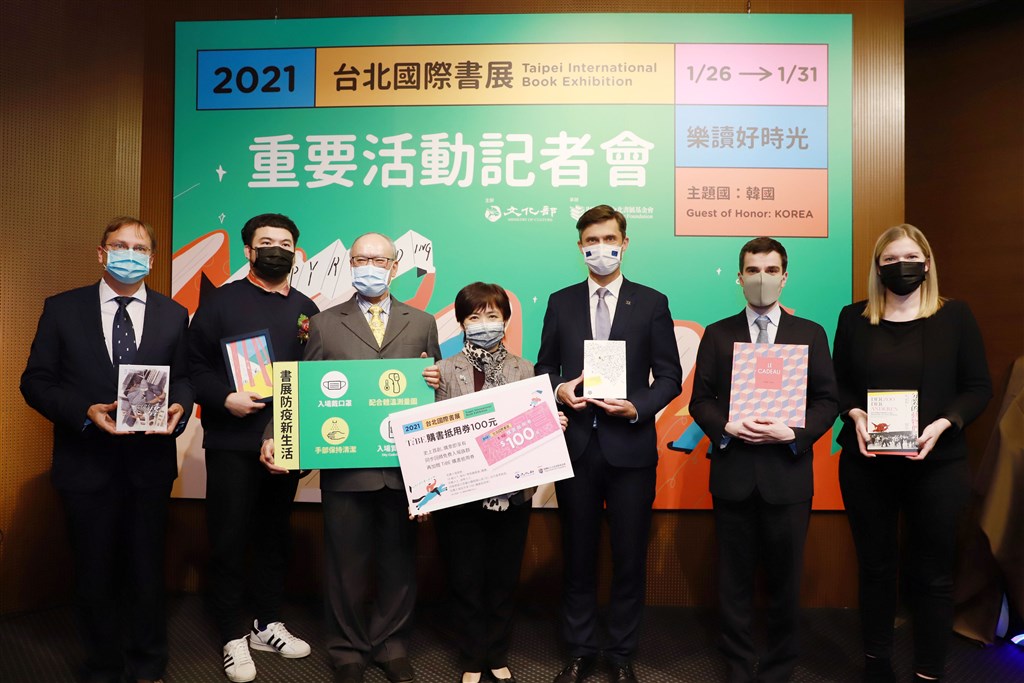 The eight prize-winning books will be on show at the EETO booth, along with a selection of other books from 10 EU member states, Grzegorzewski said.
In the nearby German booth, 200 books from 19 German publishers will be on display, said Theresa Hümmer, director of the Goethe Institut in Taipei.
The institute has also arranged events at the book fair, including a live forum between German and Taiwanese illustrators on working during the COVID-19 pandemic, and a discussion hosted by German publishers and Taiwanese bookstores on the development of feminism in the two countries, Hümmer said.
At the French booth, meanwhile, the display will feature a collection of drawings and other artworks by renowned French artist and cartoonist Moebius, whose work inspired Japanese animator Hayao Miyazaki, according to David Kibler, head of the culture, education and science section at the French Office in Taipei.
According to Kibler, the office will host 17 events at the Taipei book fair, one of which will feature famed Taiwanese picture book author Jimmy Liao (幾米) and two other Taiwanese writers, whose books have been published in France.
On display at the booth of the Slovak Economic and Cultural Office (SECO) in Taipei, there will be seven Taiwanese children's books that have been published in Slovakia, five others written in Taiwan and scheduled to be published in Slovakia soon, and eight books from Slovakia that have been published in Taiwan.
SECO head Martin Podstavek said that when he first arrived in Taiwan three and a half years ago, one of the first places he visited was an Eslite bookstore, a popular bookstore chain in the country.
The bookstore delighted him, as it featured a wide variety of books from seemingly every country in the world, Podstavek said, but to his surprise, he could not find any from his home country.
To remedy that, Podstavek said, he has been working to facilitate the publication of Taiwanese children's books in Slovakia, and vice versa, through the Taipei book fair and the culture ministries of the two countries.
He said that he went to an Eslite bookstore in Taipei on Tuesday, before attending a press conference, and saw several Slovak children's books, many of which he already had, but he bought three.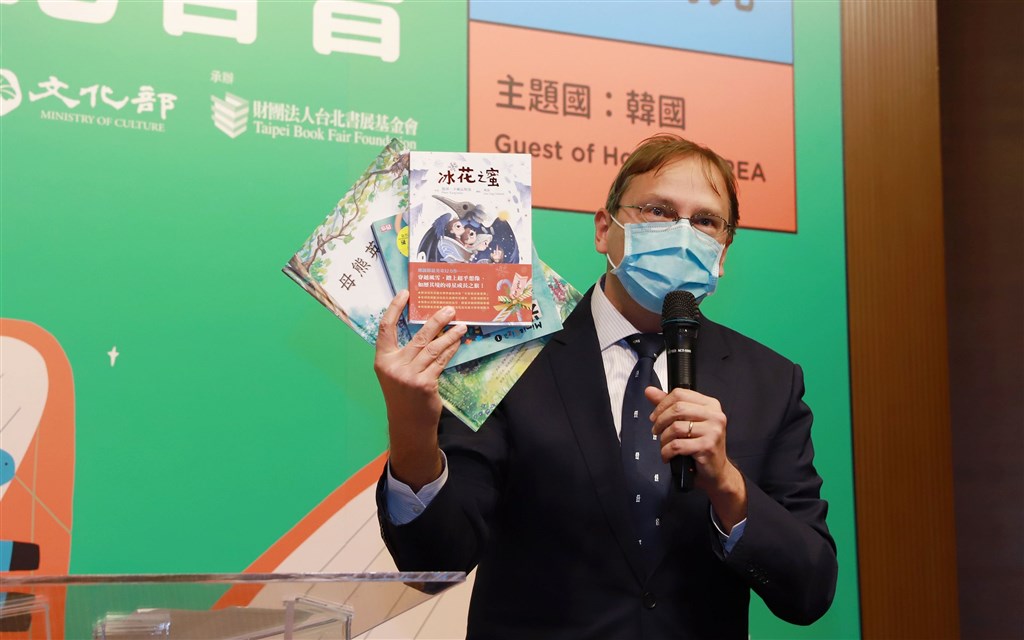 TIBE will run from Jan. 26-31 at Taipei World Trade Center, and entry will be free for people under the age of 18 and those with disabilities, as well as for all foreign nationals, including migrant workers, with the presentation of their passports.
All visitors to the book fair will receive a NT$100 (US$3.48) voucher that can be used to purchase books at the exhibition, according to organizers.