Taiwan International Festival of Arts unveils 2021 Taipei lineup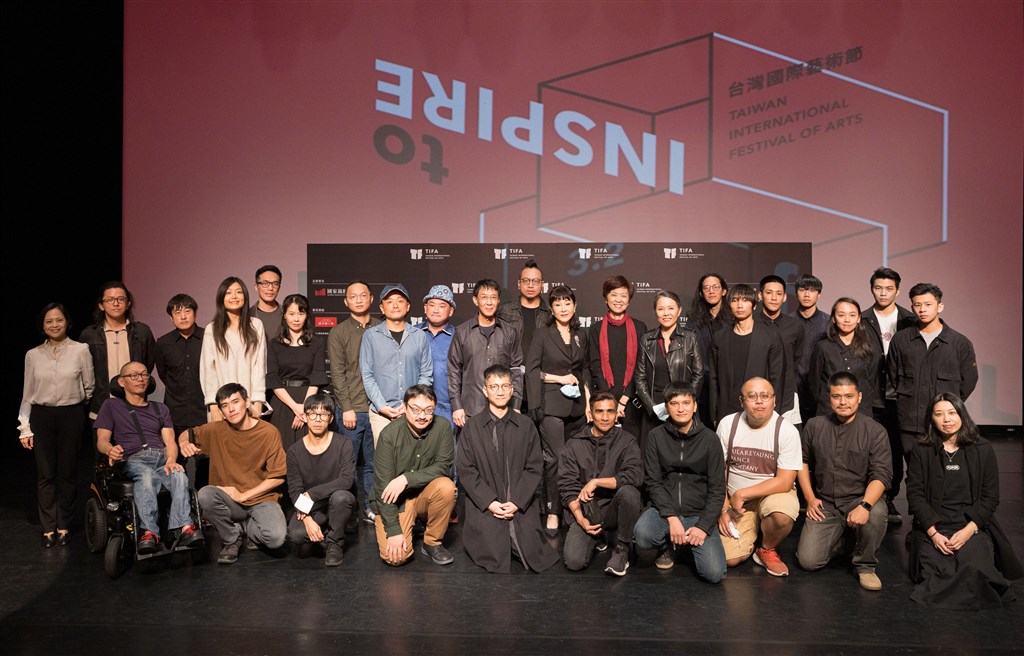 Update: Taiwan International Festival of Arts modifies program over COVID-19
Taipei, Dec. 1 (CNA) The organizer of the 2021 Taiwan International Festival of Arts' activities in Taipei unveiled on Monday a lineup that features mostly local productions amid the ongoing COVID-19 pandemic.
The 2021 event will continue the theme of "To Inspire, For All" introduced for the 2020 event, which began in February but came to a halt in mid-March at the initial peak of the pandemic.
Twelve of the 19 productions to be staged by the National Theater and Concert Hall (NTCH) in Taipei will be local productions, according to the venue.
"The pandemic has sparked the creative energy of Taiwanese artists," NTCH General and Artistic Director Liu Yi-ruu (劉怡汝) said at a press conference, noting that the festival would have a higher percentage of local productions than in the past.
Pipa soloist Chung Yufeng (left), who will give two concerts on April 16-17 in collaboration with musician in different fields, played with accordion player Hsieh Chieh-ting during the press conference.
While two of the productions are jointly commissioned by the NTCH, the National Taichung Theater and the National Kaohsiung Center for the Arts, the other two venues will announce their own programs for the festival in their respective cities later this month.
The festival's program in Taipei was originally positioned to present local and foreign masterpieces, but it has recently shifted to a focus on keeping Taipei audiences up to date on the latest performing arts trends, Liu said.
With that in mind, she said, the NTCH's offerings include more works by young and upcoming artists, such as "Palaces," a two-part play written by NTCH artist in residence Wu Ming-lun (吳明倫) to be performed by Our Theatre from April 16 to 18.
Wang Jhao-cian (汪兆謙), the director of the play that was inspired by five mysterious cases and local religious beliefs on hell, said the two parts can be seen as stand-alone works or one long play, which will be performed in Taiwanese and Chinese with English subtitles.
The play is also a part of the Taiwan Week series in mid-April, during which the NTCH, for the first time, will joined by other venues in northern Taiwan to pitch programs to foreign buyers, according to Liu.
Meanwhile, four productions on the schedule were originally set to be staged for the festival earlier this year before the disruptions caused by COVID-19, according to the NTCH.
One of them is "A Thousand Stages, Yet I Have Never Quite Lived," a solo performance by Peking opera star Wei Hai-min (魏海敏), who looks back on the past six decades in Taiwan's history through six iconic characters she played in her career.
The trailer of "A Thousand Stages, Yet I Have Never Quite Lived" of the 2020 festival, which will now be staged in Taipei April 9-11, Hsinchu County April 17
Liu said she was looking forward to finally staging the work, which was put together by NTCH over two and half years.
It is directed by Singaporean Ong Ken Sen (王景生), who incorporates Wei's performance with works by another two Taiwanese masters in their fields -- photographer Chang Chao-tang (張照堂) and video artist Chen Chieh-jen (陳界仁).
Wei's show will be performed in Chinese with English subtitles.
While seven foreign productions, including International Theater Amsterdam's "Ipson house" and Wired Aerial Theatre's free outdoor show "As the World Tipped" are on the schedule, Liu told CNA it remains uncertain whether these performances will actually go ahead.
The 14-day quarantine Taiwan currently imposed on all arrivals is of concern to foreign performers because it is difficult for them to plan their schedule and be cooped up for that period of time, she said.
Choreographer Chou Shu-yi and theater veteran Cheng Chih-chung (hair in buzz cut) perform a a short segment they developed when working on "The Center," a piece they will present at the 2021 TIFA in Taipei April 23-25.
In response, the NTCH has started pre-booking Tuesday for its members for tickets to the 12 Taiwanese productions before general sales begin on Dec. 8, but ticket sales for the six productions involving foreign performers will not begin until February.
The NTCH also plans several events to expand its reach before performances on stage take place between March 2 and May 2, according to Liu.
The first event is a free month-long exhibition associated with "Palaces," which will open on Thursday and include models of hell and a fortune telling machine inside Gate 1 of the National Theater.
The fortune telling machine to be displayed at the "Palaces" exhibition.
There will be a free dance workshop on Feb. 19 and a ticketed dance battle event on Feb. 21 at the National Theater.
On March 21, a free Southeast Asian-themed "Dancing in the plaza" event, to be held with a market fair, will take place outside Gate 1 of the theater.
The 2021 festival, meanwhile, will be the first major event for the NTCH's revamped ticketing service called OpenTix, which began operations on Nov. 20 and will replace the existing service starting in April 2021.
The NTCH is encouraging registered users of the existing service, including its paid members, to move their account to OpenTix, because all tickets to the festival will only be sold through the newly introduced service.
(By Kay Liu) enditem/ls