GOLDEN HORSE: Taiwan director, actor honored for lifetime achievement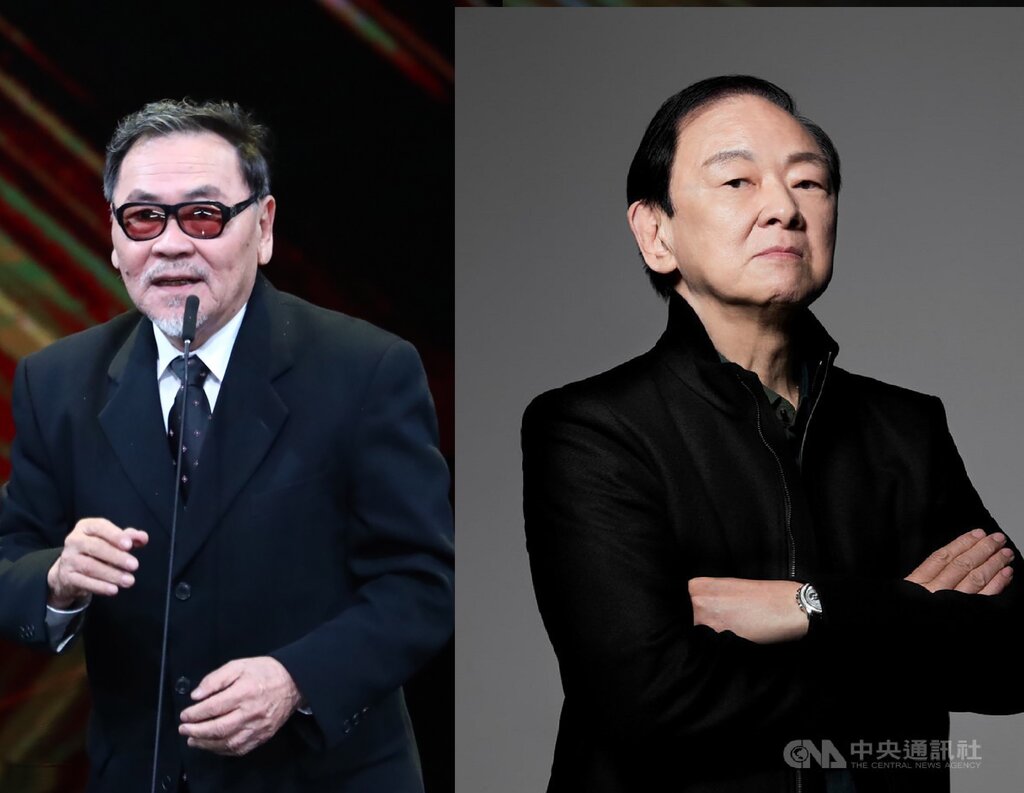 Taipei, Nov. 23 (CNA) Veteran Taiwanese director Wang Toon (王童) and martial arts actor Jimmy Wang (王羽), whose cinematic careers span over a century combined, were honored with lifetime achievement awards at the 56th Golden Horse Awards Saturday.
The 77-year-old Wang Toon, who received the award from actor and actress Pon Chacha (澎恰恰) and Yang Kuei-mei (楊貴媚), got a standing ovation from the crowd at the award ceremony at the Sun Yat-sen Memorial Hall.
(Wang Tong [right])
In his acceptance speech, Wang Toon gave special thanks to his parents for supporting him in developing a career in the arts.
"I started making movies at the age of 22 and have been in the industry for 55 years," he said, adding that he sincerely appreciates all the mentors who have guided him throughout his years as an up-and-coming filmmaker.
"Always respect our mentors because the next generation's success is all because of the achievements of the people who taught them," Wang Toon said.
Meanwhile, 76-year-old Jimmy Wang was not present at the award ceremony and was represented by his two daughters, Wang Hsin-ping (王馨平) and Wang Chia-lu (王加露), who accepted the award from Taiwanese filmmaker Ang Lee (李安), the chairman of the awards' executive committee.
Wang Hsin-ping said her father was unable to attend the ceremony due to illness.
(Jimmy Wang's two daughters stand on stage to receive the lifetime achievement award on behalf of their father)
Wang Chia-lu said her father, who is known throughout the Chinese-language cinema for his martial arts roles, became sick about eight months ago but has been showing signs of improvement.
"My father is undoubtedly everyone's greatest martial arts warrior. He is very straightforward, which may offend some people, but he always lives up to his promises," Wang Chia-lu said. "He treats his friends well and loves his family."
A recipient of six awards at the Golden Horse Awards, Wang Toon won best color film art design for "Feng Yeh Ching" (楓葉情) in 1976, best clothing design for "All the King's Men" (天下第一) in 1983, best art direction and best clothing design for "Run Away" (策馬入林) in 1985, and best director for "Strawman" (稻草人) in 1987 and "Hill of No Return" (無言的山丘) in 1992.
The first film Wang Toon directed, "If I Were for Real," (假如我是真的) received a best feature film award at the 1981 Golden Horse Awards.
Wang Toon's cinematic career started when he began working for the Central Motion Picture Co. in 1966, starting out in an entry level position in the company's film studio and working his way up to become head of the studio.
He has directed numerous movies that have helped shape the local industry, as well as helping to promote film studies.
Jimmy Wang, who shot to stardom following his 1967 martial arts film "One-Armed Swordsman" (獨臂刀), started acting in 1963 and was nominated at the Golden Horse Awards for best leading actor for the film "Shou Tsu Ching Shen" (手足情深) in 1978, best supporting actor for "Wu Xia" (武俠) in 2011 and best leading actor for "Soul" (失魂) in 2013.
Established in 1962, the annual awards gives recognition to excellence in the world of Chinese language cinema.
This year's Golden Horse Awards has been dealt a heavy blow after China announced a boycott of the awards in August in response to political fallout from last year's ceremony, when Taiwanese documentary director Fu Yu (傅榆) called in her acceptance speech for Taiwan to be treated as an "independent entity."
Taiwan's Golden Horse Executive Committee has remained tight-lipped and low-key about the boycott. Taiwan's Ministry of Culture, meanwhile, has expressed regret and has called for Chinese officials not to interfere with cultural exchanges over political factors.