Rare sculpture featured at Juming Museum's anniversary celebrations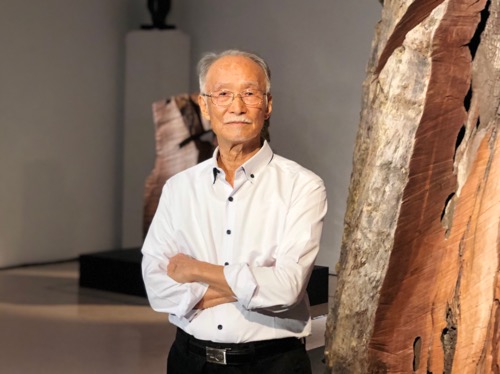 Taipei, Sept. 14 (CNA) Juming Museum, a popular indoor and outdoor venue in New Taipei for the display of dramatic sculptures, celebrated its 20th anniversary Saturday with the exhibition of a new sculpture made from rare wood and a performance by Cloud Gate Dance Theatre.
At the ceremony, the museum, which was founded Sept. 19, 1999, unveiled the two newest additions to its collection of Taichi-themed wooden artworks.
Huang Xiu-wen (黃修文), supervisor of the museum's exhibition department, told CNA the piece "Taichi Arch of Paelo" was carved from a large piece of paleo-embedded bishop wood, which was unearthed after 5,000 years.
"The artwork weighs close to 3 tonnes and is 221 centimeters long, 156 cm wide and 282 cm tall," he said, adding that it is one of the biggest wooden pieces at the museum.
Taichi Arch of Paelo
Smaller version of Taichi Arch of Paelo
It was created by Ju Ming (朱銘), a Taiwanese sculptor who rose to fame in the 1970s and later established the museum in 1999. Over the past 20 years, he has won numerous international awards, including the Fukuoka Asian Culture Prize in 2007.
He is also the winner of the 2019 Arts and Culture Award, one of the Presidential Cultural Awards, which will be presented to him by President Tsai Ing-wen (蔡英文) at a ceremony on Oct. 18.
At a press conference Saturday, Ju said that in his 67 years as wood sculptor, his most fascinating work has been the "Taichi Arch of Paelo" because of the rare material.
"The wood was estimated to be 5,300 years old after it was unearthed by a friend who was digging a house foundation," he said.
"It is so precious and so very rare," Ju said.
The sculpture, which took about 10 days to craft, portrays two people in taichi poses, Ju said.
Ju, who has been creating taichi-inspired artwork since the 1970s, said this one is different because it also portrays an archway beneath the touching hands of the two people.
"Even it is two people, you need to make one energy field, thus, the archway allows that flow of energy," he said.
A smaller version of the "Taichi Arch of Paelo," was also unveiled at the press conference and was said to be part of the bigger sculpture.
"Because the wood was so precious, I carved from it a smaller version of the original piece," Ju said.
The two new sculptures, along with 20 other taichi-themed artworks by Ju, are on display at the museum as part of it's 20th anniversary celebrations.
The celebrations also included a performance titled "Tai Chi Men Hsia Wu Shui Yueh," by Cloud Gate Dance Theatre.
Lin Hwai-min (林懷民), founder of Cloud Gate Dance Theater, said the performance is about dialogue between people and Ju's sculptures.
Cloud Gate Dance Theater