Golden Melody music festival to feature concerts: organizers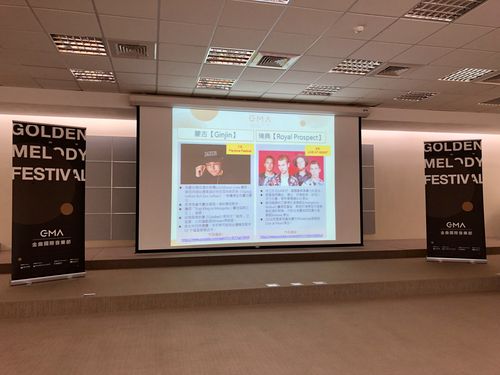 Taipei, June 8 (CNA) The Golden Melody Awards and Festival (GMA), better known internationally as Taiwan's Grammys, will kick off on June 26 this year and run through June 29 in the country's capital Taipei, featuring domestic and foreign artists and bands, industry conferences and an exhibition, according to the organizers this week.
The 30th GMA's awards ceremony will be held at the Taipei Arena on June 29 and broadcast live by TTV.
But in addition to the awards ceremony, a festival is held annually to promote Taiwan's music industry.
Franie Hsu (許家華), GMA events coordinator, said six foreign artists and bands, including Thai pop-rock band Getsunova, South Korean R&B crooner Rico, and Ginjin, hailed as the "Trap King in Mongolia," will perform at GMA's showcase concert from June 26-28 at Taipei Syntrend Clapper Studio.
Other foreign bands to perform at the event include: Swedish band Royal Prospect, Japanese four-piece rock band Amen No Parade, and Malaysian band The Venopian Solitude, Hsu added.
Meanwhile, Tuan Chen (陳端端), GMA director of exhibition and showcase, said nine domestic artists and bands including three-piece rock band EggPlantEgg (茄子蛋), singer-songwriter Ann (白安) and electro band Astro Bunny (原子邦妮), will also perform at the concert.
Irene Lin, (林昀梵), Taiwan Television Enterprise (TTV) project manager, said the annual festival attracts music industry representatives and buyers from around the world.
Hence this year's exhibition to be held during the festival at the Le Méridien Taipei, will also feature Virtual Reality and virtual anime characters in a bid to showcase Taiwan's music industry technology, Lin said.
In addition to strengthening Taiwan's music industry, the GMA also hopes to promote rising talents. Therefore, GMA Heat, a free outdoor concert will be held June 28-29 to feature 12 up-and-coming bands, Chen said. It will be held on the pedestrian walkway outside the city's Shin Kong Mitsukoshi Xinyi Plaza.
Two foreign bands, .gif from Singapore and Haute from France, will also perform at GMA Heat, Hsu pointed out.
The event will include lectures, conferences, exhibitions, music workshops and a platform for cross-music industry collaboration, the GMA organizers said.