Taiwan wins silver at the Culinary World Cup in Luxembourg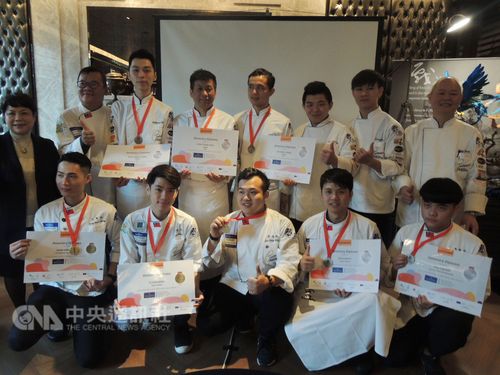 Taipei, Dec. 14 (CNA) Taiwan's culinary team clinched silver while competing against 16 other countries in the community catering challenge at the 2018 culinary world cup in Luxembourg last month, according to a statement posted on the Facebook of the team's coach on Friday.
The Expogast Villeroy & Boch Culinary World Cup 2018 was held Nov. 24-28.
Headed by their coach Tony Chang (張志騰), the team which consisted of just four cooks and two assistants, was the first Taiwanese team ever to win a group award at the competition that is held once every four years.
Chang's team qualified for the competition by winning the national team culinary award at the biennial Food and Hotel Asia trade fair in Singapore in 2016.
The challenging part was to serve up 13 dishes that could feed 150 people in under five hours, Chang said, adding that all of the dishes had to meet the calorie and nutritional specifications set by the competition.
Also, processed foods were not allowed to be used, wastage was prohibited and there were restrictions on what seasoning could be added, Chang said.
In celebration of their achievements, the team cooked up the dishes they prepared at the competition at the Splendor Hotel Taichung on Friday.
The team's captain, Chang Kuo-liang (張國樑), said their ingredients for entrees, soups and desserts consisted of sweet potatoes, mullet roe, cherry tomatoes, chives, and bamboo shoots.
According to photos on Chang's Facebook, some of the dishes included stewed turnip stuffed with stir-fried chives and preserved black bean; bamboo shoots, clam and pork ribs soup; and braised beef rib with handmade noodles.