Work to start on restoration of 1920s-street in Kinmen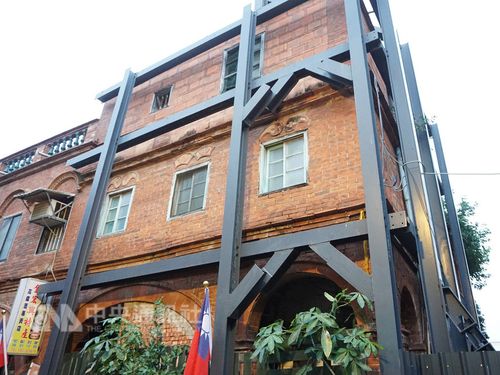 Taipei, Nov. 28 (CNA) Work to restore an old street made up of red brick buildings with arched front-door facades in Kinmen, Taiwan's outlying county close to China, is finally about to start, seven years after local owners of some of the historic but dilapidated houses first sought assistance with restoration work.
Contractors have been secured for the Mofan Street (also known as Model Street) restoration program, Kinmen County Director of Cultural Affairs Lu Kun-ho (呂坤和) said Tuesday, adding that he expects the nostalgic glory of the commercial street built in the 1920s to be restored within one year.
Lu praised the restoration program for its positive goals, including preserving the street's original appearance and atmosphere and preventing the old brick houses from collapsing.
Most significantly, the program represents "a consensus among the owners to restore the buildings to their former glory," Lu said. "They established a model for restoration."
Mofan Street in Jincheng Township has been a popular tourist destination on the former battle front island for the past few years, especially among visitors from China.
The street draws most tourists during the New Year's Day holiday and China's week-long Oct. 1 National Day holiday, when it is decorated with the flags of both the Republic of China (Taiwan) and the People's Republic of China.
Built in 1925, one year after then-Kinmen County Chamber of Commerce head Fu Hsi-chi (傅錫琪) and local gentry Weng Tung-wen (翁同文) decided to build a business center, Mofan Street comprised 40 houses, mainly serving as stores, according to the Cultural Affairs Bureau of Kinmen County.
Fu named the street "mofan" (meaning model in English) thanks to its uniform hybrid architecture combining Chinese and Western styles, expecting it to become a model for the construction of houses in the future.
The street enjoyed its heyday in 1960s, but fell into disrepair in the 1980s and 1990s due to economic recession.
The bureau said Mofan Street not only has a page in the history of Kinmen that records its rise and fall, many of the well preserved buildings are still occupied.
Calls to restore the dilapidated part of the street began in 2011 with some house owners applying for government subsidies to restore historic structures.
After a series of twists and turns, the county bureau secured funding from the Ministry of Culture in March 2016, and selected contractors through a public bidding process on Nov. 22, the bureau said in a statement released Tuesday.