Ma Ying-jeou Foundation China exchange group arrives in Taiwan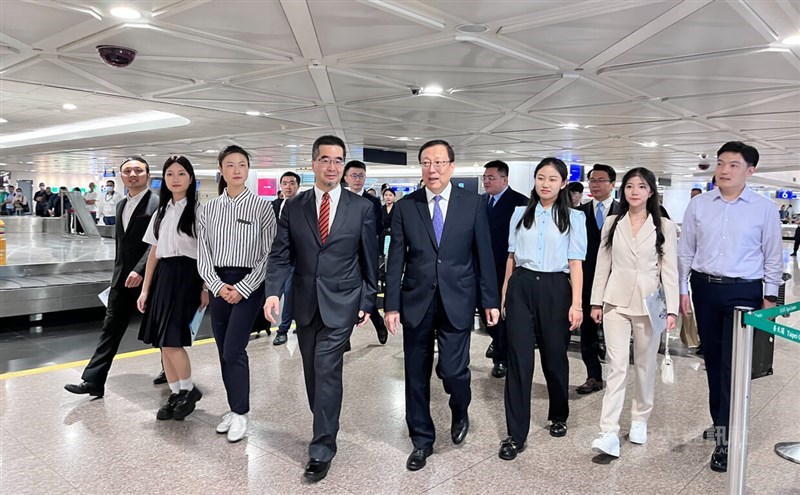 Taoyuan, July 15 (CNA) A group of Chinese university teachers and students arrived in Taiwan Saturday for a nine-day exchange program run by former President Ma Ying-jeou's (馬英九) foundation.
Ma Ying-jeou Foundation Director Hsiao Hsu-tsen (蕭旭岑) greeted the group at Taiwan Taoyuan International Airport, telling reporters that the exchange was significant for peace across the Taiwan Strait.
Hsiao said this was especially true at a time when cross-strait exchanges are still suspended and the possibility of a military conflict with China has risen during President Tsai Ing-wen's (蔡英文) tenure.
"I believe this (visit) has significant symbolic importance for cross-strait peace and easing tensions," he said, thanking the Tsai administration for approving the visit.
The group of 37 teachers and students from five universities in China was granted permission to visit Taiwan following an interministerial meeting to review the case, according to a National Immigration Agency (NIA) statement on Tuesday.
Led by the former President of Peking University Hao Ping (郝平), the group is made up of teachers and students from Peking University, Tsing Hua University, Fudan University, Wuhan University, and Hunan University, according to the foundation.
Among the students is 2016 Olympic table tennis champion Ding Ning (丁寧), who retired in 2021 to pursue a master's degree at Peking University.
Following a visit to the TSMC Museum of Innovation in the afternoon on Saturday, Ding Ning told reporters this was her first visit to Taiwan and that she was eager to try some local delicacies.
In addition to visiting the TSMC Museum of Innovation, the group's itinerary also includes visits to National Taiwan University, National Chengchi University, Chinese Culture University, National Dong Hwa University, as well as tourist attractions such as Taroko Gorge and Jiufen, according to the foundation.
During a visit to China in March this year, Ma said that exchanges of ideas between young people on both sides of the Taiwan Strait were important, as the future lies in their hands.
Ma added that mutual understanding would reduce the chance of conflict and miscommunication.
The group will be staying in Taiwan until July 23.