ELECTION 2024
/
Taiwan presidential hopefuls reheat decade-old China trade deal debate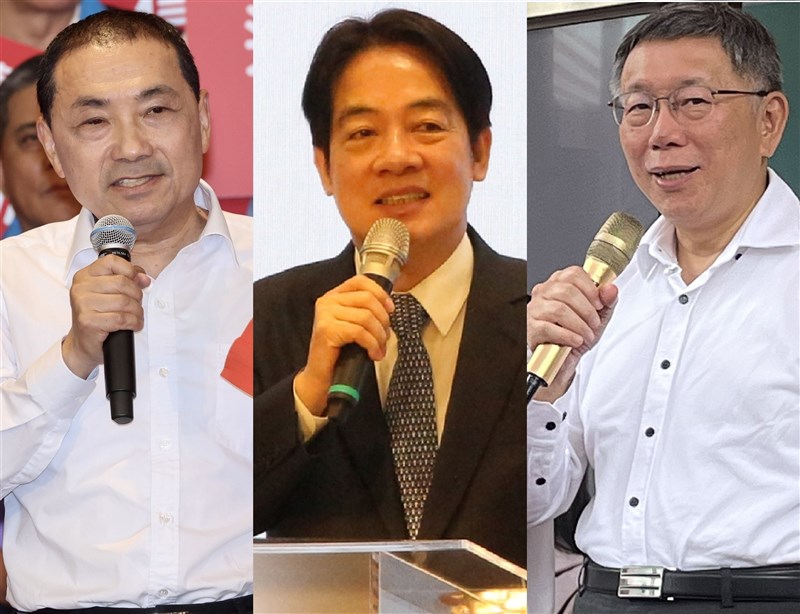 Taipei, June 26 (CNA) Taiwan's three presidential contenders sparred last week over whether to revive the Cross-Strait Service Trade Agreement (CSSTA), an unratified treaty between Taiwan and China that sparked the 2014 Sunflower Student Movement.
Debate on the issue reignited following recent news reports claiming that a draft policy white paper by centrist Taiwan People's Party (TPP) nominee Ko Wen-je (柯文哲) had advocated restarting negotiations on the pact with Beijing.
The CSSTA, which was originally signed by China and Taiwan's then-Kuomintang (KMT) government in 2013, aimed to liberalize trade and investment rules between the two economies in service industries including finance, tourism, healthcare, telecoms and publishing.
The KMT's efforts to hastily ratify the pact in the Legislature, however -- despite fears it would create an over-reliance on China and harm local industry -- set off a three-week, student-led sit-in protest in the Legislature, which ultimately led to the agreement being shelved.
In response to the news reports, Ko said on Saturday that he had not yet formally proposed re-negotiating the treaty and that the text of the alleged white paper was merely a part of wide-ranging "internal discussions" on the issue.
Ko added that while he had always opposed the "black box" tactics the KMT used to try to force the pact through the Legislature, he was not opposed to the agreement itself, as long as it was reviewed via democratic means.
Following Ko's remarks, the other two candidates in the race -- New Taipei Mayor Hou Yu-ih (侯友宜) of the opposition KMT and Vice President Lai Ching-te (賴清德) of the ruling Democratic Progressive Party (DPP) -- took the opportunity to stake out their positions on the issue.
At an event on Sunday, Hou told reporters he thought Taipei and Beijing should resume dialogue and exchanges to try and advance the CSSTA, as well as bilateral cooperation in economics, trade, education and culture.
In any case, the CSSTA is not a "current issue," and is only being discussed now because in 2014 the DPP and Ko -- then a candidate for Taipei mayor -- supported the Sunflower Movement's efforts to block it, Hou said.
Lai, meanwhile, said on Sunday that Taiwan's economy was already "vastly different" than it was in 2014, as many Taiwanese businesses had begun pulling investments out of China in favor of the U.S. and other countries in the Indo-Pacific.
In this context, reviving the CSSTA and moving in the direction of a unified market with China would not only be a misreading of global trends, but would not be in Taiwan's economic interests, Lai said.
Taiwan's presidential and legislative elections will be held on Jan. 13, 2024.
View All