KMT vice chair urges return of cross-strait exchanges to pre-COVID levels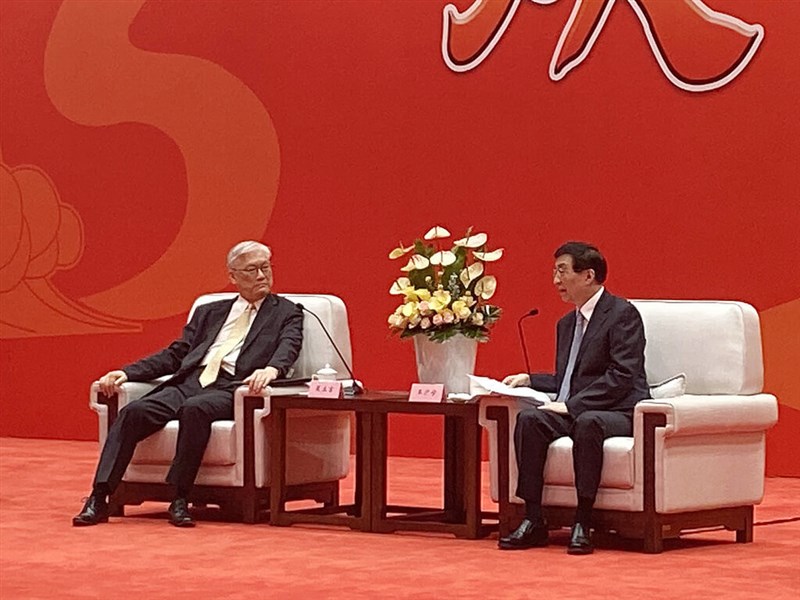 Taipei, June 17 (CNA) Andrew Hsia (夏立言), vice chairman of the opposition Kuomintang (KMT), on Saturday said exchanges across the Taiwan Strait should be brought back to pre-pandemic levels.
Addressing the main conference of the 15th Straits Forum held in Xiamen of China's Fujian province, Hsia also called on Chinese authorities to lift a suspension of imports of Taiwan's quality agricultural items such as pineapples and sugar apples, according to a KMT press release.
Hsia, who led a delegation to the annual forum, said the resumption of cross-strait exchanges and cooperation would improve ties between Taiwan and China, and give a boost to economic development of both sides.
On May 19, Ma Xiaoguang (馬曉光), spokesman for China's Taiwan Affairs Office (TAO), announced that Chinese travel agencies will be allowed to resume business involving Taiwan group tourists, effective immediately.
Beijing has banned independent Chinese tourists from visiting Taiwan since August 2019 and group travel since 2020.
In response, however, Taiwan's Tourism Bureau chief Chang Shi-chung (張錫聰) said the Taiwan government will continue its ban on tour groups from China visiting Taiwan and from Taiwan visiting China, a policy first introduced in early 2020 to prevent the spread of COVID-19.
Chang said while Taiwan welcomed China's announcement, regulations on group travel should be negotiated through existing channels, referring to the Taiwan Strait Tourism Association and its Chinese counterpart, the Association for Tourism Exchange Across the Taiwan Straits.
According to the Mainland Affairs Council (MAC), Taiwan's top government agency handling cross-strait policy, Beijing has shown no indications that it is interested in engaging in formal talks to resume cross-strait travel.
China, meanwhile, has said that no such talks are necessary.
Commenting on a suspension of certain Taiwanese agricultural imports, Hsia said both sides of the strait should implement the agreement on the inspection and quarantine of agricultural products signed in 2009 as soon as possible to find a solution to the impasse.
Citing food safety concerns, China suspended imports of Taiwan's agricultural produce, such as pineapples in March 2021, sugar apples and bell fruits in September 2021, and grouper in June 2022.
Hsia also urged both sides to implement the agreement on crime crackdowns and mutual judicial assistance signed in 2009 as soon as possible.
Hsia said that while the current standstill did worry him, he believed that capable people on both sides of the Taiwan Strait should join together to turn the divide into "a sea of peace."
As the vice chairman of the KMT, Hsia said he recognized the Strait Forum has served as a platform to stabilize the situation across the Taiwan Strait for more than one decade, and the KMT, no matter whether an opposition party or a ruling party, will continue to fight for cross-strait exchanges and peace.
He said the KMT will continue to act based on the political principles of the so-called "1992 consensus" and oppose Taiwanese independence.
The 1992 consensus refers to an agreement reached in a 1992 meeting between the then-ruling KMT and Beijing that both sides would recognize there is only "one China."
Since 1992, the KMT has maintained that the consensus tacitly allows each side to interpret what "China" means, but Beijing has never formally endorsed that construct.
Taiwan's Democratic Progressive Party (DPP) rejects the "1992 consensus," arguing that agreeing to it implies acceptance of China's claim over Taiwan.
Meanwhile, Chinese President Xi Jinping (習近平) sent a congratulatory letter to the Straits Forum on Saturday, vowing to push for cross-strait exchanges and cooperation in every aspect and promote Chinese cultures and spiritual harmony between people on both sides of the Taiwan Strait, according to China's Xinhua news agency.
In a statement released Saturday, the DPP said that the Straits Forum was just China using United Front tactics to spread anti-Taiwan independence propaganda and facilitate re-unification, while it continued to resort to military threats to coerce Taiwan.
The DPP urged representatives from the political parties in Taiwan to stand out and protest in front of Chinese officials to tell them not to destroy democracy and freedom in Taiwan and damage the status quo across the Taiwan Strait.
In addition to the KMT, China has also invited Taiwan's New Party and the Taiwan People's Party to attend the Straits Forum.
Last week, the MAC said the government has prohibited central government officials from participating in the Straits Forum, and would not be happy if local governments were to send anybody to the conference.
The Straits Forum, an annual conference between China and Taiwan, started in 2009 and seeks to promote grassroots interaction, economic and trade exchanges and cultural integration.
Hsia also attended the 2022 meeting, but in a virtual capacity because of the COVID-19 pandemic.