Government to spend NT$200 million on marketing food amid China bans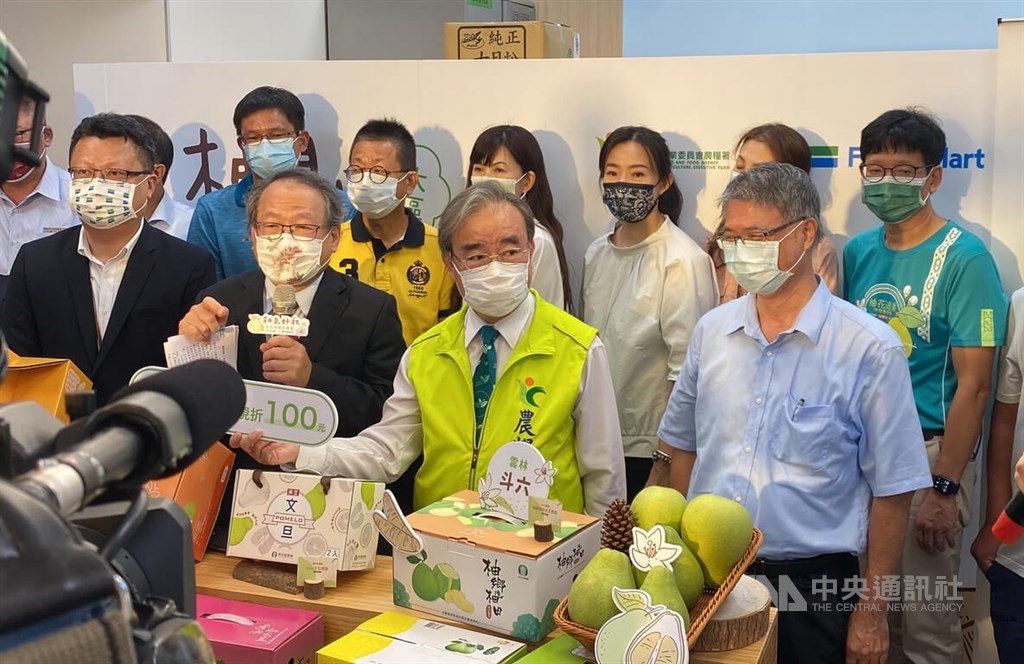 Taipei, Aug. 11 (CNA) The Ministry of Economic Affairs (MOEA) said Thursday it would allocate NT$200 million (US$6.67 million) to finance plans aimed at helping about 2,000 Taiwanese companies affected by recent Chinese import bans to market processed foods in 13 countries.
The plan aims to help the companies market US$62 million worth of more than 1,000 processed food products, including pastries, beverages, instant noodles and dried fruit, and was approved by Premier Su Tseng-chang (蘇貞昌) Thursday during a weekly Cabinet meeting.
The MOEA said it would offer discounts and hold pop-up events at shopping malls in Southeast Asia, Northeast Asia, Europe and North America, with a target of reaching 50,000 overseas customers.
Subsidies ranging from NT$100,000 to NT$1 million will be provided to companies that need to obtain international certification -- including ISO22000, HACCP and SQF -- for their products or run online or physical marketing campaigns targeting overseas markets, the MOEA said.
Companies that require assistance obtaining international certification or placing personalized online advertising, listing their products on online shopping websites, or with logistics and translation, will each receive NT$100,000, it said.
The MOEA will subsidize up to five overseas marketing campaigns for each company for a total amount of NT$1 million, it said.
The government is working to alleviate the negative effects of China's politically motivated actions, which have disrupted international trade, Cabinet Spokesperson Lo Ping-cheng (羅秉成) quoted Su as saying.
On Aug. 2, China announced it had temporarily suspended imports of more than 1,000 Taiwanese food products, in a move widely seen as preemptive retaliation against a visit by U.S. House Speaker Nancy Pelosi from Aug. 2 to Aug. 3.
Prior to the suspension of food imports, China bought about 20 percent of Taiwan's processed food exports, according to the MOEA.
The allocation of funds is not a one-time measure but rather part of ongoing efforts to diversify the nation's export markets, Vice Economics Minister Chen Chern-chyi (陳正祺) said.
Reporters asked Chen about the efficacy of policies to reduce the amount of Taiwan's exports that go to China, given that the level was 43.9 percent in 2020 and 42.3 percent in 2021, despite the government's New Southbound Policy and efforts to reduce the level over the past six years.
However, Chen denied the policies are ineffective, saying that the make-up of international supply chains is an important contributing factor for the high level of Taiwanese exports to China, of which about 90 percent are intermediate goods.
Related News
Aug. 10: MAC slams 'wishful thinking' and 'lies' in China's Taiwan white paper
Aug. 9: Chinese customs blocks Taiwan shipment not labeled 'Taiwan, China'
Aug. 9: Taiwan's diplomatic ties stable amid possible China retaliation: FM
Source: Ministry of Foreign Affairs
Aug. 8: Chinese drills aligned with plans for taking Taiwan by force: Expert
Aug. 7: China sends 66 warplanes, 14 warships around Taiwan Sunday
Aug. 7: Taiwan to hold live-fire artillery drills to test combat readiness
Aug. 6: U.S., Japan, Australia urge China to stop military drills
Aug. 6: Defense ministry says China simulating attack on Taiwan
Aug. 5: China's drills a 'new normal' aimed at changing status quo: Experts
Aug. 4: President Tsai calls China's live-fire drills 'irresponsible act'
Aug. 4: China fires 11 Dongfeng ballistic missiles into waters off Taiwan: MND
Aug. 4: China cannot stop world leaders from visiting Taiwan: Pelosi
Aug. 3: China's military exercises aimed at blockading Taiwan: defense ministry
Aug. 3: China imposes new trade restrictions on Taiwan as Pelosi visits
Aug. 2: Visit to honor 'unwavering' U.S. commitment to Taiwan: Pelosi