Chinese drills aligned with plans for taking Taiwan by force: Expert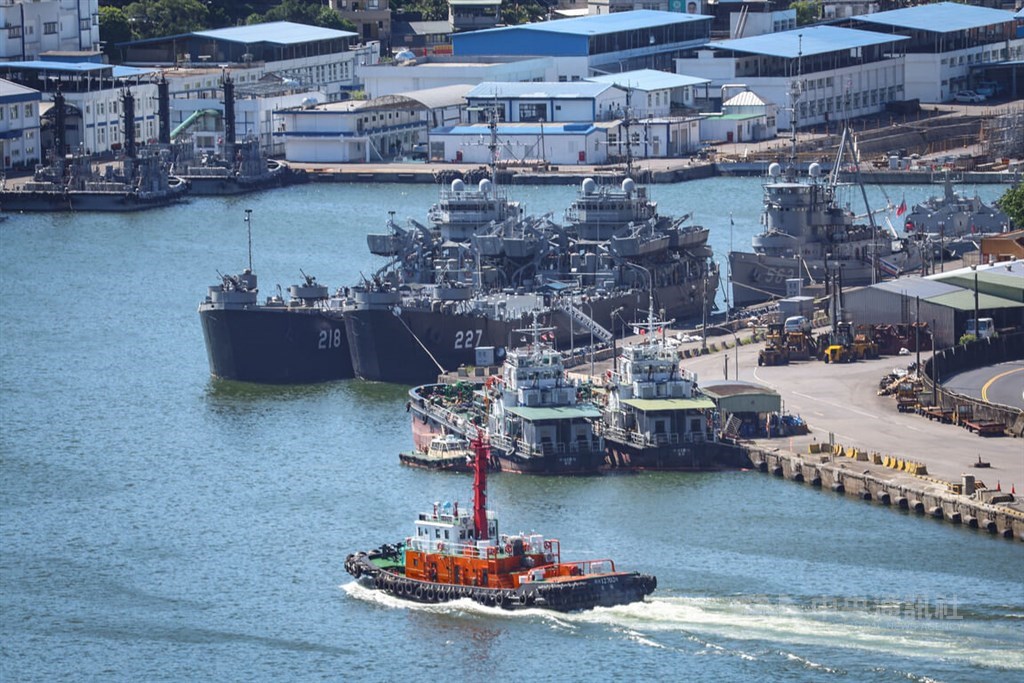 Taipei, Aug. 8 (CNA) China's recent live-fire military exercises around Taiwan were consistent with its plans for using force against Taiwan and part of a broader approach of joint attack operations against large islands, a military commentator said Sunday.
The drills conducted by China's People's Liberation Army (PLA) came in various stages and focused on different targets, said Chieh Chung (揭仲), a research fellow at the Association of Strategic Foresight.
In the first phase, the drills focused mainly on "joint fire assault operations," including the launch of ballistic missiles by rocket teams of the PLA's Eastern Theater Command into maritime target areas around Taiwan on Aug. 4.
These drills simulated long-range precision attacks targeting designated areas in northern, southern, central and eastern Taiwan proper, according to Chieh.
The PLA also deployed large numbers of fighter planes and warships around Taiwan on Aug. 4 in simulations aimed at reinforcing the ballistic missile launches, Chieh said.
In the Aug. 4 drills, PLA military aircraft and warships fired long-distance precision-guided munitions at targets already attacked by the ballistic missiles to boost the impact of the "joint fire assault operations."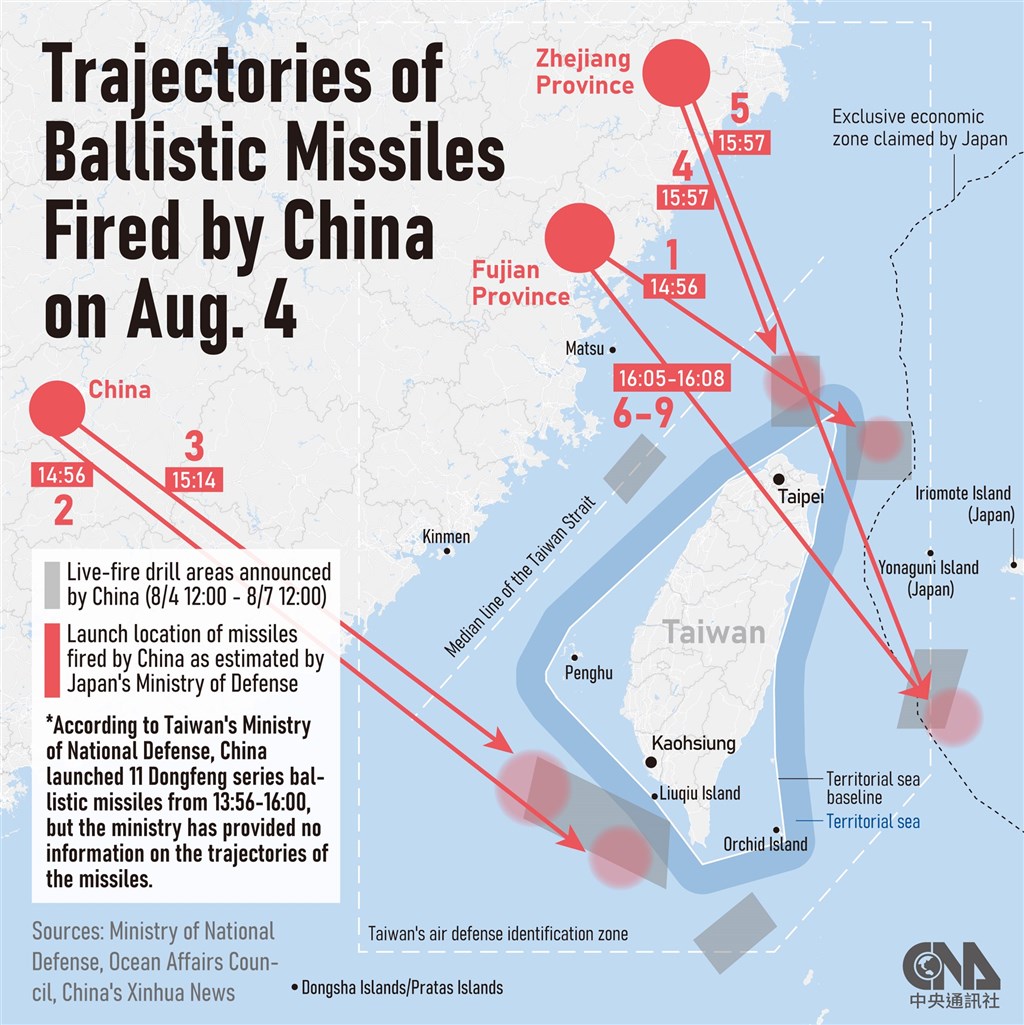 During the second phase of the exercises Aug. 5-6, the PLA tested a "joint blockade operation" in which the fighter jets and warships simulated cutting off sea and air traffic from Taiwan proper, Chieh said.
The goal was to restrict the mobilization of Taiwan's Navy and Air Force and disable those forces to seize sea and air superiority around Taiwan, including in the western Pacific Ocean, Chieh said.
The third phase of exercises Aug. 6-7 may have been focused on simulating a "joint island-landing operation," Chieh said.
Under that scenario, the PLA Navy and Air Force provided cover for ships carrying landing troops, transport aircraft groups and helicopter groups, and advanced toward various target areas on Taiwan proper.
In the process, in addition to breaking through intercept attempts by Taiwan's Navy and Air Force, the PLA troops attacked Taiwan's garrisons and defensive positions on Taiwan proper to support the PLA's island landing operations, he said.
Due to the limited scale of mobilization, Chieh said, some scenarios related to China's armed invasion may have involved computer wargames or command post exercises, including scenarios dealing with foreign military intervention.
Chieh said some other scenarios were carried out on a small scale, such as a cyber attack targeting the official website of the Ministry of National Defense on Aug. 3 night and the appearance of Chinese drones over Taiwan's outlying islands such as Kinmen and Dongyin.
Those actions, Chieh said, may have been simulations of the PLA's tactical reconnaissance operations to be conducted before launching attacks on these outlying islands.
The PLA deliberately divided the drills into various stages conducted over four days so that troops could be deployed, their performance could be more easily evaluated, and the intimidation effect of the drills could be magnified, Chieh said.
China announced plans to hold four days of live-fire military exercises around Taiwan from Aug. 4-7 in the wake of U.S. House Speaker Nancy Pelosi's visit to the self-ruled democracy, despite international calls to calm tensions across the Taiwan Strait.
Pelosi arrived in Taiwan late Aug. 2, ignoring warnings and threats by China, which considers Taiwan part of its territory and opposes any official interactions that imply otherwise.
Pelosi's stopover, part of a wider tour of Asia, made the 82-year-old California Democrat the first sitting U.S. House speaker to visit Taiwan since 1997.
Update
Aug. 11: Government to spend NT$200 million on marketing food amid China bans
Aug. 10: MAC slams 'wishful thinking' and 'lies' in China's Taiwan white paper
Aug. 10: Taiwan vows to stay vigilant after Chinese military drills conclude
Aug. 9: 45 warplanes, 10 warships spotted near Taiwan as PLA drills continue
Aug. 9: Taiwan's diplomatic ties stable amid possible China retaliation: FM
Related News
Aug. 8: China changes previously announced timetable, PLA drills continue
Aug. 7: Chinese drills forcing flights near Taiwan to re-route
Aug. 7: Taiwan to hold live-fire artillery drills to test combat readiness
Aug. 6: U.S., Japan, Australia urge China to stop military drills
Aug. 6: Defense ministry says China simulating attack on Taiwan
Aug. 5: China's drills a 'new normal' aimed at changing status quo: Experts
Aug. 4: President Tsai calls China's live-fire drills 'irresponsible act'
Aug. 4: China fires 11 Dongfeng ballistic missiles into waters off Taiwan: MND
Aug. 4: China cannot stop world leaders from visiting Taiwan: Pelosi
Aug. 3: China's military exercises aimed at blockading Taiwan: defense ministry
Aug. 3: China imposes new trade restrictions on Taiwan as Pelosi visits
Aug. 2: Visit to honor 'unwavering' U.S. commitment to Taiwan: Pelosi