68 Chinese warplane, 13 warship sorties recorded around Taiwan: MND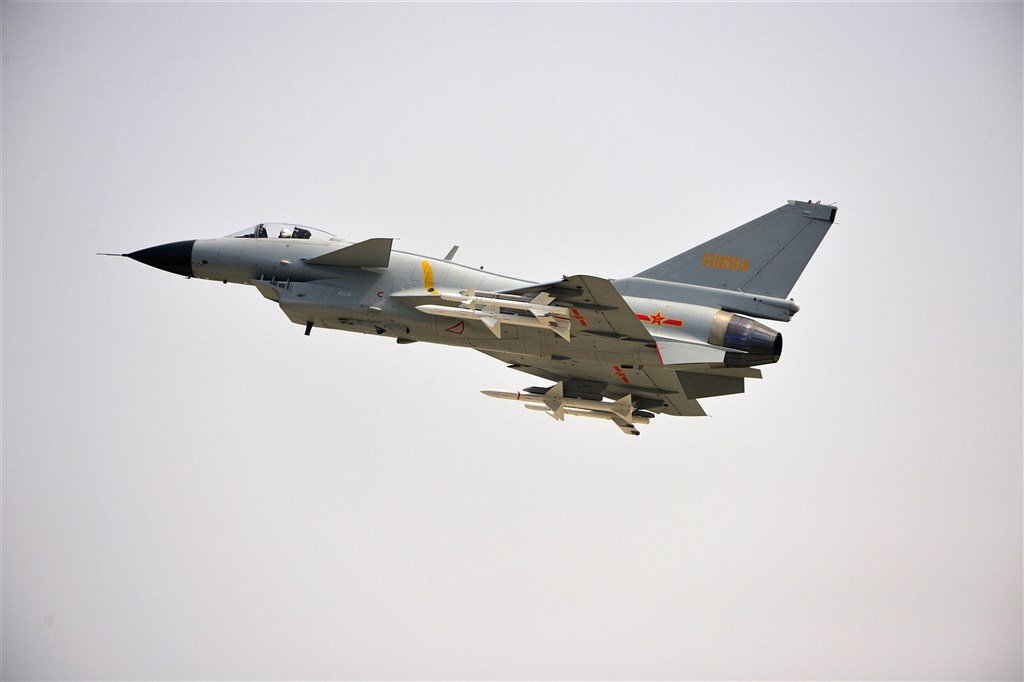 Taipei, Aug. 5 (CNA) China continued to send military planes and ships into areas around Taiwan on Friday, with 68 warplane and 13 warship sorties recorded as of 5 p.m., with some crossing the median line of the Taiwan Strait, according to Taiwan's Ministry of National Defense (MND).
The median line serves as an unofficial border separating Taiwan and China and breaching it represents a more aggressive posture than Beijing's frequent sorties into Taiwan's air defense identification zone over the past two years.
However, the MND statement did not clarify exactly how many Chinese warplanes and ships crossed the median line and or when they started the count.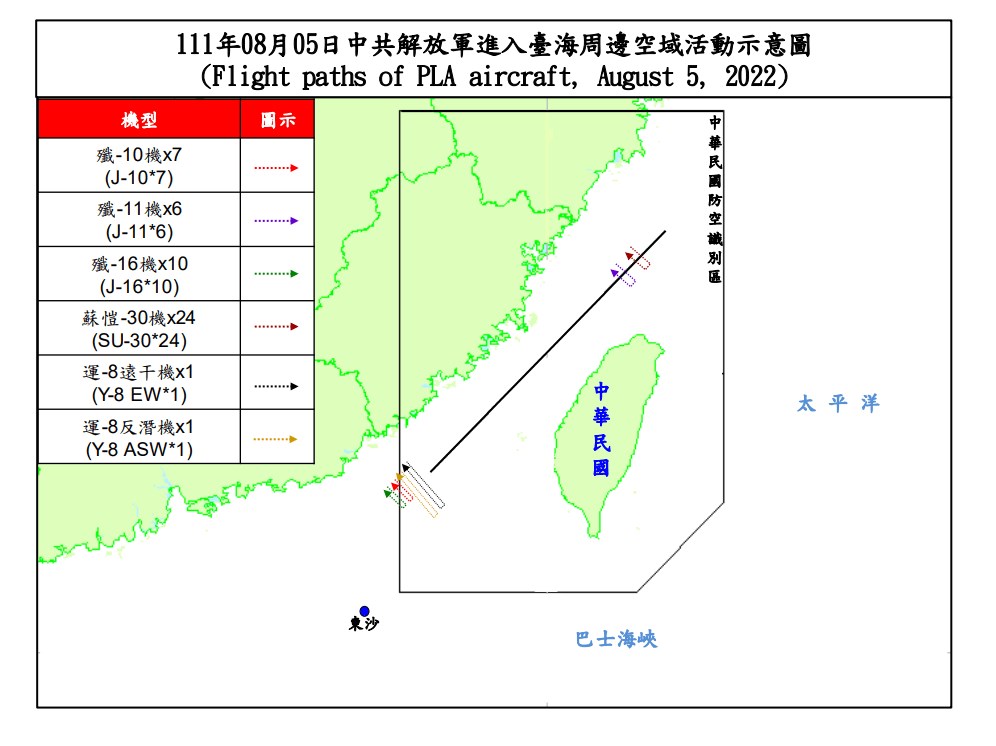 The MND strongly condemned China's military crossing the median line and intrusions into the sea and airspace around Taiwan.
Taiwan's military will take resolute action to safeguard national security and ensure the country's democracy and freedom are not threatened, the MND said.
The Chinese People's Liberation Army began four days of live-fire military drills in six maritime areas around Taiwan on Thursday, a day after U.S. House of Representatives Speaker Nancy Pelosi concluded a 19-hour visit to Taiwan.
Also on Friday, Taiwan's Mainland Affairs Council (MAC) criticized China as lacking the ability to solve problems peacefully and demanded the immediate cessation of "malicious military provocations."
The council said that Taiwan will never accept China's military using the area around the country as a testing ground for its armed forces, threatening the life and property of Taiwanese.
China's actions will only increase hostility between the two sides of the Taiwan Strait, the MAC said.
Taiwan's government will respond cautiously to the developing situation, while upholding national sovereignty and democracy to ensure the security of the nation, the council said.
Update
Aug. 8: China changes previously announced timetable, PLA drills continue
Aug. 7: China sends 66 warplanes, 14 warships around Taiwan Sunday
Aug. 6: 20 Chinese warplanes, 14 warships deployed around Taiwan: MND
Aug. 6: U.S., Japan, Australia urge China to stop military drills
Aug. 6: Taiwan companies told to abide by China's labeling rule: MOEA
Related News
Aug. 5: China's drills a 'new normal' aimed at changing status quo: Experts
Aug. 4: President Tsai calls China's live-fire drills 'irresponsible act'
Aug. 4: China fires 11 Dongfeng ballistic missiles into waters off Taiwan: MND
Aug. 4: China cannot stop world leaders from visiting Taiwan: Pelosi
Aug. 3: China's military exercises aimed at blockading Taiwan: defense ministry
Aug. 3: China imposes new trade restrictions on Taiwan as Pelosi visits
Aug. 2: Visit to honor 'unwavering' U.S. commitment to Taiwan: Pelosi