KMT chair vows to continue to push for peace across Taiwan Strait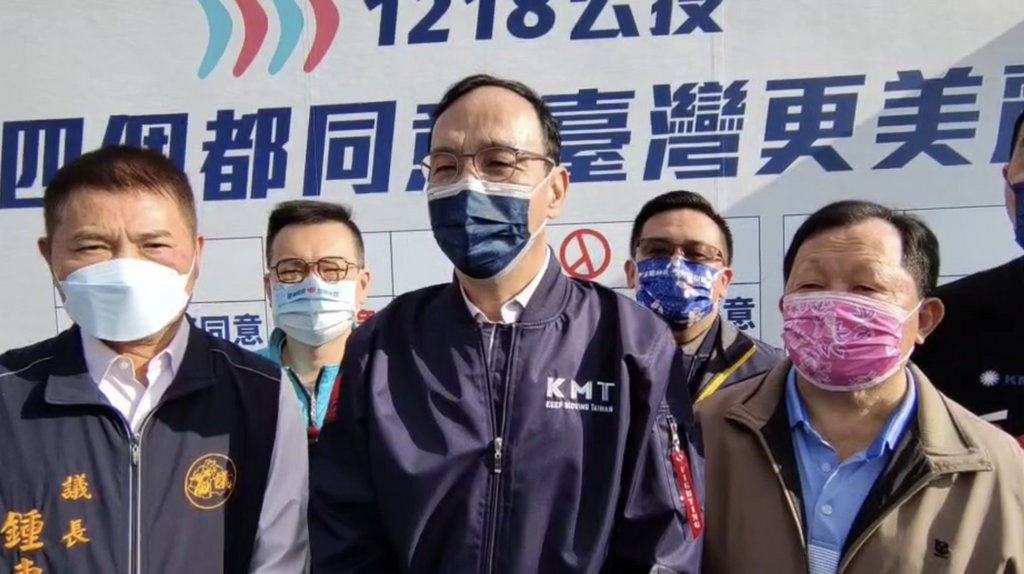 Taipei, Dec. 11 (CNA) Eric Chu (朱立倫), chairman of the opposition Kuomintang (KMT), vowed to continue the party's efforts in pursuing peaceful ties across the Taiwan Strait in a message to the Straits Forum on Saturday.
In a pre-recorded speech to the forum, which opened Saturday in Xiamen in China's Fujian Province, Chu said that based on the exchanges across the Taiwan Strait that have been going on for years, he would abide by the KMT's constitution and platform to push for the peaceful development of the relationship between both sides of the Taiwan Strait.
Chu, who was elected as the KMT's chairman in September after garnering more than 45 percent of votes, urged the leaders on both sides of the Taiwan Strait to keep people's well-being in mind as they conduct exchanges.
Chu expressed his well wishes for the Straits Forum, which was first held in May 2009 to serve as the largest non-political platform to promote grassroots interaction, economic and trade exchanges, and cultural integration across the strait.
Chu led the KMT's delegation in the first Straits Forum in 2009 when he was the vice chairman of the China-friendly KMT.
In the speech, Chu said that as the KMT's chairman this year, he sensed that his party was shouldering a larger responsibility than before to stabilize cross-strait ties.
Chu said that during the COVID-19 pandemic, Taiwanese investors and students, and Chinese students and spouses who had to travel across the Taiwan Strait, had been affected.
The KMT chair said his party was determined to take good care of Chinese students and spouses in Taiwan, while it would provide the necessary support for Taiwanese investors and students to seek protection for their rights and benefits while in China.
Chu said the forum's theme of facilitating cross-strait interactions through exchanges among the younger generations and the grassroots, and cultural and economic exchanges was in line with his recent pledges to push for cross-strait exchanges in multiple areas including social, cultural, city, academics, commercial, religion, and sports.
He proposed that both sides of the Taiwan Strait work together to take on climate change, cut carbon emissions, and strive for economic recovery in the post-pandemic era.
Also on Saturday, Chu spoke with reporters in Miaoli County as he campaigned for the upcoming referendums set for Dec. 18, urging both sides of the Taiwan Strait to engage with each other through dialogue instead of confrontation.
Chu said Taiwan and China should conduct more exchanges rather than do harm to each other, referring to moves by Beijing to poach Taiwan's diplomatic allies.
On Thursday, Nicaragua switched recognition to China, ending a 36-year diplomatic relationship with Taiwan, leaving Taipei with 14 countries that have official ties with it.
Since 2016, when President Tsai Ing-wen (蔡英文) took office, Taiwan has lost eight diplomatic allies to China: Burkina Faso, Panama, Sao Tome and Principe, Dominican Republic, El Salvador, Solomon Islands, Kiribati, and now Nicaragua.
The latest loss is a further sign of Taiwan's deteriorating relations with China under Tsai's pro-independence Democratic Progressive Party (DPP).
Chu again expressed his anger at the former Central American ally's switching of ties to China as he had done a day earlier, accusing the Nicaraguan government of "acting in bad faith" by disregarding Taiwan's long-term support and assistance.
Chu also blasted China for its long-term pressure in squeezing Taiwan's international participation, but said civil exchanges across the Taiwan Strait would continue.
He added the KMT had always insisted on stressing the sovereign integrity of the Republic of China (Taiwan's official name), and the country's democracy and freedom while engaging China.
On Friday, Hsia Li-yan (夏立言), the KMT's vice chairman, spoke in a meeting for the youth prior to the Straits Forum's official opening, saying Taiwan and China should try their best to create a friendly environment in which the younger generations across the Taiwan Strait would be able to make legal and open exchanges.
In his online speech, Hsia said the two sides of Taiwan Strait now face a difficult time in pushing for exchanges due to the current unfavorable political conditions, but a sound foundation laid down after years of goodwill could resolve the difficulties.
The Dec. 18 referendums cover four major topics: whether to unseal the long-mothballed Fourth Nuclear Power plant, to terminate a LNG receiving terminal project due to the conservation of algal reefs, to ban U.S. pork containing the livestock drug ractopamine, and to hold future referendums concurrently with major elections.
The KMT is urging voters to vote yes on the questions, while the DPP government is trying to persuade voters to vote no.