Chinese yuan deposits fall to one-year low in October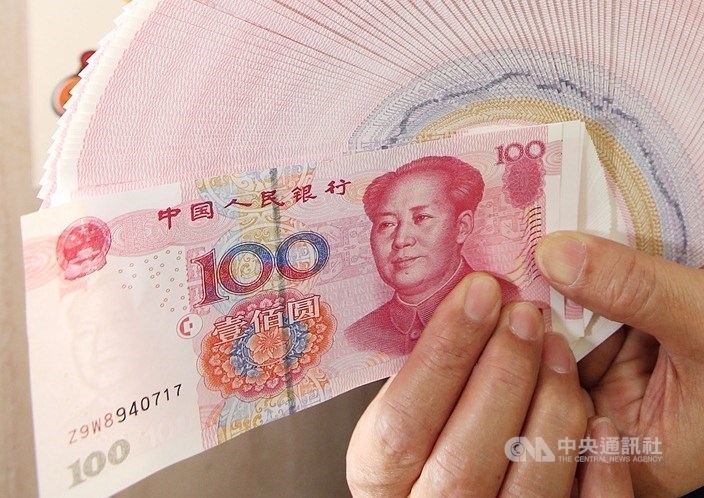 Taipei, Nov. 16 (CNA) Chinese yuan deposits held by banks in Taiwan at the end of October were at their lowest level in a year, in part because tech companies remitted yuan from their accounts overseas to complete transactions, according to the central bank.
Yuan deposits in the local banking system as of the end of October fell 2.097 billion yuan (US$328 million) to 235.41 billion yuan, the lowest since October 2020, when they totaled 235.37 billion yuan, according to Central Bank of the Republic of China (Taiwan) figures.
They were also down from the previous month for a third consecutive month, the data showed.
Hung Ying-fen (洪櫻芬), a specialist with the central bank's Foreign Exchange Department, said the fall in deposits was spurred by tech companies moving yuan overseas or selling yuan in exchange for other currencies, mostly through bank's domestic banking units (DBUs).
As of the end of October, yuan deposits at the DBUs of Taiwanese banks fell 4.12 billion yuan from a month earlier to 203.21 billion yuan, while yuan deposits at their offshore banking units (OBUs) rose 2.02 billion yuan from a month earlier to about 32.19 billion yuan, central bank data showed.
As for individual investors, Hung said, their yuan deposits in DBU accounts moved lower from the previous month for an eighth consecutive month in October.
Asked whether individual investors have gradually lost interest in the yuan, Hung said it was hard to judge because investors' needs often vary.
Commenting on the increase in yuan deposits at the OBUs, Hung said some institutional investors converted U.S. dollars into the yuan to take advantage of higher interest rates offered by banks.
Yuan deposits hit an all-time high of 338.22 billion in June 2015, but fell below 300 billion at the end of 2018 and have been mostly in decline since then.
DBUs of local banks have been allowed to conduct yuan-denominated transactions since February 2013. Prior to that, only OBUs were allowed to carry out yuan transactions.
Despite the decline in yuan deposits, Taiwan remained the second largest offshore yuan market after Hong Kong's 855.9 billion at the end of September, remaining ahead of Singapore (161 billion yuan at end of June).
Though the central bank said tech companies increased the use of yuan deposits to make overseas remittances, total yuan-denominated remittances actually fell sharply in October to 135.87 billion yuan, down from about 197.96 billion in September, the data showed.
Remittances through DBUs totaled 82.40 billion yuan in October, down from 128.24 billion yuan in September, while those via OBUs also fell from 69.71 billion yuan to 53.48 billion, according to the central bank.