TSU calls on Taiwan to ban visits by HK police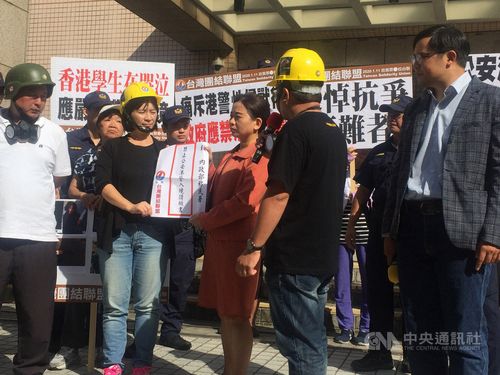 Taipei, Oct. 14 (CNA) The Taiwan Solidarity Union (TSU), a pro-Taiwan independence party, called Monday for the immigration agency to refuse entry to people from Hong Kong identified as police officers, following numerous accusations about their brutality toward pro-democracy demonstrators there.
Pan Ho-hsun (潘厚勳), a TSU public relations officer who joined several of its members to protest in front of the National Immigration Agency (NIA) in Taipei, said the gathering was also about condemning the use of violence carried out by the authorities in Hong Kong.
Visitors from there wishing to come to Taiwan must be thoroughly screened, and anyone found to be a police officer or working in special police units such as the Special Tactical Contingent (STC) should be denied entry to the country, said Chou Ni-an (周倪安), a former TSU legislator who currently heads the organizational department at its party headquarters in Taipei.
The TSU has been a firm supporter of the pro-democracy movement in Hong Kong ever since the protests erupted in June.
In recent months, police in Hong Kong have drawn flak for their handling of the protesters, several of whom have been shot in the head with beanbag rounds during clashes, with the most notable victim being a female protester who was shot in the eye that may have left her with permanent damage.
There have also been claims about police sexually harassing female protesters, not to mention the absurdity in their arrest of a 12-year- old boy who took part in the anti-government protests, Pan said.
Chou told reporters that the call for a ban is also about preserving national security, because allowing law enforcement figures from Hong Kong to come to Taiwan could be a sensitive matter, especially with approach of the presidential election in January.
The NIA responded that Taiwan is a country that values freedom and democracy, and that people in Hong Kong are welcome to apply to visit, unless they violate Article 9 of the Regulations Governing Permits for Hong Kong and Macau Residents Entering the Taiwan Area and Setting up Residence or Registered Permanent Residence in the Republic of China, one clause of which refers to "those who have (had) endangered national interests, public safety, public order, good customs or engaged in terrorist activities."