Military aircraft to take Taiwanese in China home for holiday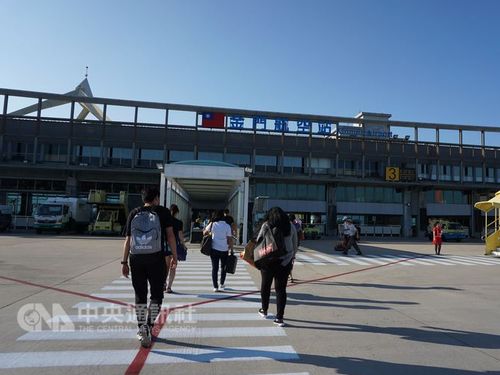 Taipei, Jan. 29 (CNA) Military aircraft will be used to transport Taiwanese in China home from Kinmen for the Lunar New Year holiday if both sides of the Taiwan Strait fail to reach a consensus on the controversial issue of the M503 route, the Ministry of Transportation and Communications (MOTC) said Monday.
Chen Chin-sheng (陳進生), director-general of the Department of Navigation and Aviation under the MOTC, said the ministry is prepared for the worst-case scenario, in which military aircraft will be used to fly Taiwanese home from outlying Kinmen County.
To board those flights, however, Taiwanese passengers will have to use the "mini-three links" mechanism established between the two sides in 2001, meaning that they will have to travel to Xiamen in Fujian Province first in order to take ferries to Kinmen.
In addition to military aircraft, existing civil aviation services between Kinmen and Taiwan could help ease the increased traffic, Chen said.
Taiwan's Civil Aeronautics Administration (CAA) announced Jan. 18 that it would hold off on approval of applications for 176 additional cross-strait flights by China Eastern Airlines Corp. and XiamenAir for the holiday period, in response to China launching the M503 northbound route and the W121, W122 and W123 east-west extension routes without consulting Taiwan.
The move is expected to affect 30,000 China-based Taiwanese businessmen planning to return home for the holiday.
It is estimated that the peak traffic will occur Feb. 13, when there has been the most flight applications from the two Chinese airlines, offering around 3,310 seats.
The mini-three links could provide at least 3,000 seats, Chen said, adding that between Kinmen and Taiwan, civil aviation services could fly 1,300 passengers, with three additional military aircraft capable of carrying 840 passengers per day.
Passengers who have already booked seats with the two airlines have been encouraged to take other airlines, or transit via Hong Kong or Macau, Chen said.
The two airlines have applied for extra flights on 11 routes and eight destinations, all of which are covered by other Chinese and Taiwanese operators, Chen said.
In addition, Taiwan-based China Airlines (CAL) has applied for nine extra flights to the Chinese destinations of Hefei, Pudong and Wuxi, while EVA Airways also plans to use bigger aircraft on its services to Hangzhou, Chen said.
However, it will also require Beijing's approval on whether extra CAL flights can operate during the period.