Taiwan people not fooled by China's token Taiwanese: MAC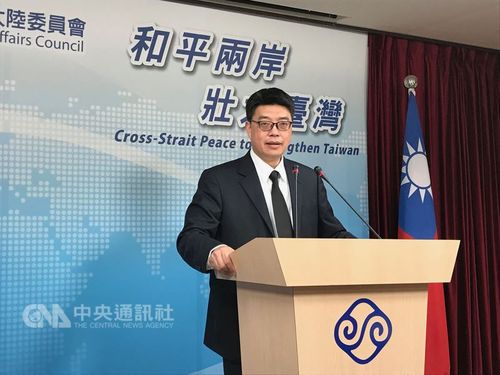 Taipei, Jan. 25 (CNA) In response to recent news that a Taiwan-born man has been selected to serve as a member of a Shanghai-based advisory body, an official responsible for cross-strait affairs said Thursday that such people were just puppets being used by Beijing as part of united front efforts to appeal to Taiwan people.
"These few people like Xie, another Lu Li-an (盧麗安), are used by Beijing as token to gain the recognition of Taiwan's people," Mainland Affairs Council (MAC) Deputy Minister Chiu Chui-cheng (邱垂正) told a regular news briefing in reference to Xie Guoqun (謝國群), who was recently chosen as a member of the 13th Shanghai committee of the Chinese People's Political Consultative Conference.
Lu, a China-based Taiwan-born woman, was elected to attend the 19th National Congress of the Communist Party of China in October 2017, triggering the attention of Taiwanese media.
"Beijing's ploy to rehash the issue will never succeed and is doomed to end in failure," Chiu said, noting "they won't gain the recognition of Taiwan's people and they don't represent mainstream opinion in Taiwan."
According to Chiu, Xie's household registration in Taiwan was canceled in 2007. It was then that he tried to apply for marriage registration and officials at the household registration office of Changhua City informed the National Immigration Agency that his household registration in Taiwan should be canceled after discovering Xie had been naturalized as a Chinese citizen, he explained.
"Since Xie is a Chinese national, he cannot be subject to the 33rd provision of the Statue Governing the Relations between the People of the Taiwan Area and the People of the Mainland," Chiu said.
Xie, who studied in China in the 1990s, now practices as a Chinese medicine doctor in Shanghai.
In recent years, China has shifted the focus of its united front work in an effort to woo people who were born in Taiwan but later moved to China to study or do business, a change in tactics from its earlier strategy of targeting those who went to Taiwan before 1949 and their descendants, Chiu said.
Asked about the "Taiwan values" mentioned by President Tsai Ing-wen (蔡英文) in a recent television interview, he said Taiwan is a democratic, diverse and open society where justice is served, a place that embraces a political system and lifestyle based on freedom and rule of law -- these are the concrete representation of Taiwan's values.
China should respect and try to understand Taiwan's values and ideals through dialogue, he said.