Taiwan delays approval of Chinese flights over safety concerns: DPP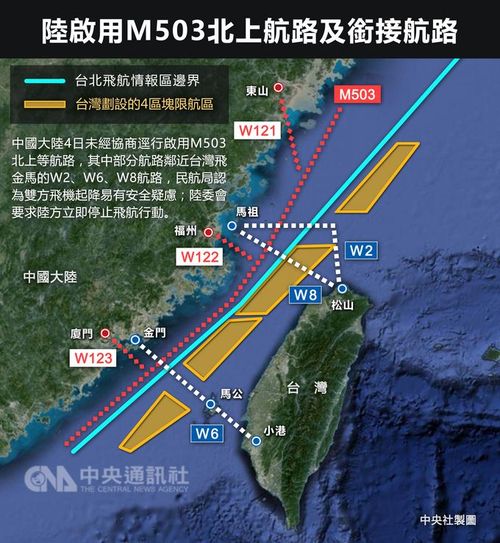 Taipei, Jan. 21 (CNA) Taiwan withheld approval for two China-based airlines to operate extra cross-Taiwan Strait flights during the Lunar New Year period to highlight safety concerns over Beijing's unilateral launch of the M503 northbound route and three east-west extension routes, the Democratic Progressive Party (DPP) said Sunday.
China should understand the rationale behind Taiwan's decision to put on hold applications by China Eastern and Xiamen Air and "should not pretend that these safety concerns do not exist," DPP spokesperson Lin Tsung-sheng (林琮盛) said.
Taiwan's Civil Aeronautics Administration (CAA) on Jan. 19 announced the decision involving a total of 176 additional cross-strait flights planned for the Feb. 15-20 holiday period, in response to China launching the M503 northbound route and the W121, W122, and W123 east-west extension routes without consulting Taiwan.
The CAA's decision was blasted by the Association of Taiwan Investment Enterprises on the Mainland, an organization affiliated with China's Taiwan Affairs Office.
Leaders of the association should not allow themselves to be held hostage by Beijing and ignore the safety issues associated with the new flight routes, Lin said, adding that neither should they blindly put the blame on Taiwan's government.
He also called on the Chinese authorities to remove political obstacles imposed on cross-strait negotiations over the safety concerns arising from the newly launched routes.
Meanwhile, in a Jan. 19 interview with the BBC, Taiwan's representative to the United Kingdom David Lin (林永樂) said it was a very unfriendly move by China.
"It is also indicative of China's irresponsible behavior," Lin said.
Pursuant to an agreement reached between Taiwan and China in 2015, China should negotiate with Taiwan over any change made to route M503, he said.
The former foreign minister was referring to cross-strait negotiations in 2015 following the first launch of route M503, under which China agreed to operate the southbound flights on the route and hold off activating the three east-west extension routes until further negotiations had taken place.
World United Formosans for Independence Chairman Chen Nan-tien (陳南天) said he supported the CAA's decision, which he said was a countermeasure against China's "blatant disrespect" for Taiwan.