Missing Taiwan college worker's wife urges China to help find husband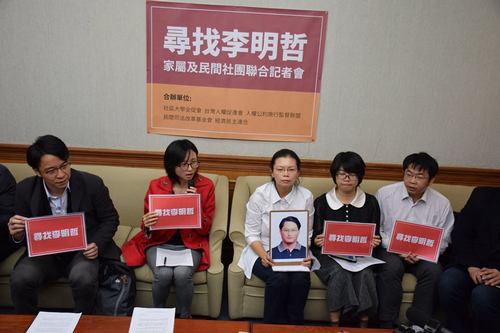 Taipei, March 24 (CNA) The wife of Lee Ming-che (李明哲), a community college staff member who has been missing since Sunday after entering mainland China from Macao, on Friday urged China to help find out his whereabouts.
"If he has been arrested, please let me know on what charges," Lee Ching-yu (李凈瑜 ) said during a press conference. "If he is indeed under arrest, I could face that, but please tell me if he's alive and where he is."
Her husband 's boss, Cheng Hsiu-chuan (鄭秀娟), president of Wenshan Community College in Taipei, the college where he worked, praised Lee as a "clear thinking" staff member dedicated to issues related to democracy. Cheng said Lee would share Taiwan's experience in transitioning to a democracy with his Chinese friends online.
Cheng urged the governments of Taiwan and China to work together to find Lee.
"We all hope Lee will return soon to continue his work for social progress," Cheng said.
According to an Amnesty International (AI) press release issued on Friday, Lee was last heard from on Sunday.
He "has been supporting civil society organizations and activists in China for many years, although this time he went to China for personal matters, arranging for his mother-in-law's medical treatment," said AI's Hong Kong office.
"The fact that Lee Ming-che has gone missing once again raises serious questions about the safety of people working with civil society in China," said Nicholas Bequelin, AI's East Asia director.
"Lee's family needs to hear from both the Chinese and the Taiwanese authorities about what is being done to find or disclose his whereabouts."
Lee's wife has contacted the Taipei Economic and Cultural Office in Macao for assistance, which confirmed that Lee left Macao on Sunday.
Taiwan's Mainland Affairs Council has confirmed that Lee entered China at 23:51 p.m. on Sunday, but said there has been no record of him checking into a hotel or any record of his arrest, according to AI.
Taiwan's Straits Exchange Foundation is helping to find him, but has not got any word from its Chinese counterpart, Association for Relations Across the Taiwan Straits.