Ma says meeting with Xi aimed at securing cross-strait peace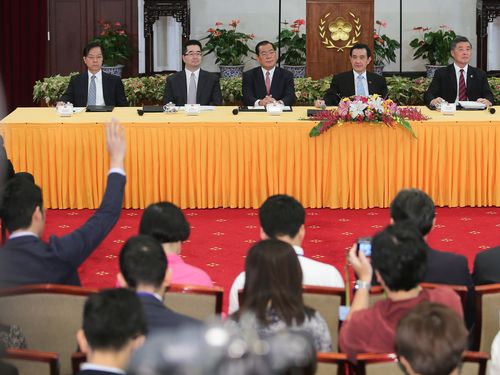 Taipei, Nov. 5 (CNA) President Ma Ying-jeou (馬英九) said Thursday that the major goal of his upcoming meeting with Chinese President Xi Jinping (習近平) is to consolidate the current peace, prosperity and status quo across the Taiwan Strait.
To meet that goal, the two sides should solidify the "1992 consensus," which puts forth the concept of "one China, two interpretations," as the foundation of peaceful cross-strait development, Ma said at an international news conference on his scheduled meeting with Xi in Singapore on Nov. 7.
The consistent pursuit of cross-strait peace and prosperity, promotion of regional stability, and enhancement of the welfare of the people on both sides of the Taiwan Strait, will remain the goals of Taiwan's cross-strait policy, the president said.
Asked why he chose to make such a crucial decision just six months before the end of his presidential term, Ma said that under the Constitution, he cannot avoid doing what must be done as president.
He said that if the meeting, the first between the leaders of China and Taiwan in 66 years, will benefit Taiwan and the next generation, he will not slacken his efforts in that regard.
Ma said the two sides of the Taiwan Strait have signed 23 agreements since he took office in May 2008, which has created huge peace dividends and brought about the most peaceful and stable period in cross-strait relations over the past 66 years.
"I hope that, because of my efforts, the status quo that has been established over the past seven years can continue," Ma said.
An important aspect of the government's efforts to improve relations with China is to strengthen mutual trust, he said.
The improved cross-strait relations over the past seven years have been the result of increasing trust between the two sides, the president said.
The historic meeting with Xi will be conducted based on the principles of transparency, openness, equality and dignity, Ma said.
He said he and Xi will not sign any clandestine agreements or issue any joint declaration after the meeting.
The issue of the South China Sea territorial disputes will not be raised during the meeting, Ma said. However, he said, he will discuss with Xi the problems Taiwan faces in trying to participate in international organizations, issues related to establishing a cross-strait peace framework and efforts to promote cross-strait economic development.
Related:●President hopes cross-strait leaders' meeting will become regular●Ma-Xi meeting aimed at welfare of next generation: president●U.S. has no role in Ma-Xi meeting: president●First lady will not accompany president to Singapore●Ma-Xi meeting has five characteristics: president●Ma hopes both sides will continue to cut animosity, deepen exchanges●Ma does not rule out Taiwan visit by Chinese leaders●President mum on whether he will address human rights in Xi meet●Ma says talks with Xi will not touch on South China Sea issue●Ma-Xi meet to explore higher-level cross-strait communication channel