Ma does not rule out Taiwan visit by Chinese leaders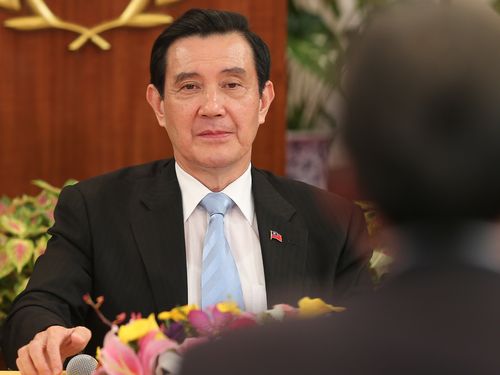 Taipei, Nov. 5 (CNA) A visit to Taiwan by China's top leader can be discussed "when the time is right," President Ma Ying-jeou (馬英九) said Thursday, two days before his scheduled historic meeting with Chinese President Xi Jinping (習近平) in Singapore.
At a press conference to which foreign diplomats in Taipei were also invited, Ma was asked whether he would consider asking Xi to visit Taiwan.
"I won't rule it out when the time is right," Ma said. "It's not something that cannot be considered."
For now, he said, "we should take one step at a time and first make sure that leaders on both sides of the Taiwan Strait can meet on a regular basis from now on."
Ma, who will step down after his two four-year terms next May, will hold a "historic landmark" meeting with the Chinese leader in Singapore Nov. 7. The two will then have dinner together before Ma returns to Taipei later in the day.
Spotting a Republic of China flag pin on his lapel, one reporter asked Ma whether he will wear it during his talks with Xi. The president said he would not, pointing out that "it would be a little awkward if he (Xi) were to wear a mainland flag pin (to the talks)."
(By Lu Hsin-hui and Jay Chen)ENDITEM/J
Related:●President hopes cross-strait leaders' meeting will become regular●Ma-Xi meeting aimed at welfare of next generation: president●U.S. has no role in Ma-Xi meeting: president●First lady will not accompany president to Singapore●Ma-Xi meeting has five characteristics: president●Ma hopes both sides will continue to cut animosity, deepen exchanges●President mum on whether he will address human rights in Xi meet●Ma says talks with Xi will not touch on South China Sea issue●Ma-Xi meet to explore higher-level cross-strait communication channel●Ma says meeting with Xi aimed at securing cross-strait peace