Jack Ma urges Taiwan to close generation gap in private sector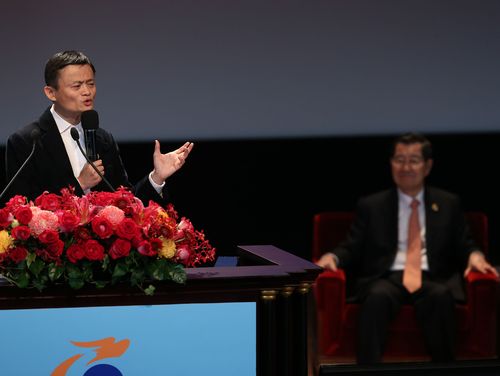 Taipei, Dec. 15 (CNA) Pointing to the lack of new companies founded in Taiwan in the past 15 years, Alibaba Group Chairman Jack Ma on Monday urged Taiwan to address the pervasive generation gap plaguing Taiwan's private sector.
Speaking at the Cross-Strait CEO Summit held Monday, Ma recalled noticing the problem as early as June 2001 when he attended a forum on innovation in Taiwan.
Somewhat surprised by the many elderly entrepreneurs at the conference, Ma remembered thinking at the time that innovation was a young person's game and while some of the older entrepreneurs had done well, younger people would probably do better overall.
The trend has continued to play out in the roughly 15 years since then, as few notable Taiwanese companies have been founded during that time, Ma said, arguing that the issue needs to be addressed.
He compared Taiwan's generation gap to the archetype elder characters featured in works by renowned wuxia novelist Jin Yong. In these novels, elder figures are often depicted to possess unfathomable martial prowess accrued through age and experience, Ma said, a characterization he believed defies logic.
According to Ma, more opportunities should be given to Taiwan's youth, and society must put its faith in the younger generation if it hopes to create a better future, as has been the case in China.
In contrast to Taiwan, where little has changed in the past 15 years, sweeping changes have transformed China that have led to the emergence of many enterprises that are leaders in their fields, especially in the fledgling Internet of Things sector, Ma said.
Ma also outlined his hope to establish foundations to help young Taiwanese entrepreneurs by providing them with opportunities to start new businesses in China.
Ma specified that the initiative is aimed at helping Taiwan's small-to-medium enterprises and startups in developing a presence in China and selling their products there.
He also urged the older Taiwanese business leaders present at the summit to do the same and establish foundations to help young entrepreneurs while also welcoming all aspiring Taiwanese youth to contact him if they want to join Alibaba or other affiliated ecosystems.
(By Luo Hsiu-wen and Ted Chen)ENDITEM/ls