Taiwan shares soar to end above 17,400 points after liquidity-led gains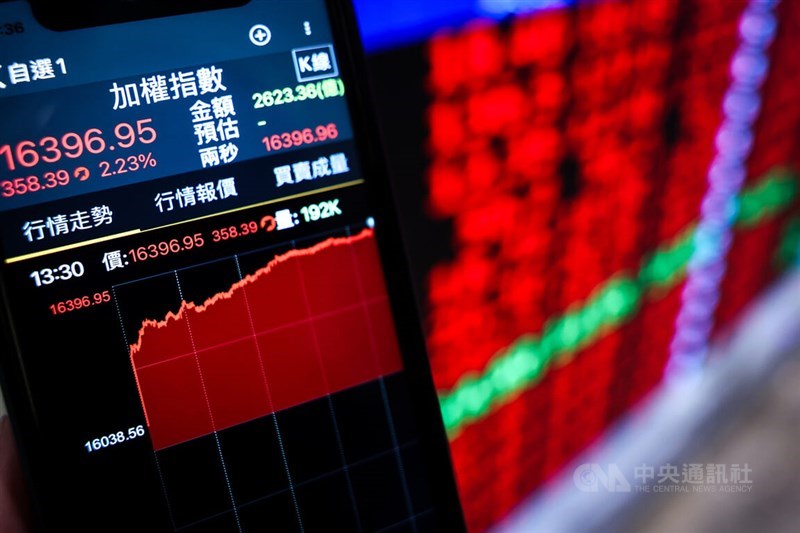 Taipei, Nov. 21 (CNA) Shares in Taiwan trended sharply higher and closed above the 17,400-point mark on Tuesday amid ample liquidity and a strong Taiwan dollar, which prompted foreign investors to move funds into the country.
The bellwether electronics sector drove the main board higher, led by stocks related to artificial intelligence development, due to expectations that U.S.-based AI chip designer Nvidia Corp. would give positive leads in its investor conference set to begin later Tuesday.
The Taiex, the weighted index on the Taiwan Stock Exchange (TWSE), ended up 206.23 points, or 1.20 percent, at 17,416.70 after moving between 17,239.94 and 17,421.17. Turnover totaled NT$337.9 billion (US$10.78 billion), compared with NT$283.57 billion Monday.
The market opened up 0.17 percent and momentum soon accelerated after investors took cues from a Nvidia 2.3 percent increase, which led to its shares hitting an all-time high overnight before it reports its third-quarter earnings and fourth-quarter guidance.
At the end of Tuesday's session, the electronics index rose 1.28 percent, led by the computer/peripheral sub-index -- including major AI-related stocks -- which was up 2.11 percent, and the semiconductor sub-index, which was up 1.25 percent.
"Today, it was liquidity-driven gains that kept the Taiwan dollar high following fund inflows," Mega International Investment Services Corp. analyst Alex Huang said, referring to eased concerns over a hawkish Federal Reserve after the lower-than-expected October inflation data, which led to foreign investors investing in Taiwan.
The U.S. dollar closed the Tuesday morning session down NT$0.213 against the Taiwan dollar at NT$31.445. The greenback had also dipped on Monday, with the currency ending down NT$0.198 at NT$31.658, the lowest since Aug. 2, when the American currency ended at NT$31.625.
"Riding the waves of fund inflows, foreign institutional investors continued buying today, picking up large-cap tech stocks throughout the session," Huang said.
According to the TWSE, foreign institutional investors bought a net NT$42.18 billion worth of shares on the main board Tuesday after a net buy of NT$9.12 billion Monday.
"Look at the increased turnover. I think many investors have become more willing to chase prices due to high hopes that Nvidia's results and forecast will continue to push up stocks on the U.S. market and give counterparts in Taiwan another boost," Huang said.
Among the major local AI-related stocks, AI server Quanta Computer Inc. rose 2.59 percent to close at NT$217.50, and rival Wistron Corp. gained 2.81 percent to end at NT$102.50.
Giga-Byte Technology Co., a leading graphics card vendor for AI applications, rose 4.72 percent to close at NT$244.00, and Wiwynn Corp, Wistron's cloud application subsidiary, gained 1.36 percent to end at NT$1,870.00.
With Nvidia as one of its major clients, contract chipmaker Taiwan Semiconductor Manufacturing Co. (TSMC), the most heavily weighted stock in Taiwan, rose 1.39 percent to close at NT$585.00.
ASE Technology Holding Co., which provides high-end IC packaging and testing services for AI chip use, added 2.42 percent to end at NT$127.00.
In addition, ShunSin Technology Holdings Ltd., an AI chip-related IC packaging and testing services subsidiary of iPhone assembler Hon Hai Precision Industry Co., soared 10 percent, the maximum daily increase, to close at NT$127.00.
Hon Hai, which also rolls out AI servers, gained 1.49 percent to end at NT$102.50.
"High liquidity also pushed up stocks in the old economy sector," Huang said. "Today, industries like petrochemical and auto stocks boosted the sector higher."
Petrochemical stocks benefited from a spike in international crude oil prices due to expected production cuts, with the industry's sub-index up 1.96 percent, Huang said.
In the sector, Formosa Plastics Corp. rose 1.36 percent to close at NT$81.90, Formosa Chemicals & Fibre Corp. gained 1.88 percent to end at NT$65.00, and Nan Ya Plastics Corp. added 3.26 percent to close at NT$69.60.
In the utility industry, Formosa Petrochemical Corp. ended up 1.79 percent at NT$85.30.
Huang noted that the auto industry, which has fared poorly in recent sessions, rose 1.67 percent Tuesday due to bargain hunting, with Hotai Motor Corp., a local sales agent of Toyota cars, rising 3.35 percent to close at NT$709.00, and Yulon Motor Co. rising 1.28 percent to end at NT$28.79.
Elsewhere in the old economy sector, Taiwan Cement Corp. rose 1.79 percent to close at NT$34.20, and Asia Cement Corp. added 0.85 percent to end at NT$41.70.
In the financial sector, which rose 1.34 percent, Fubon Financial Holding Co. rose 2.20 percent to close at NT$64.90, Mega Financial Holding Co. grew 1.66 percent to end at NT$39.85, and Cathay Financial Holding Co. closed up 0.98 percent at NT$46.15.
"The Fed will release the minutes of the last policymaking meeting (from Oct. 31 to Nov. 1) later in the day and people should pay close attention for clues regarding the American central bank's next move," Huang said.
"After today's strong gains, the Taiex could challenge 17,463 points, an intraday high on July 31, soon," Huang said.