Geopolitics figuring into supply chain relocations: Pegatron chair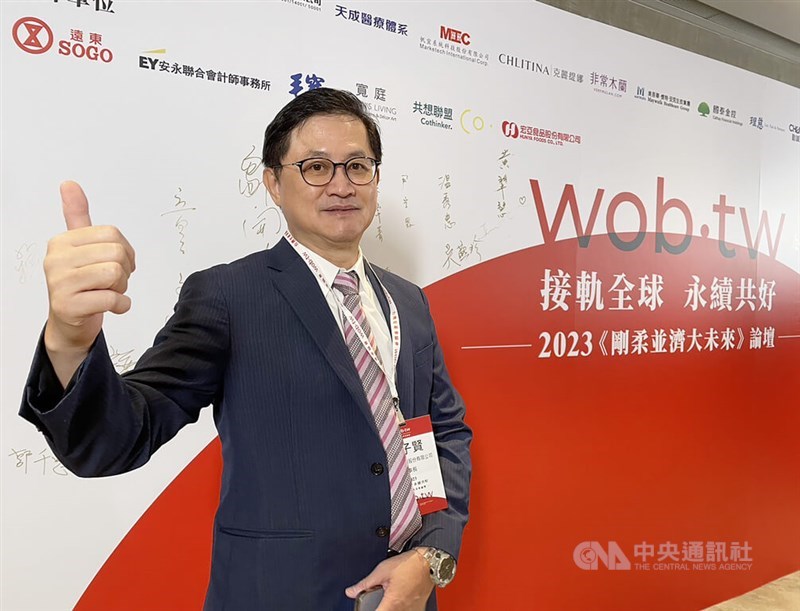 Taipei, Sept. 27 (CNA) The current wave of supply chain relocation away from China is being partly driven by the desire of companies to diversify geopolitical risks, said Tung Tzu-hsien (童子賢), chairman of Taiwan-based contract electronics maker Pegatron Corp.
Speaking at the Taiwan Women on Boards Association annual convention on the impact of geopolitics on Taiwanese businesses' investment strategies, Tung said geopolitical factors now have to be accounted for when companies consider where to manufacture products.
"In 2000, businesses did not have to worry about international politics. As long as you provided good services and were capable of good marketing, you could sell your products globally," he said.
"But now you have to take note of geopolitical changes, such as wars and trade friction, to keep your products from being banned or sanctioned."
That shift can be seen in how the workforce of Pegatron, which as a contract manufacturer deploys most of its capacity overseas, usually in economies with relatively low labor costs, has changed in recent years.
The company's Chinese factories would employ about 200,000 workers during peak seasons in the past, Tung said, but in the past three years Pegatron's factories in Mexico, India, Vietnam, and Indonesia have had a combined workforce of up to about 30,000 workers.
Beyond political factors, however, Tung said today's relocation wave to countries such as India and Vietnam mirror the massive migration of Taiwanese manufacturers to China in the 1990s, and that "history is repeating itself."
"China's GDP per capita has reached about US$13,000, which was the level when Taiwanese factories started to relocate to China and away from Taiwan years ago," he said.
Even Chinese companies are complaining about the high cost of labor in Shanghai and Suzhou and are moving to Southeast Asia, Tung said.
Recalling the past, Tung said "Taiwanese businesses started to move to China around 1995," and because supply chains were still not mature in China they had to rely on sources of supply in Taiwan.
"But a few years later in 2000, China's local supply chains began to take shape, with costs about one-fifth of those in Taiwan," Tung said.
By 2003, "ASUS could not find supply chains in Taiwan as all the mold makers, and component and PCB [printed circuit board] factories had moved to China's coastal regions such as Guangdong, Shanghai, and Suzhou," Tung said, referring to AsusTek Computer, from which Pegatron was spun off.
This is what is happening now, Tung said, noting that supply chain clusters are taking shape in India, Mexico, Indonesia, and Thailand.
"At this stage they may have not yet reached China's efficiency," he said, explaining that China had a "single line of command" from Beijing to local governments and could quickly meet the infrastructure needs of businesses when it first opened up.
Once the threshold is crossed, however, "a snowball effect takes place," leading to a major transformation, which is what is happening in Thailand, Indonesia, Vietnam, and Mexico, he said.
Mexico, with a GDP per capita of US$10,500 that is much higher than India's US$3,000, is still an important relocation destination because it is part of the North American Free Trade Agreement (NAFTA) that also includes Canada and the U.S.
Speaking to reporters before his speech, Tung discussed the smartphone market, an important component of Pegatron's business because it counts Apple as one of its main clients.
Tung acknowledged reports that the lackluster global smartphone market has been affected by negative factors such as economic downturns, inflation, and the Russia-Ukraine war, but he believed new products would still pique consumer interest.
"Billions of smartphones are being used around the globe, and people either need to change their phones every three to four years or simply want to have newer and better ones," he said.
Tung expected smartphone sales to be much better in the September to November period than they were in the second quarter.
Meanwhile, when asked about a fire in Pegatron's factory in India that reportedly led to a shutdown, Tung said describing the factory as being "on fire" was "exaggerated and untrue."
It was "smoke coming from a small electric switchboard during a test by the company's local construction contractor," he said, and only affected a "small corner of the factory that was cleared in two days."
He said that with 95 percent of the factory untouched, its production lines were ready to respond to peak season demand.