TSMC approves joint venture to build plant in Dresden, Germany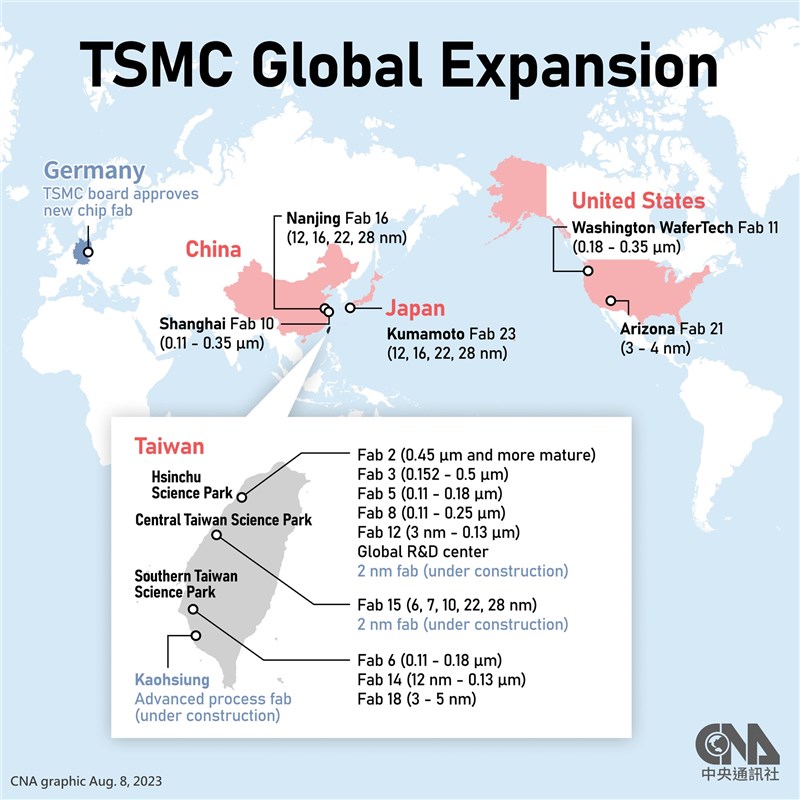 Taipei, Aug. 8 (CNA) Taiwan Semiconductor Manufacturing Co.'s (TSMC) board of directors on Tuesday approved the investment of up to 3.499 billion euros (US$3.834 billion) as part of a joint venture to build a semiconductor fab in Dresden, Germany.
The project, called the European Semiconductor Manufacturing Co., will be 70 percent owned by TSMC, while investment partners Bosch, Infineon Technologies and NXP Semiconductors will each have a 10 percent stake, TSMC said in a statement on its website.
Prior to Tuesday's board meeting, German media reported that TSMC would receive 5 billion euros from the German government to build the plant, which will focus on the production of industrial and automotive chips.
In its statement Tuesday, TSMC said only that it expected total investments in the project to exceed 10 billion euros, consisting of equity injection, debt financing and "strong" support from the European Union and German government.
The planned Dresden plant will be operated by TSMC and will have a monthly production capacity of 40,000 300 mm (12-inch) wafers, produced on the company's 28/22 nanometer planar CMOS and 16/12 nm FinFET process technology.
TSMC aims to begin construction on the plant in the second half of 2024 and to start production there by the end of 2027, the statement said.
Related news
Aug. 8: TSMC to issue NT$15.9 billion in corporate bonds to finance expansion
Aug. 8: TSMC's planned Kaohsiung plant to produce advanced 2nm chips
Aug. 2: TSMC pledges U.S.-based hiring first in Arizona investment
July 28: TSMC inaugurates global R&D center in Taiwan
July 20: TSMC Q2 net profit down but gross margin bests forecast