Taiwan's GlobalWafers chair named EY World Entrepreneur of the Year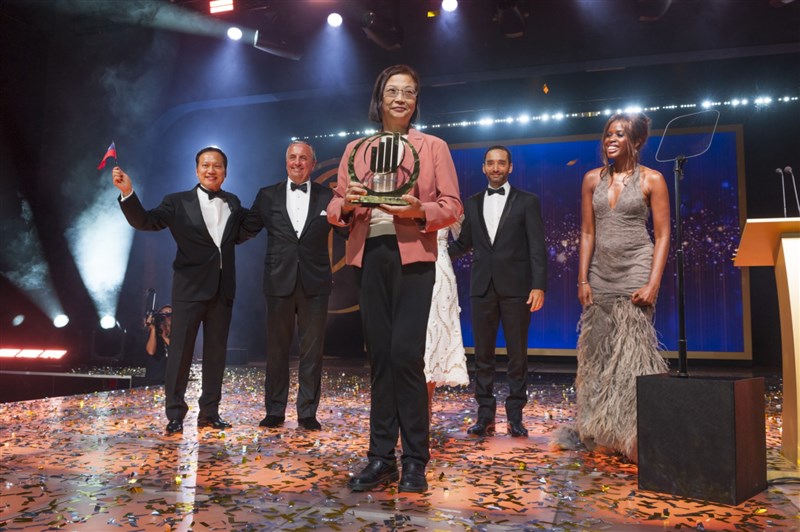 Taipei, June 9 (CNA) Doris Hsu (徐秀蘭), chairwoman of Taiwan-based silicon wafer supplier GlobalWafers Co., has been named the EY World Entrepreneur of the Year for 2023 by Ernst & Young Global Ltd. at an award ceremony held in Monaco's Salle des Etoiles.
Hsu is the third woman to hold the title and the first winner from Taiwan in the award's 23-year history, according to the award's founder, global accounting firm Ernst & Young.
In a statement released Friday, Ernst & Young said Hsu was selected from among nearly 5,000 program participants that included the 49 winners from 45 countries and jurisdictions.
According to Ernst & Young, a multinational financial services partnership headquartered in London, Hsu is a visionary business leader with an unwavering passion to push for innovation and commitment to sustainability for GlobalWafers.
For more than a decade, she has served as the driving force behind GlobalWafers' meteoric rise through a series of successful merger and acquisitions, transforming the company's product portfolio and expanding its operations into Europe, Ernst & Young said.
Among its prominent M&As, GlobalWafers has vaulted itself into the position as the third largest silicon wafer supplier in the world after it completed a deal to acquire NASDAQ-listed SunEdison Semiconductor Ltd. in 2016.
In February 2022, GlobalWafers unveiled investment plans, including spending NT$100 billion (US$3.25 billion) on capacity expansion from 2022-2024 after the company failed to secure regulatory approval from the German government to take over German wafer manufacturer Siltronic AG.
To extend its global research further, GlobalWafers broke ground on a 12-inch silicon wafer plant in Sherman City, Texas in late 2022 by spending US$5 billion after U.S. President Joe Biden signed the Creating Helpful Incentives to Produce Semiconductors (CHIPS) and Science Act into law in August, which will provide subsidies to semiconductor investments in the United States.
"We are in a moment where purpose-driven entrepreneurs are leading the charge in taking on global challenges and this year's World Entrepreneur of The Year winner, Doris Hsu, is the complete embodiment of that," Carmine Di Sibio, EY global chairman and CEO, said in the statement.
"Doris' vision and drive not only built an industry-leading company that has created thousands of jobs and helped generate significant local and global economic impact, but her passion for building a better working world is really what this event is all about."
In 2011, GlobalWafers was spun off from its parent company, Sino-American Silicon Products Inc., as an independent semiconductor wafer company.
It has become Taiwan's largest and the world's third-largest wafer manufacturer, which specializes in 3-inch to 12-inch silicon wafer production at 17 production sites across nine jurisdictions on three continents, according to Ernst & Young.
Led by Hsu, GlobalWafers secured orders for its value-added products after courting heavyweight clients in Europe, the United States and Japan, Ernst & Young said.
Faced with the impact from the COVID-19 pandemic and geopolitical risks, Hsu continued to pursue risk diversification strategies through local production, diversified procurements and automation to build a resilient supply chain, Ernst & Young said.
"There is an underrepresentation of female leaders, especially in the high-tech [semiconductor] industry, and this shows that regardless of gender, anyone can succeed," Hsu said in the statement. "I'm so proud of my amazing team at GlobalWafers and grateful to all those who have helped and inspired me throughout this journey."