Taiwan shares soar after U.S. debt ceiling bill clears Senate floor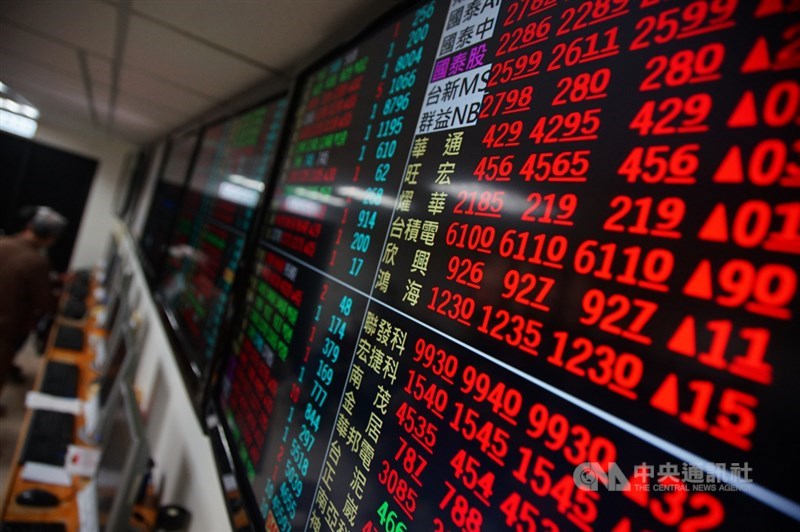 Taipei, June 2 (CNA) Shares in Taiwan moved sharply higher Friday after the United States Senate voted to raise the U.S. government's debt ceiling and avoid a default and turbulence in global markets, dealers said.
Buying focused on both the bellwether electronics sector, led by contract chipmaker Taiwan Semiconductor Manufacturing Co. (TSMC), and old economy stocks, helping the Taiex, the Taiwan Stock Exchange's benchmark weighted index, close above 16,700 points, dealers said.
The Taiex gained 194.26 points, or 1.18 percent, to end at 16,706.91 after moving between 16,525.00 and 16,752.20. Turnover totaled NT$359.98 billion (US$11.74 billion).
The market opened up 12.35 points and buying accelerated with electronics stocks in focus after a 1.28 percent increase in the tech-heavy Nasdaq overnight that sent the Nasdaq to its highest level since August 2022.
That strength was also seen in old economy stocks after the U.S. Congress agreed to raise the debt ceiling.
"The passage of the debt ceiling bill was good news to financial markets worldwide as a default can be avoided," Hua Nan Securities analyst Kevin Su said.
"It was no surprise that investors appeared more willing to take risks by picking up large-cap stocks, in particular in the electronics sector."
Su said interest in TSMC, the most heavily weighted stock in the local market, remained strong throughout the session, and it closed 2.00 percent higher at NT$562.00.
TSMC's gains contributed more than 90 points to the Taiex's rise alone and helped the electronics index and semiconductor sub-index rise 1.41 percent and 1.70 percent, respectively.
"TSMC's gains also reflected optimism toward the development of artificial intelligence (AI) which was talked up by Nvidia CEO Jensen Huang at Computex Taipei this week. TSMC is one of Nvidia's suppliers," Su said.
"In addition to TSMC, other so-called AI concept stocks also steamed ahead."
Among these AI concept stocks that roll out AI servers, contract notebook makers Compal Electronics Inc. gained 4.03 percent to end at NT$28.40, Quanta Computer Inc. rose 2.61 percent to close at NT$118.00, and Inventec Corp. added 1.97 percent to end at NT$36.25.
Amid hopes that AI technology will trigger replacements of old PC models, Acer Inc., one of the leading PC brands in Taiwan, surged 10 percent, the maximum daily increase, to close at NT$33.95, and rival Asustek Computer Inc. rose 2.94 percent to end at NT$315.00.
TSMC's buying spread to other semiconductor heavyweights with United Microelectronics Corp., a smaller contract chipmaker, up 1.18 percent to close at NT$51.40, and memory chip supplier Nanya Technology Corp. up 2.10 percent to end at NT$72.90.
Also, IC packaging and testing services provider ASE Technology Holding Co. closed 4.02 percent higher at NT$116.50.
"Judging from the strong performance of these large-cap stocks, I think foreign institutional investors were net buyers today, leading local investors to follow suit," Su said.
According to the Taiwan Stock Exchange, foreign institutional investors bought a net NT$18.29 billion in shares Friday.
Also in the electronics sector, iPhone assembler Hon Hai Precision Industry Co. underperformed the Taiex, closing unchanged at NT$108.00, while Yageo Corp., the world's third largest multi-layer ceramic capacitor (MLCC) maker, rose 1.20 percent to end at NT$506.00.
"In addition to the solid gains enjoyed by tech stocks, old economy stocks also got a boost from improved market sentiment," Su said.
Su said the textile sector helped push the Taiex higher, rising 1.47 percent after Canadian multinational athletic apparel retailer Lululemon Athletica Inc. raised its sales and profit forecasts for 2023 overnight.
Among Lululemon's suppliers in Taiwan, Eclat Textile Co. rose 3.08 percent to close at NT$485.00, and Makalot Industrial Co. gained 4.04 percent to end at NT$231.50.
Meanwhile, the electric machinery industry rose 1.43 percent as many companies are participating in a program by state-run utility Taiwan Power Co. to strengthen the resilience of Taiwan's power grid, Su said.
Allis Electric Co. and Fortune Electric Co. soared 10 percent to close at NT$58.40 and NT$158.00, respectively. Shihlin Electric & Engineering Corp. rose 6.10 percent to end at NT$156.50, and Teco Electric & Machinery Co. gained 4.04 percent to close at NT$54.10.
In the financial sector, which rose only 0.48 percent, Fubon Financial Holding Co. added 0.33 percent to close at NT$60.60, and Cathay Financial Holding Co. rose 1.02 percent to end at NT$44.45.
"Many investors seemed relieved to some extent about the next move by the U.S. Federal Reserve after a Fed president struck a dovish tone overnight," Su said, referring to Philadelphia Federal Reserve President Patrick Harker, who said the Fed should not raise rates at the meeting set for mid-June.
"I suggest investors watch closely the upcoming U.S. job data due later Friday for more clues about the Fed's decision," Su said.