Taiwan shares end slightly higher as semiconductor stocks recoup losses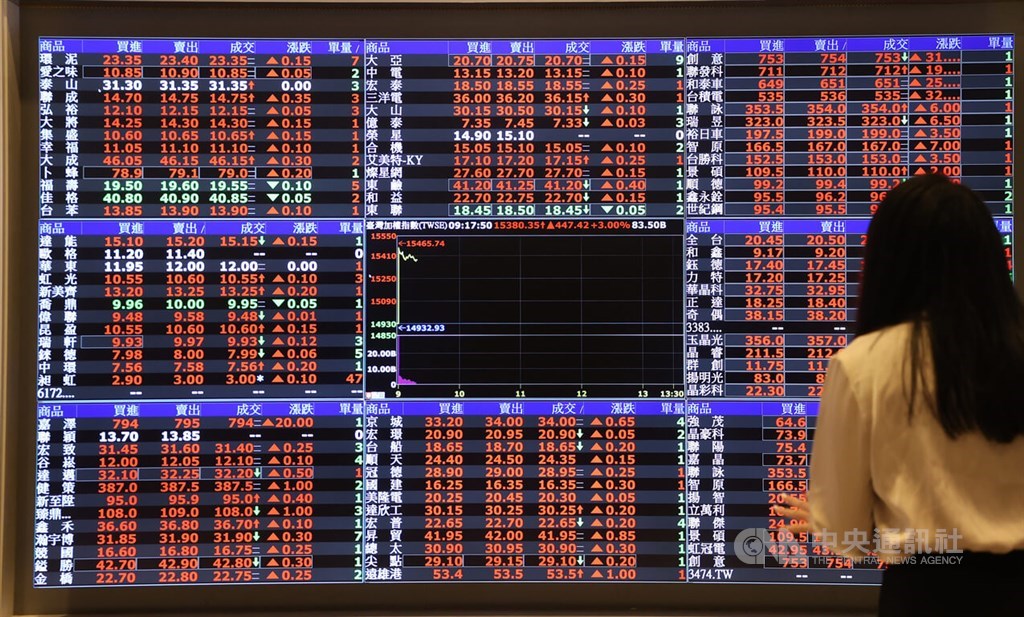 Taipei, Feb. 3 (CNA) Shares in Taiwan closed slightly higher Friday as large-cap semiconductor stocks recovered from their earlier losses amid ample liquidity, which offset the impact of disappointing results reported by some major tech companies on the U.S. market overnight, dealers said.
Outside the bellwether electronics sector, old-economy and financial stocks appeared weak with market sentiment cautious ahead of the release of U.S. jobs data, waiting for more clues about the state of the world's largest economy in the wake of the current rate hike cycle, dealers added.
The Taiex, the weighted index on the Taiwan Stock Exchange (TWSE), ended up 7.50 points, or 0.05 percent, at 15,602.66 after moving between 15,504.03 and 15,617.73. Turnover totaled NT$237.27 billion (US$7.98 billion).
The market opened down 3.21 points and soon fell to the day's low in the early morning session after several tech heavyweights including Apple Inc. and Google's parent Alphabet, reported lower-than-expected results for the fourth quarter of last year, dealers said.
However, large semiconductor stocks, such as contract chipmaker Taiwan Semiconductor Manufacturing Co. (TSMC), recovered their earlier losses, with buying increasing in the late trading session, pushing the main board into positive territory by the end of the session, dealers added.
"Thanks to high liquidity levels with foreign institutional investors moving funds into the region amid hopes that the U.S. Federal Reserve will slow the pace of its rate hikes, local tech stocks remained resilient despite the disappointing results from Apple and some others overnight," Hua Nan Securities analyst Kevin Su said.
After wrapping up its latest policymaking meeting on Wednesday, Fed Chair Jerome Powell acknowledged inflation was slowing but stressed a restrictive policy remained necessary, which prompted foreign institutional investors to think the U.S. central bank will slow down the pace of the current rate hike cycle, moving more funds into the region.
The electronics sector rose 0.24 percent to close at 737.34, off a low of 730.89, and the semiconductor sub-index ended up 0.35 percent to end at 361.78, off a low of 357.92 after shares in TSMC, the most heavily weighted stock on the local market, rose 0.37 percent to close at NT$542.00, recovering from a low of NT$536.00.
"Due to ample funds, the Taiex closed above the 240-day moving average of 15,337 points for the third consecutive session Friday, a positive sign on the technical side," Su said.
"Turnover today still topped the 240-day average of about NT$234.7 billion, indicating many investors remain willing to trade," Su added.
According to the TWSE, foreign institutional investors bought a net NT$11.59 billion worth of shares on the main board Friday.
In addition to TSMC, other semiconductor stocks also benefited from last-ditch buying, with IC packaging and testing services provider ASE Technology Holding Co. rising 2.91 percent to end at NT$106.00, application-specific integrated circuit (ASIC) designer Alchip Technologies Ltd. gaining 1.84 percent to close at NT$943.00, and smartphone IC designer MediaTek Inc. adding 0.54 percent to end at NT$751.00.
Bucking the upturn, United Microelectronics Corp., a smaller contract chipmaker, lost 0.60 percent to close at NT$50.10.
Also in the electronics sector, iPhone assembler Hon Hai Precision Industry Co. underperformed the broader market, falling 0.40 percent to end at NT$99.60 after Apple reported iPhone sales fell 8.17 percent from a year earlier in the fourth quarter.
The biotech sector was lifted by rotational buying, rising 0.29 percent, giving an additional boost to the broader market, Su said.
In the sector, medical equipment maker Maxigen Biotech Inc. soared 10 percent, the maximum daily increase, to close at NT$57.80, bio-chemical fertilizer developer All Cosmos Bio-Tech Holding Corp. gained 4.40 percent to end at NT$64.10, vaccine brand Adimmune Corp. rose 2.13 percent to close at NT$49.75, and test kit brand Panion & BF Biotech Inc. ended up 1.76 percent at NT$73.50.
"As market attention focused on large-cap semiconductor stocks, old-economy and financial stocks largely moved in weakness," Su said.
Among old-economy heavyweights, Formosa Plastics Corp. fell 0.45 percent to close at NT$88.60 and Nan Ya Plastics Corp. lost 0.80 percent to end at NT$74.60. In addition, China Steel Corp., the largest steel maker in Taiwan, shed 1.72 percent to close at NT$31.40 but rival Tung Ho Steel Enterprise Corp. rose 1.41 percent to end at NT$57.60.
In the financial sector, which lost 0.38 percent, Cathay Financial Holding Co. fell 1.70 percent to close at NT$43.30, and Fubon Financial Holding Co. shed 1.16 percent to end at NT$59.80.
"After the latest Fed meeting, many investors have turned to the non-farm payroll data due later today amid concerns over the impact on the U.S. economy after recent aggressive rate hikes," Su said.