Taiwan shares end higher amid eased concerns over U.S. inflation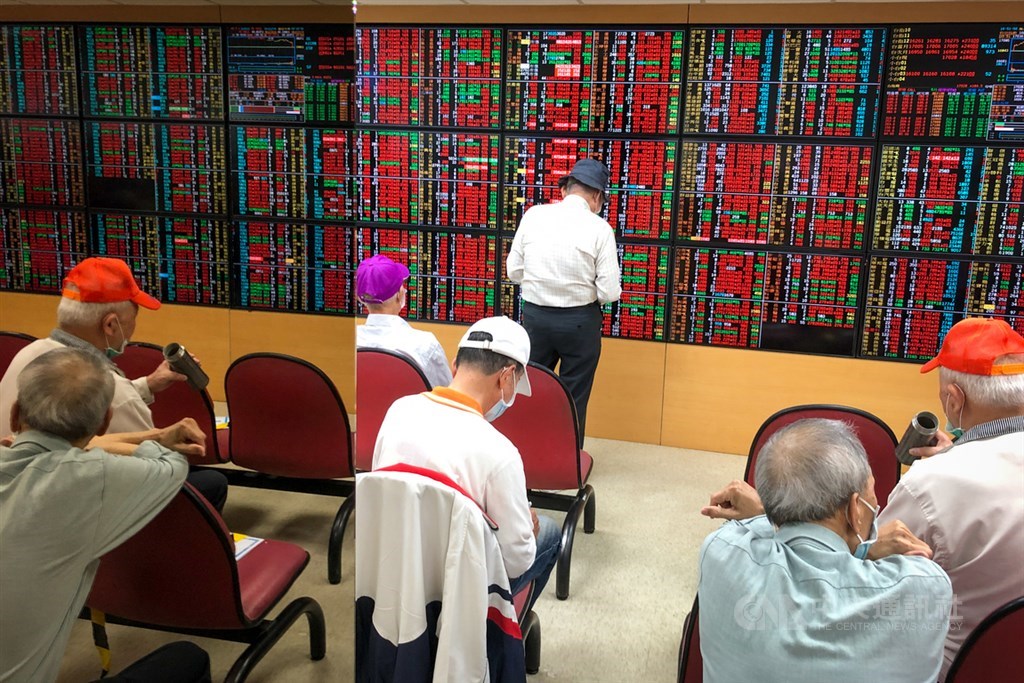 Taipei, Aug. 12 (CNA) Shares in Taiwan continued their momentum from a session earlier Friday as market sentiment improved amid eased concerns over inflation on the U.S. markets, dealers said.
The bellwether electronics sector moved higher led by large semiconductor stocks on hopes that the U.S. Federal Reserve will slow down the pace of its rate hikes, while buying also rotated to select old-economy stocks on the back of rising product prices, they said.
The Taiex, the weighted index on the Taiwan Stock Exchange (TWSE), ended up by 91.12 points, or 0.60 percent, at 15,288.97, after moving between 15,198.93 and 15,298.42. Turnover totaled NT$205.35 billion (US$6.85 billion).
Latest U.S. data
The market opened up by 6.06 points and buying soon accelerated with the electronics sector in focus as investors ignored a pullback among tech stocks on the U.S. markets overnight in the wake of a surprise month-on-month 0.5-percent decline in the American producer price index (PPI) reported Thursday, dealers said.
In addition to the gains enjoyed by large semiconductor stocks, buying also rotated to the raw material sector, in particular the steel and petrochemical industries, to maintain the Taiex's strength into the end of the session, dealers added.
"Compared with the U.S. markets, the local main board remained a laggard so the Taiex continued to move higher despite the U.S. technical retreat overnight," Hua Nan Securities analyst Kevin Su said, referring to a 0.58-percent fall in the tech-heavy Nasdaq index and a 0.34-percent fall in the Philadelphia Semiconductor Index Thursday.
"The positive lead from the U.S. July PPI after the month's CPI (consumer price index) data prompted investors to think the Fed will turn less hawkish toward its monetary policy," Su said.
Su added the market now expected the Fed to raise its key interest rates by 50 basis points after its next meeting in September instead of the previously estimated 75-basis-point hike. In July, the U.S. CPI rose by 8.5 percent compared with 9.1 percent in June.
Tech sector
Amid eased fears over an aggressive Fed, the electronics sector rose 0.60 percent with the semiconductor sub-index up by 0.91 percent.
"Many semiconductor stocks played catch-up with TSMC (Taiwan Semiconductor Manufacturing Co.), which closed well above the 60-day moving average of NT$501.00 yesterday," Su said. "This helped drive the Taiex higher."
TSMC, the most heavily weighted stock in the local market, rose by 0.58 percent to close at NT$517.00 after its shares ended up NT$14.00 or 2.80 percent to end at NT$514.00 Thursday.
Among other semiconductor stocks that saw gains, United Microelectronics Corp., a smaller contract chipmaker, rose 1.56 percent to close at NT$42.35, and display driver IC designer Novatek Microelectronics Corp. increased 1.55 percent to end at NT$261.50.
In addition, smartphone IC designer MediaTek Inc. rose 2.09 percent to close at NT$684.00, and application-specific IC (ASIC) designer Alchip Technologies Ltd. soared 8.10 percent to end at NT$721.00.
Also in the electronics sector, Yageo Corp., the world's third-largest multi-layer ceramic capacitor maker, rose 1.07 percent to close at NT$330.00, while iPhone assembler Hon Hai Precision Industry Co. fell 0.44 percent to end at NT$112.50.
"However, Hon Hai still moved above its 60-day moving average of 108.50 amid optimism in its electric vehicle development efforts. Today's pullback was technical in nature," Su said.
Steel, petrochemical stocks
The steel sector rose 2.13 percent amid rotational buying on the back of a hike in product prices, Su said.
Among the strongly performing steel stocks, China Steel Corp., the largest steelmaker in Taiwan, rose 1.05 percent to close at NT$28.75, Tung Ho Steel Enterprise Corp. increased 1.70 percent to close at NT$53.90, Chung Hung Steel Corp. rose 3.17 percent to close at NT$26.00, and Ta Chen Stainless Pipe Co. soared 9.66 percent to end at NT$39.15.
After Brent crude futures, a global benchmark, rose 1.1 percent overnight, the local petrochemical sector gained 0.98 percent on Friday.
Formosa Plastics Corp. rose 1.30 percent to close at NT$93.80, Formosa Petrochemical Corp. increased 1.09 percent to end at NT$83.60, Nan Ya Plastics Corp. rose 1.02 percent to close at NT$69.60, and Formosa Chemicals & Fibre Corp. was up 1.01 percent to end at NT$70.00.
In the mixed financial sector, which edged up by only 0.01 percent, Cathay Financial Holding Co. rose 0.11 percent to close at NT$47.25, and Fubon Financial Holding Co. rose 0.17 percent to end at NT$60.00, while E. Sun Financial Holding Co. dipped 0.18 percent to close at NT$28.45, and Mega Financial Holding Co. dropped 0.28 percent to end at NT$35.70.
"Despite the gains, the Taiex still failed to close above the 60-day moving average of 15,322 points as turnover remained moderate," Su said. "Without turnover expanding to NT$220 billion to NT$230 billion or higher, it is not easy for the main board to close well above that level."
According to the TWSE, foreign institutional investors bought a net NT$7.31 billion worth of shares on the main board Friday.