November-December winning sales receipt numbers released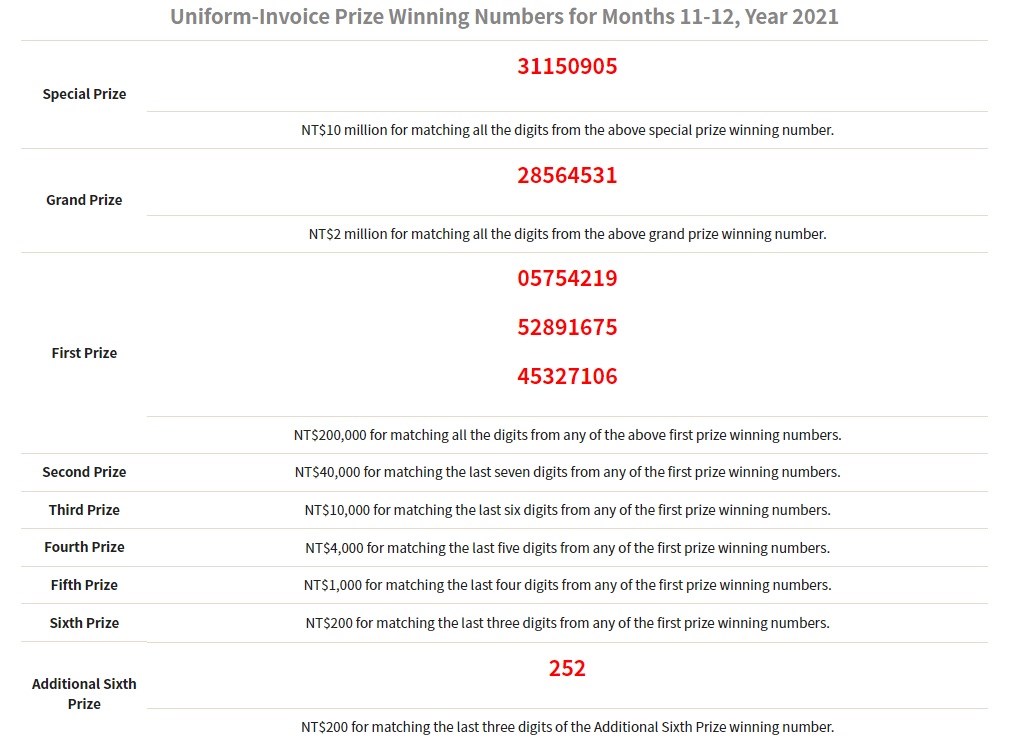 Taipei, Jan. 25 (CNA) The winning number for the NT$10 million (US$360,781) special prize in the November-December receipt lottery was 31150905, the Ministry of Finance announced Tuesday.
The winning number for the NT$2 million grand prize was 28564531, while the three numbers qualifying for the first prizes of NT$200,000 were 05754219, 52891675 and 45327106.
Sales receipts, known formally as "uniform invoices," that have serial numbers with the last seven digits of any of the first-prize numbers win NT$40,000 and those with the last six digits win NT$10,000.
Other prizes are NT$4,000 for receipts with numbers that have the last five digits of any of the first-prize numbers, NT$1,000 for those with the last four digits, and NT$200 for invoices with the last three digits.
An additional prize of NT$200 will go to holders of receipts ending with the three-digit combination 252.
The November-December lottery prizes can be claimed between Feb. 6 and May 5, 2022, the ministry said when announcing the winning numbers for the two-month period.
Prizes of NT$1,000 or below can be redeemed at any 7-Eleven, FamilyMart, OK Mart and Hi-Life convenience store or PX Mart or Simple Mart supermarket.
Prizes up to NT$40,000 can be redeemed at credit cooperatives across Taiwan, while prizes of any amount, including those larger than NT$200,000, can be collected at First Commercial Bank, Chang Hwa Bank and the Agricultural Bank of Taiwan.
The receipt lottery system, which draws winning numbers every two months, was created to encourage consumers to collect sales receipts wherever purchases are made to prevent tax evasion by retailers and other vendors.
The separate prize winning numbers for holders of cloud-based receipts were also released, including 1 million NT$500 prizes, 16,000 NT$2,000 prizes and 30 NT$1 million prizes.
Unlike the regular draw for paper receipts, which base their prizes on randomly drawn serial numbers, the draw for cloud uniform invoices is directly selected from paperless receipts stored online.
Winners can redeem their awards using the ministry's "uniform lottery redemption" app (Google Android's Play / Apple's App Store), which can store and check receipts and enableswinners to claim their prizes through electronic transactions, with the prize money remitted directly into their bank account.