Hon Hai expects EVs to post NT$1 trillion in sales in 5 years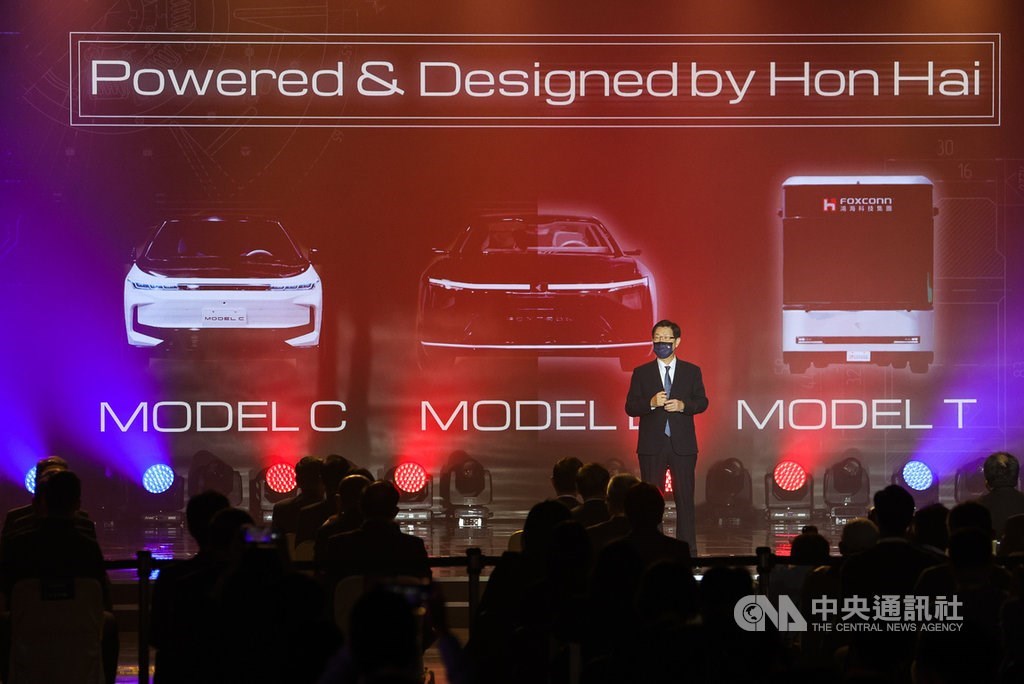 Taipei, Oct. 18 (CNA) Taiwan-based manufacturing giant Hon Hai Precision Industry Co., which unveiled three electric vehicles (EV) on Monday, expects the EV business to generate NT$1 trillion (US$36 billion) in sales for the group in five years.
Speaking with reporters after the introduction of the three EV prototypes, Hon Hai Chairman Liu Young-way (劉揚偉) said Hon Hai, also known as Foxconn globally, expects to see its EV business start generating revenue next year at the earliest.
Sales growth momentum, Liu said, is expected to pick up in 2023 and revenue might possibly hit NT$1 trillion in five years.
During Hon Hai Tech Day on Monday, the iPhone assembler launched three self-developed EV models -- the Model C sports utility vehicle, the flagship Model E passenger car, and the Model T electric bus -- through a joint venture, Foxtron Vehicle Technologies Co., with Taiwan carmaker Yulon Group.
Foxtron is promoting a MIH Open Platform for EV development as Hon Hai aims to build the platform as the "Android of the electric car industry" as part of its efforts to penetrate the global electric vehicle market.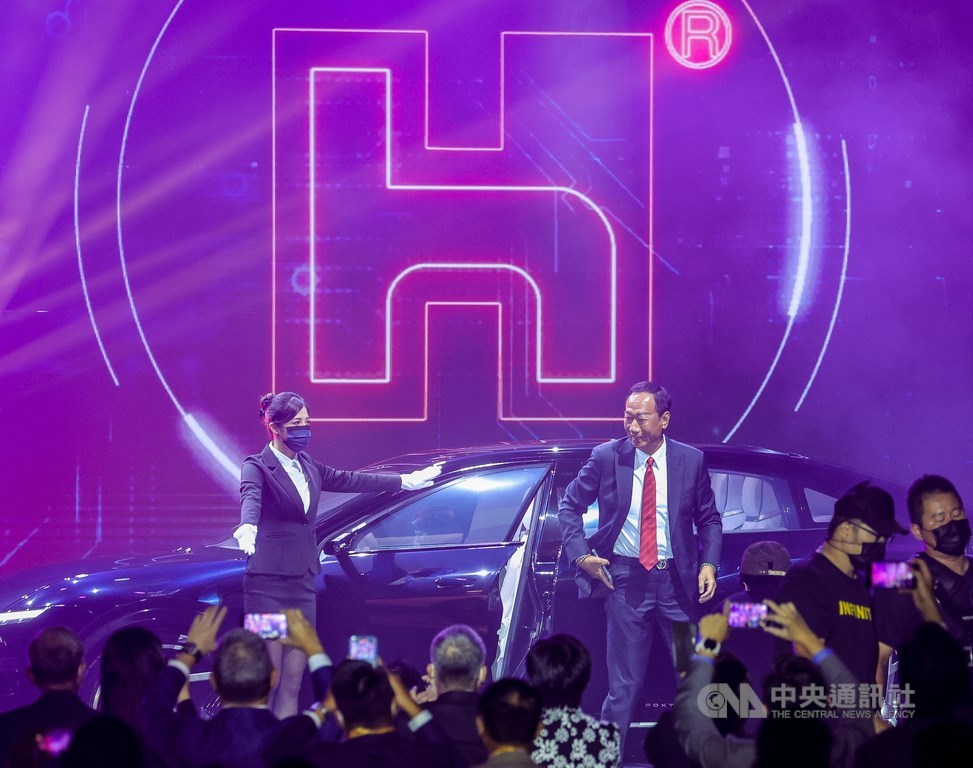 As of June, more than 1,680 companies have joined the platform, including Hon Hai and Yulon in Taiwan; Bosch and Continental AG, both of which manufacture automotive parts; as well as tech giants such as Microsoft and Oracle Co.
Liu said the MIH Open Platform is expected to provide business opportunities to its members.
According to Liu, SUVs based on the Model C prototype will hit the market in 2023 at the earliest, and passenger cars based on the Model E, which was jointly developed with Italian car designer Pininfarina, will follow.
Vice Premier Shen Jong-chin (沈榮津) said if the Model T electric bus secures approval by passing tests, the model could hit the road in Kaohsiung next year. According to Foxtron, the design concept of the Model T came from Taiwan with more than 50 percent of its components provided by Taiwanese suppliers.
In late September, a U.S.-based brokerage said Hon Hai will grab a 5 percent share of the global EV market in 2025 by generating US$30 billion in EV sales in line with the company's goal.
In addition to Foxtron, Hon Hai announced in mid-September it would team up with Thailand's state-owned oil supplier PTT Public Co. to invest US$1-2 billion to set up an EV joint venture in Thailand, targeting the Southeast Asian market.
In February, Hon Hai announced it had joined forces with Fisker Inc., a U.S. EV maker, to build a new EV model under the American brand with the goal of starting mass production by the fourth quarter of 2023.
Liu said while Fisker has its own EV platform, if the MIH Open Platform is able to provide competitive solutions in chassis production, he expects the American brand to consider using them.
Liu said the EV business is so huge that Hon Hai will be producing its EVs on a regional basis including for the U.S., South America, Europe, the Middle East, India, Southeast Asia, East Asia, and China, while using the commonly designed auto chassis from the platform.
He said that the diversification of manufacturing allows the company to cater to different markets and lower production costs.
"The Taiwan industrial sector cannot forever serve as a contract maker for international brands but has to roll out value-added products to penetrate the global market," Liu said, referring to the MIH Open Platform.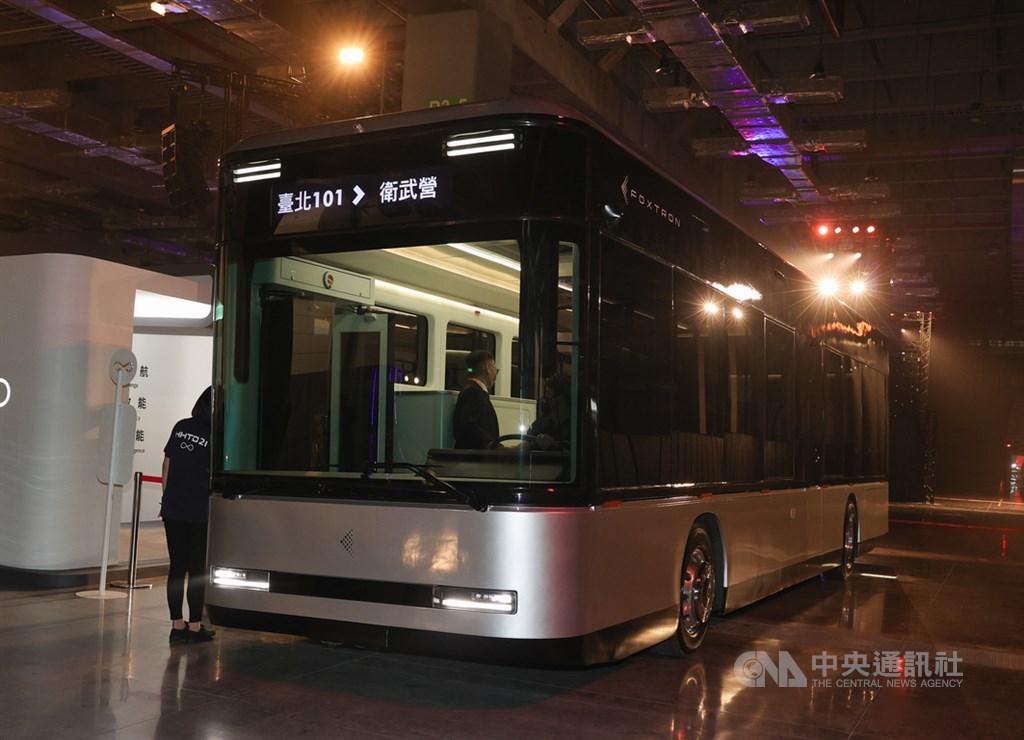 Liu said smart manufacturing will be the key to the EV business and as Taiwan is very capable in semiconductor and software development, this paves the path for a competitive EV industry.
Hon Hai has promoted a "3 plus 3" initiative to expand from its contract manufacturing business into hardware and software integration in recent years. The development of electric cars is central to the initiative, as is building an EV supply chain.
The "3 plus 3" initiative refers to three emerging industries -- EVs, robots and digital healthcare -- that are being developed through the application of artificial intelligence, semiconductors and communications technologies.