Four receipts win NT$10 million prize in July-August lottery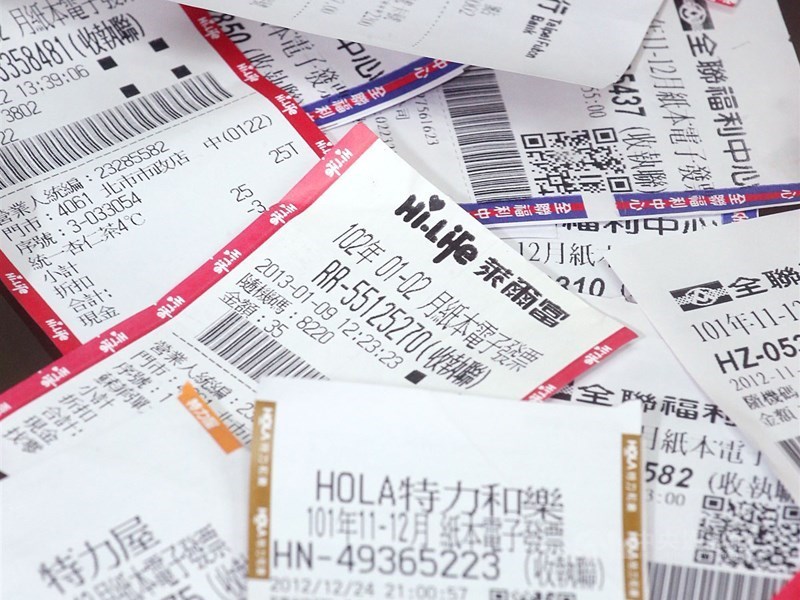 Update: 13 receipts win NT$10 million in latest invoice lottery (Oct. 6)
Taipei, Sept. 26 (CNA) A total of four uniform invoices issued in July and August had the winning serial number drawn Saturday in the bimonthly lottery draw for the top prize of NT$10 million (US$359,912), according to the vendors that issued the invoices.
The winning number for the NT$10 million special prize drawn in the July-August uniform lottery is 52604932, according to the Ministry of Finance.
The 7-Eleven chain in Taiwan said Friday that three of the four invoices were issued for purchases at its convenience stores, and the lowest amount was NT$28.
Meanwhile, the PX Mart supermarket chain said the other top prize-winning invoice was for a purchase made at one of its outlets in Kaohsiung, which was NT$64 for green tea drinks.
The ministry will release lists of details about the invoices that won the special and grand prizes around one week after the lottery is drawn.
Besides the special prize, the winning number for the NT$2 million grand prize is 20102509, while the three numbers qualifying for the first prizes of NT$200,000 are 39173725, 34997398 and 98953723.
Invoices that match the last seven digits of the first-prize numbers win NT$40,000 and those with invoices that match the last six digits win NT$10,000.
Other prizes are NT$4,000 for invoices with the last five digits of the first-prize numbers, NT$1,000 for invoices with the last four digits, and NT$200 for invoices with the last three digits.
An additional prize of NT$200 will go to holders of invoices ending with the three-digit combination 634.
In the latest lottery draw, the ministry added 100,000 new NT$800 prizes, apart from 30 NT$1 million prizes, 16,000 NT$2,000 prizes, and 1 million NT$500 prizes.
People can check the winning numbers on mobile phone apps they use for digitally stored invoices, or on the government's E-Invoice website from Sept. 28.
According to the ministry, the amount of digitally stored e-invoices, which are meant to reduce the use of paper, has grown from 31 percent of all e-invoices in late 2020 to 40 percent as of the end of July.
For prizes of up to NT$40,000, invoices can be redeemed at credit cooperatives across the nation, while First Commercial Bank, Chang Hwa Bank, and the Agricultural Bank of Taiwan Corporation offer cash redemptions for all prizes, including those larger than NT$200,000.
The uniform invoice lottery system, which draws winning numbers every two months, was created to encourage consumers to collect their sales invoices as part of the ministry's efforts to ensure the collection of a 5-percent tax for each business transaction.