Taiwan shares end up after recouping earlier losses on COVID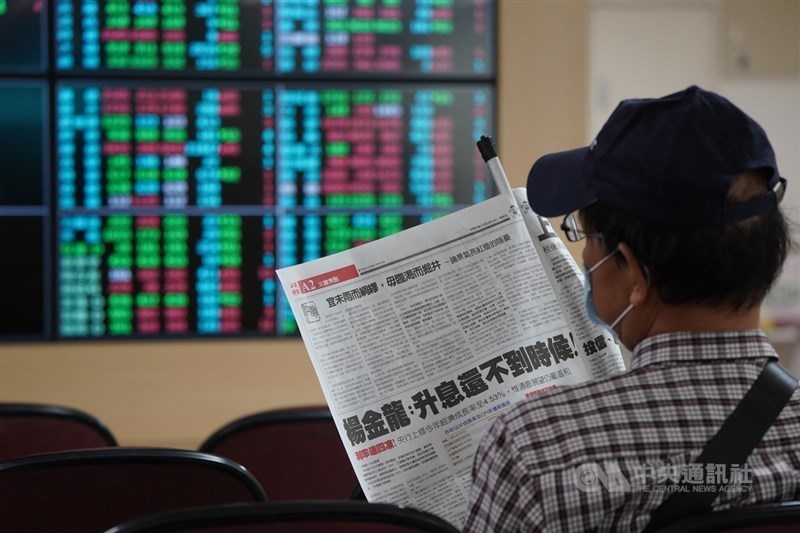 Taipei, May 24 (CNA) Shares in Taiwan closed slightly higher Monday after recovering losses caused by fears over an escalation of domestically transmitted COVID-19 cases reported over the weekend, dealers said.
Buying in select old economy stocks, in particular in the shipping and textile sectors, continued on the back of growing global demand, while the bellwether electronics sector climbed out of its earlier weakness, giving additional support to the broader market, the dealers said.
The Taiex, the weighted index on the Taiwan Stock Exchange (TWSE), ended up 36.23 points, or 0.22 percent, at 16,338.29, after moving between 16,136.97 and 16,397.59. Turnover totaled NT$422.97 billion (US$15.16 billion).
The market opened down 0.34 percent and soon fell to the day's low in the early morning session, down more than 160 points, as investor sentiment was dampened by a surge in local COVID-19 cases over the weekend, the dealers said.
However, with the Taiex moving closer to 16,100 points at one point, bargain hunters started to pick up select old economy stocks and buying also spread to large cap tech stocks, in particular in the semiconductor industry, which helped the main board return into positive territory by the end of the session, they said.
"It seemed that the spike in domestic COVID-19 cases had limited impact on the local equity market," Mega International Investment Services Corp. analyst Alex Huang said. "As long as the government does not raise its alert over the disease by imposing more restrictions on movement, the Taiex could remain resilient," he added.
Starting from May 19, the Level 3 alert became effective nationwide, a level which stops short of a lockdown.
"I suspect that government-led funds entered the trading floor to keep the Taiex from falling. More importantly, buying in shipping and textile stocks continued as bargain hunters took advantage of their recent corrections," Huang said.
The shipping sector got a boost from a continued increase in freight rates on growing demand for cargo services, up 3.78 percent, Huang said.
Container cargo shipping firm Wan Hai Lines Ltd. rose 10 percent, the maximum daily increase, to close at a new high of NT$125.00, while rivals Evergreen Marine Corp. and Yang Ming Marine Transport Corp. also rose 2.01 percent and 1.42 percent, respectively, to end at NT$86.40 and NT$93.10.
Strong interest in the shipping sector boosted its turnover to NT$159.04, which accounted for about 37.6 percent of the market's total, eclipsing the bellwether electronics sector's 37.1 percent.
Amid optimism toward demand, the textile sector also steamed ahead, rising 2.98 percent, with Eclat Textile Co. up 3.14 percent to close at NT$657.00 and rival Makalot Industrial Co. up 3.88 percent to end at NT$281.00.
"The tech sector left its earlier losses behind as buying re-emerged in select semiconductor stocks, which offset the weakness suffered by contract chipmaker Taiwan Semiconductor Manufacturing Co. (TSMC)," Huang said.
TSMC, the most heavily weighted stock in the local market, lost 0.87 percent to end at NT$568.00, off a low of NT$568.00. "The stock could continue to move in consolidation mode for some time, as investors were waiting for possible positive leads for the third quarter," Huang said.
The electronics sector closed up 0.08 percent at 783.90, after hitting a low of 774.53.
Among the gaining semiconductor stocks, United Microelectronics Corp. rose 3.73 percent to close at NT$48.70, off a low of NT$46.35, and display drive IC designer Novatek Microelectronics Corp. gained 3.61 percent to end at NT$487.50, after hitting a low of NT$464.00.
Silergy Corp., a power management IC designer, soared 10 percent to close at NT$3,345.00 remaining the most expensive stock in Taiwan, while smartphone IC designer MediaTek Inc. fell 1.26 percent to end at NT$943.00.
Also in the electronics sector, iPhone assembler Hon Hai Precision Industry Co. closed unchanged at NT$109.50, while Largan Precision Co., a supplier of smartphone camera lenses to Apple Inc., rose 0.51 percent to end at NT$2,935.00.
"Investors had better keep a close eye on the local COVID-19 infection records," Huang said. "In addition, the American markets could continue to move the global financial markets, including Taiwan, amid rising concerns over inflation in the U.S."
According to the TWSE, foreign institutional investors sold a net NT$136 million-worth of shares on the main board Monday.