CORONAVIRUS
/
COVID-19 fears send Taiex plunging, shares end 4.11% lower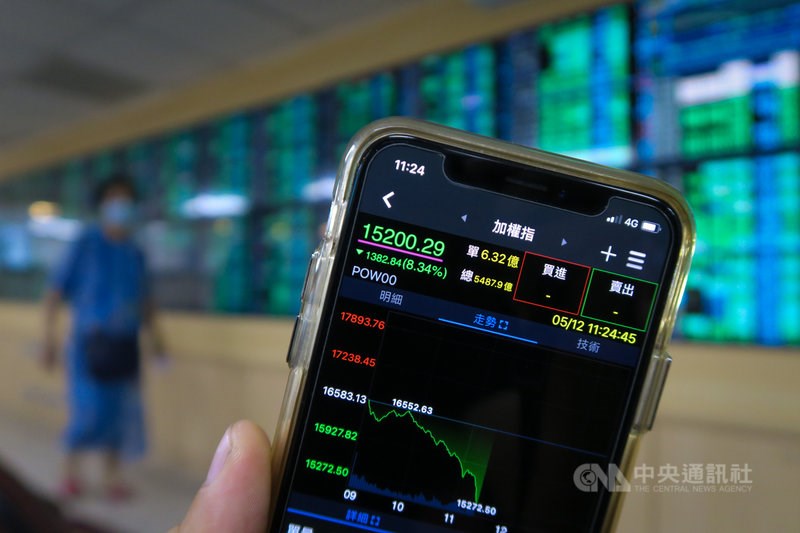 Taipei, May 12 (CNA) Shares in Taiwan moved sharply lower Wednesday, plummeting more than 8 percent amid a sudden rise in the number of domestically transmitted COVID-19 cases and talk of tightening restrictions before rebounding, dealers said.
The 1,417 point plunge halfway through the session was the steepest intraday decline ever on the Taiwan Stock Exchange (TWSE), but support for large cap tech stocks from government-led funds helped mitigate the losses.
The Taiex, the TWSE's weighted index, ended down 680.76 points, or 4.11 percent, at 15,902.37, after moving between 15,165.27 and 16,552.63. Turnover totaled NT$772.77 billion (US$27.59 billion).
The market opened down 0.41 percent, but selling accelerated after Health and Welfare Minister Chen Shih-chung (陳時中) told reporters that the government could raise its COVID-19 alert to a Level 3 alert in the coming days to stop the rise of domestic cases, dealers said.
The specter of a Level 3 alert, which would require non-essential businesses and public venues to close, sent investors into a panic before support for large cap tech stocks kicked in and Chen pulled back a bit from his earlier statement.
"A spike in domestic COVID-19 cases in Taiwan did hurt many investors' confidence quite a lot," Concord Securities analyst Kerry Huang said. "Chen's remarks, in particular, triggered more selling."
After the market closed, the Central Epidemic Command Center (CECC), which Chen heads, reported 16 more domestically transmitted COVID-19 cases in Taiwan, the highest number of domestic cases reported in a single day in the country since the outbreak began.
"But the losses were capped as TSMC recouped most of its earlier losses. I suspect the buying came from government-led funds in a bid to bolster market confidence as Taiwan is faced with a big challenge from the disease," Huang said.
Contract chipmaker Taiwan Semiconductor Manufacturing Co., the most heavily weighted stock in the local market, fell 1.93 percent to close at NT$560.00 after coming off a low of NT$518.00, which at the time represented a 9.28 percent plunge.
That was not far from the maximum 10 percent fall allowed in a single session in Taiwan's markets.
"Recent solid gains posted by the electronics sector as well as the Taiex largely came from strong buying by local retail investors. So any negative leads like the COVID-19 infections led those retail investors to dump their tech stocks," Huang said.
The electronics sector fell 2.95 percent to 758.30 after coming off a low of 713.77, largely due to TSMC's recovery.
Selling was also seen among other semiconductor stocks.
United Microelectronics Corp. down 5.41 percent to end at NT$46.35, and smartphone integrated circuit designer MediaTek Inc. closed 2.52 percent lower at NT$888.00, off a low of NT$821.00.
But drive IC designer Novatek Microelectronics Corp. rose 0.10 percent to end at NT$491.50 after hitting NT$443.50.
Also in the electronics sector, iPhone assembler Hon Hai Precision Industry Co. lost 4.67 percent to close at NT$102.00, but Largan Precision Co., a supplier of smartphone camera lenses to Apple Inc., gained 0.72 percent to end at NT$2,810.00.
Huang said non-tech stocks also fell victim to the COVID-19 fears throughout the session.
In the petrochemical sector, which moved 5.71 percent lower, Formosa Plastics Corp. fell 6.63 percent to close at NT$95.70.
Formosa Chemicals & Fibre Corp. lost 6.17 percent to end at NT$83.60, while Formosa Petrochemical Corp. dropped 6.06 percent to close at NT$97.70, and Nan Ya Plastics Corp. ended down 5.94 percent at NT$80.80.
Elsewhere in the old economy sector, China Steel Corp., the largest steel maker in Taiwan, fell 8.69 percent to close at NT$38.35, and Yang Ming Marine Transport Corp. plunged by the maximum 10 percent to end at NT$87.90 despite its inclusion in the MSCI Global Standard Indexes.
Fears over COVID-19 infections cut both ways, however, as the stocks of companies that make products that fight disease saw gains.
Among them, face mask supplier Universal Inc. and vaccine developer Adimmune Corp. both rose the maximum 10 percent to close at NT$103.00, and NT$57.20, respectively.
"How the Taiex will move will depend on when weakness in the tech sector eases, but the biggest thing investors should watch is what happens with the domestic COVID-19 spread," Huang said.
"Investors should also look at the U.S. consumer price index due out later in the day, which could affect the Federal Reserve's monetary policy and move the global financial markets," Huang added.
According to the TWSE, foreign institutional investors sold a net NT$12.18 billion in shares on the market Wednesday.
View All