TSMC forecasts 15% sales growth in 2021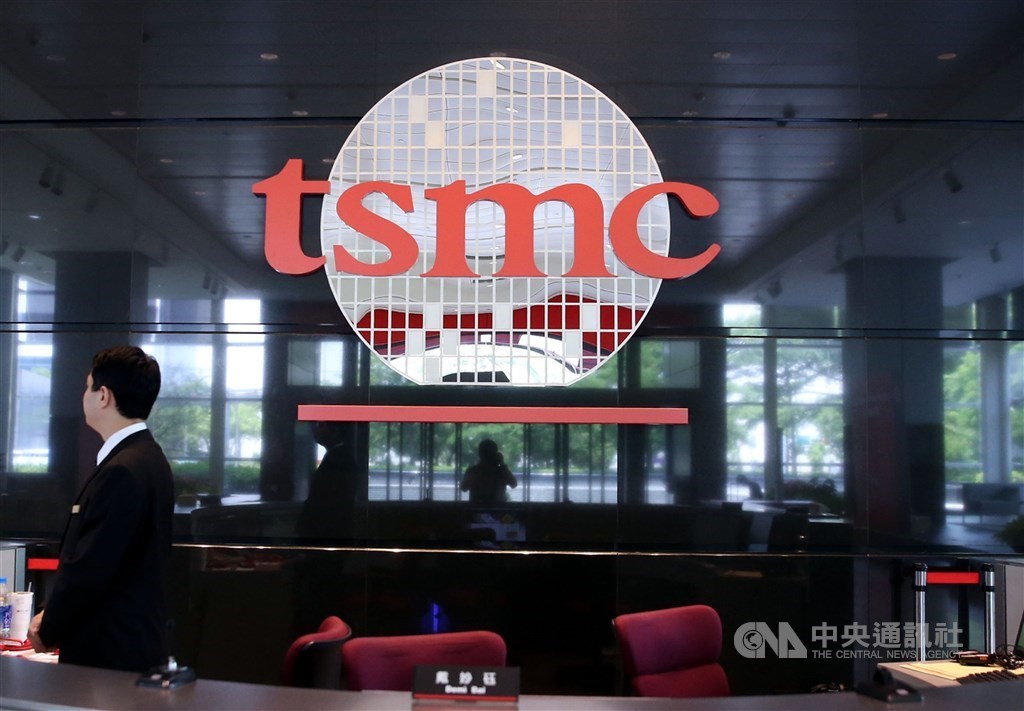 Taipei, Jan. 14 (CNA) Taiwan Semiconductor Manufacturing Co. (TSMC), the world's largest contract chipmaker, said on Thursday that it expects to see sales grow by about 15 percent from a year earlier to another high in 2021, in U.S. dollar terms, on the back of popular applications such as 5G smartphones.
At an investor conference, C.C. Wei (魏哲家), TSMC's chief executive officer, said the growth the company expects to see surpasses the estimated 10 percent growth for the global pure-play foundry business, and anticipated 8 percent growth in the global semiconductor industry, excluding memory chip suppliers.
Before the investor conference started, TSMC released its fourth quarter earnings report in which the chipmaker said it posted a record NT$142.77 billion (US$5.10 billion) net profit in the fourth quarter, up 4 percent from a quarter earlier.
In 2020, TSMC's net profit also hit a new high of NT$517.89 billion, the highest in the company's history, up 50 percent from a year earlier, with earnings per share (EPS) of NT$19.97.
TSMC's investor conference was closely watched by analysts at home and abroad as the company's forecasts give the market a clearer picture of the global semiconductor industry.
Wei said he expects 5G smartphones to account for 35 percent of total smartphone sales in 2021, up from 18 percent in 2020. He added a 5G smartphone needs more semiconductors than a 4G model, paving the way for increased demand for TSMC's chips.
In addition to 5G smartphones, Wei said, TSMC will also benefit from strong demand for other emerging applications including high performance computing (HPC) devices, automotive electronics and the Internet of Things.
For the first quarter of this year, TSMC said its sales are expected to range from US$12.7 billion to US$13.0 billion, with the median US$12.85 billion representing a 1.3 percent increase from a quarter earlier, a new quarterly record high for the company.
According to TSMC, its gross margin -- the difference between revenue and cost of goods sold -- will range from 50.5 percent to 52.5 percent in the first quarter, while its operating margin -- the difference between sales, cost of goods sold and operating expenses -- is expected to be between 39.5 percent and 41.5 percent.
Such an upbeat mood about the first quarter came after TSMC indicated it expects the momentum of emerging technologies to continue from 2020 into 2021.
Commenting on the first quarter guidance, Wei said the COVID-19 pandemic impacted global demand, in particular in the first half of 2020, but momentum started to pick up quickly in the fourth quarter, adding that TSMC will work with its clients to resolve tight supply problems right now, in particular in automotive electronics items.
Also at the investor conference, TSMC Vice President and Chief Financial Officer Wendell Huang (黃仁昭) said the company will spend between US$25 billion and US$28 billion on capital expenditure in 2021, a historical high.
Huang said 80 percent of the 2021 capex will be used to develop the 3 nanometer, 5nm and 7nm processes, 10 percent will be used in high-end integrated circuit packaging and testing and photomasking development, and the remaining 10 percent will be used in specialty process development. The 5nm process is the latest technology TSMC has started to mass produce since the second quarter of last year. The 3nm process is scheduled to begin commercial production in 2022.
After the investor conference, TSMC said it is evaluating whether to set up a material research and development center in Japan, and through the facility work with suppliers to develop 3D IC production materials.
The disclosure of the possible material R&D center came after a recent media report that Japan has invited TSMC to set up an advanced joint IC packaging and testing factory.
TSMC emphasized the material R&D center plan has not yet been finalized.