Taiwan shares end down as TSMC under pressure before earnings report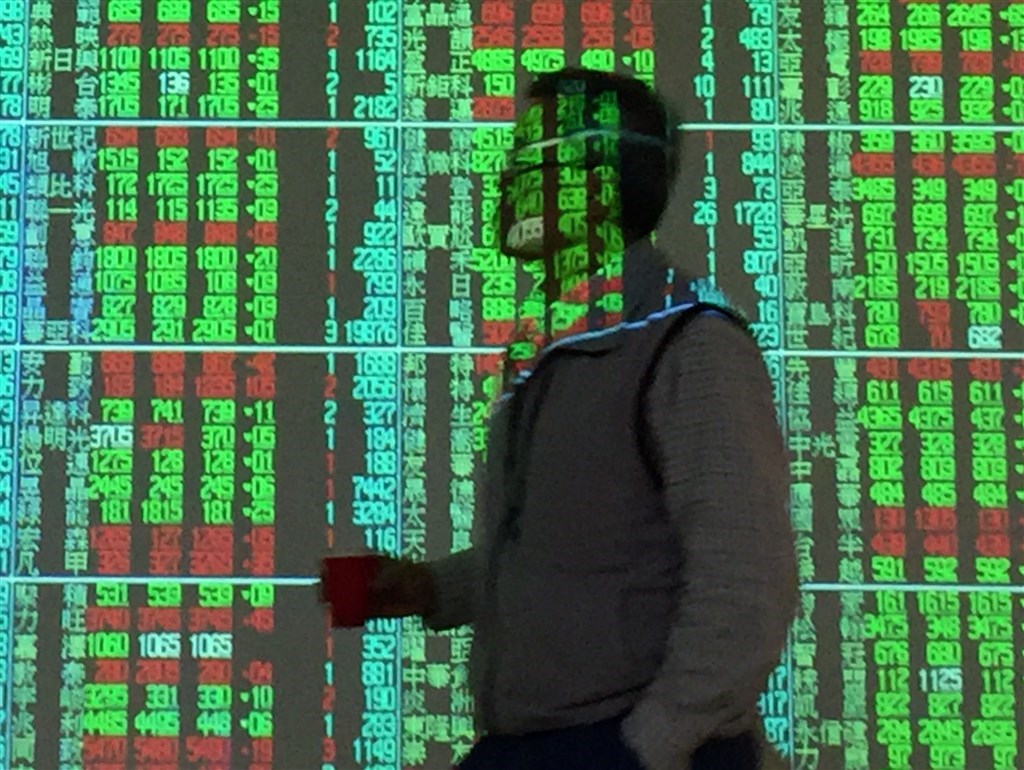 Taipei, Jan. 14 (CNA) Shares in Taiwan moved lower Thursday on a technical correction from a session earlier, when the main board hit a historic high amid ample liquidity, dealers said, adding that there was also caution over an upcoming earnings report.
Contract chipmaker Taiwan Semiconductor Manufacturing Co. (TSMC) led the downturn as investors showed caution ahead of an investor conference due to open after the market closed, while iPhone assembler Hon Hai Precision Industry Co. posted gains, preventing the broader market from falling further, the dealers said.
The weighted index on the Taiwan Stock Exchange (TWSE), or Taiex, ended down 62.79 points, or 0.4 percent, at 15,707.19, after moving between 15,620.96 and 15,760.15, on turnover of NT$388.54 billion (US$13.87 billion).
The market opened down 0.75 percent as investors rushed to pocket gains built up on Wednesday, when the Taiex soared 1.74 percent, as TSMC came under downward pressure, with many investors waiting for the company's fourth-quarter results and guidance for the first quarter, the dealers said.
However, with the Taiex falling and coming closer to 15,600 points, some bargain hunters became active, picking up select tech heavyweights, in particular Hon Hai and its subsidiaries, to fend off the losses suffered by TSMC, they said.
"Today's losses were largely technical in nature, in particular after both TSMC and the Taiex smashed their records yesterday," Hua Nan Securities analyst Lu Chin-wei said. "Before TSMC's investor conference, many investors preferred to adopt a cautious attitude."
TSMC, the most heavily weighted stock in the local market, fell 2.15 percent to close at NT$592.00 after the stock rose 2.37 percent a session earlier. Led by TSMC, the bellwether electronics sector and the semiconductor sub-index lost 0.57 percent and 1.79 percent, respectively.
After the market closed, TSMC reported that it posted a record NT$142.77 billion in net profit in the fourth quarter, up 4 percent from a quarter earlier, although the fourth quarter is typically a slow season for the semiconductor industry. For the entire 2020, TSMC's net profit rose 50 percent from a year earlier to NT$517.89 billion, or NT$19.97 per share, which came within earlier market expectations.
"Judging from TSMC's losses, I suspect that foreign institutional investors stood on the sell side for profit taking. I think, though, that the chipmaker remains fundamentally healthy."
According to the TWSE, foreign institutional investors sold a net NT$8.93 billion-worth of shares on the main board Thursday after a net buy of NT$15.55 billion the day before.
"The silver lining was that Hon Hai, another large cap tech stock, appeared resilient, attracting strong buying amid hopes that the company's efforts in electric car development will pay off," Lu said. "Several Hon Hai subsidiaries also moved higher, helping the entire electronics sector."
Hon Hai, an iPhone assembler, which on Wednesday announced it was setting up a joint venture with Chinese automaker Zhejiang Geely Holding Group to provide services for auto production, rose 8.92 percent to end at NT$116.00.
Among Hon Hai's subsidiaries, connector maker Pan-International Industrial Corp. and motherboard producer Ennoconn Corp. soared 10 percent, the maximum daily increase, to close at NT$36.40 and 273.50, respectively, while metal casing maker Foxconn Technology Co. gained 5.63 percent to end at NT$76.90.
"Selling was also seen among non-tech stocks throughout the session as investors locked in their earlier gains amid fears over a further technical pullback," Lu said.
Among the falling old economy stocks, Asia Cement Corp. lost 0.82 percent to close at NT$42.55, Formosa Chemicals & Fibre Corp. dropped 0.58 percent to end at NT$85.40 and food brand Uni-President Enterprises Corp. fell 0.30 percent to close at NT$66.80.
Bucking the downturn, Evergreen Marine Corp., the largest shipping firm in Taiwan, rose 1.60 percent to end at NT$38.05 and Yang Ming Marine Transport Corp. gained 7.92 percent to close at NT$25.90 on rising freight rates because of strong cargo demand.
In the financial sector, E. Sun Financial Holding Co. declined 0.40 percent to end at NT$25.20 and Yuanta Financial Holding Co. shed 0.93 percent to close at NT$21.20, while Fubon Financial Holding Co. rose 0.31 percent to end at NT$48.45.
"After the initial heavy losses today, some investors appeared willing to pick up bargains, so I expect that the Taiex will see the nearest technical support level ahead of the 5-day moving average of around 15,600 points," Lu said.