Taiwan shares extend losses, led by non-tech stocks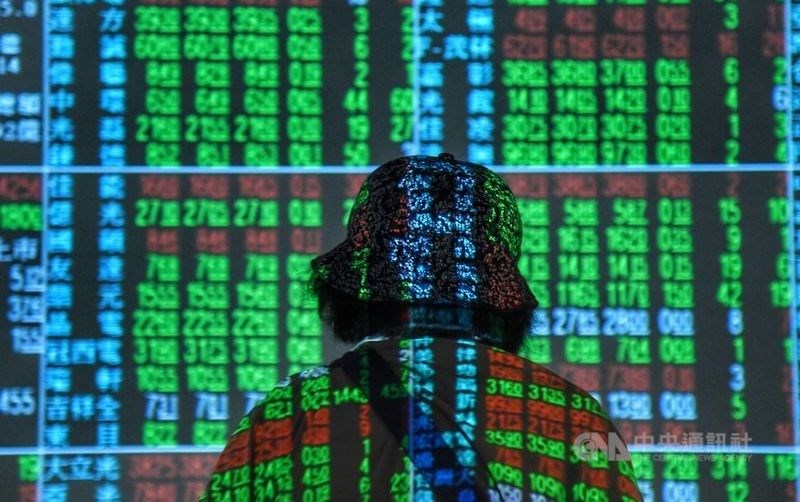 Taipei, Sept. 23 (CNA) Shares in Taiwan extended their losses Wednesday from a session earlier amid caution over continued selling by foreign institutional investors, dealers said.
Old economy stocks generally remained weak, leading the broader market lower, as worries lingered over the impact of increasing numbers of COVID-19 cases in Europe on the global energy market, they said.
The weighted index on the Taiwan Stock Exchange (TWSE), the Taiex, closed down 61.63 points, or 0.49 percent, at 12,583.88, after moving between 12,548.07 and 12,700.89. Turnover was NT$173.07 billion (US$5.95 billion).
The market opened up 10.79 points and soon rose to the day's high following a technical rebound in markets in the U.S., where the Dow Jones Industrial Average ended up 0.52 percent Tuesday after a 1.84 percent fall Monday.
But after the Taiex briefly pushed above the 12,700-point mark, selling set in to send the Taiex into negative territory, and the weakness continued to the end of the session, with old economy stocks particularly hard hit, dealers said.
"The Taiex has fallen in recent sessions as foreign institutional investors have sold off their holdings, setting off alarm bells," Ta Chan Securities analyst Jerry Chen said.
"Many local investors appeared reluctant to chase prices after the early rise today, fearing that the selling by foreign institutional investors would continue."
In fact, foreign institutional investors sold a net NT$11.67 billion in shares Wednesday, according to TWSE figures, after a net sell of NT$15.93 billion in the previous two sessions.
"In addition, foreign institutional investors have lowered their long position futures contracts in recent sessions, which many local investors saw as paving the way for more selling in the spot market," Chen said.
As a result, investors rushed to lock in their earlier gains by largely dumping old economy stocks, in particular in the petrochemical sector, as international crude oil prices continue to fall, the analyst said.
"The United Kingdom reported a spike in COVID-19 and has imposed new restrictions to contain the virus, and that raised worries over the impact of such restrictions on global energy demand," Chen said.
In the petrochemical sector, which fell 0.95 percent, Taita Chemical Co. shed 2.75 percent to close at NT$28.30, Formosa Plastics Corp. fell 1.60 percent to end at NT$80.10, and Formosa Petrochemical Corp. lost 0.49 percent to close at NT$81.60.
The textile sector also moved lower by 1 percent on the back of falling oil prices, dealers said. Eclat Textile Co. fell 1.10 percent to close at NT$3,60.50, and Shinkong Textile Co. lost 2.60 percent to end at NT$43.05.
Selling spread to other old economy stocks. Among them, Evergreen Marine Corp., the largest shipper in Taiwan, shed 3.80 percent to close at NT$15.20, and rival Yang Ming Marine Transport Corp. plunged 5.32 percent to end at NT$9.44 as investors pocketed gains built in the two stocks in recent sessions.
In the financial sector, which ended down 0.66 percent, CTBC Financial Holding Co. fell 1.10 percent to close at NT$18.00, and Shanghai Commercial & Savings Bank lost 1.52 percent to end at NT$38.90.
"The silver lining was that select tech stocks remained resilient as investors have high hopes for the next generation of iPhones," Chen said.
Foreign business wires have reported that Apple Inc. is expected to unveil the iPhone 12 in mid-October.
Largan Precision Co., a supplier of smartphone camera lenses to Apple, rose 0.29 percent to close at NT$3,470.00, while iPhone assembler Hon Hai Precision Industry Co. lost only 0.13 percent to end at NT$76.70.
Also in the tech sector, contract chipmaker Taiwan Semiconductor Manufacturing Co. (TSMC) fell 0.80 percent to close at NT$433.50, while United Microelectronics Corp., a smaller rival to TSMC, bucked the downturn to rise 3.59 percent to end at NT$26.00.
"U.S. futures are now trading in positive territory, pointing to a rise in the spot market later in the day, which could give support to the Taiex tomorrow," Chen said.